Clonakilty Visa Requirements
Clonakilty is arguably Ireland's best town where people trade in favours, hugs and roiboos tea …we have uncovered a secret list of questions that people intent on moving to Clonakilty have to answer before being given their visa…

1. Do you own at least one vehicle that was made before 1975?
Preferably you will be able to show Clonaklity immigration officers that your vehicle of choice was rescued from a breaker's yard and that you spent two years in a garage doing it up including five months on the flowers you painted on the bonnet. The use of an old-skool bicycle is imperative to offset the carbon footprint of your car as it loudly chugs around west Cork towing a black cloud of cancer. Clonakilty environmental police will let you off if they think your wagon is retro enough though.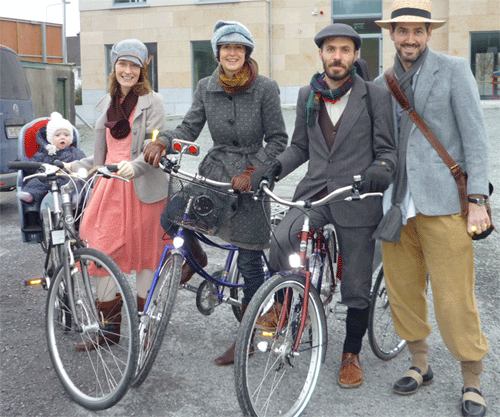 Rush hour in Clon
2. Can you live on just anti-oxidants?
When it's time for tae in Clonakilty it is quite common to hear your host say, "ok, so who isn't having roiboos?". Carbohydrates, fibre and protein are not required by your body when you live in Clon and extremist Clonakilties can even frown on them.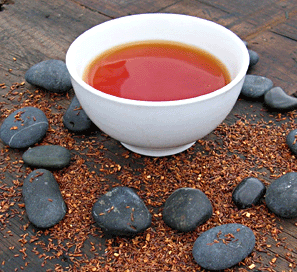 Many Clonakities lives entirely on rooibos
tea which has to be poured with the cup
in the middle of a stone circle
Instead inhabitants' bodies only require anti-oxidants (which they get from green tea or roiboos) and the scent of gluten-free fresh flowers. Keep in mind that local county council officials occasionally set up checkpoints: being found over the gluten or food colouring additive limit can result in two penalty points, while burgers and chips can result in expulsion from the town.

3. Can you play the Ukulele?
Easily transportable and easily learned the ukulele is an ideal instrument for west Cork as it can be carried conveniently. Its recent phenomenal surge in popularity can be directly attributed to the fantastic West Cork Ukulele Orchestra whose recent Late Late Show appearance further advanced the notion that Clonakilty may become the musical capital of the country.
Clon's ukulele scene has taken the nation by storm
It is predicted that by 2015 the national symbol may change from a harp to a ukulele and Environment minister Phil Hogan will introduce a ukulele license fee.

4.. How are you with hugs?
Physical contact between people who are not fighting or having sex in west Cork is quite common. While most of us are only getting comfortable with handshakes, below in west Cork large men can be seen embracing each other openly and warmly on the street.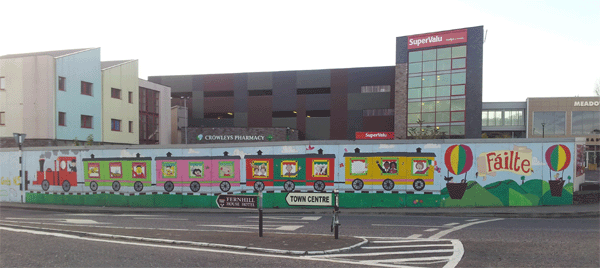 Big businesses get hidden behind walls of brilliant art if they make too much profit
In the rest of Ireland it is possible to be arrested for hugging someone for longer than 1.5 seconds but in west Cork you need to practice being comfortable with hugs that could last well beyond that awkward five second mark where things tend to become sexual. Not so down here – it's always platonic.

5. Sandles
They're compulsory between Ballinascarthy to Rosscarbery.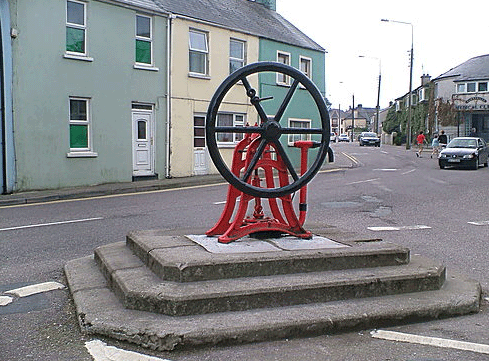 Wheely cool: Clonakilty's power comes from this wheel which locals take turns to spin.
When they swap over they exchange poems and hug.
6. Can you do the business?
Entry visas to Clonakilty can be enhanced by filling out a business application form but the town has some heavy preferences on the type of commercial operations it likes to see setup: preferably non-commercial ones.

Putting a McDonald's in Clonaklity would be like building a Brown Thomas inside the passage tomb at Newgrange so for local approval you should aspire to setting up an organic gluten-free bakery where the bread is baked by local angels and mystic spirits. We emphasise the word 'aspire'. Too much drive could jeopardise your application. It doesn't fit the buzz.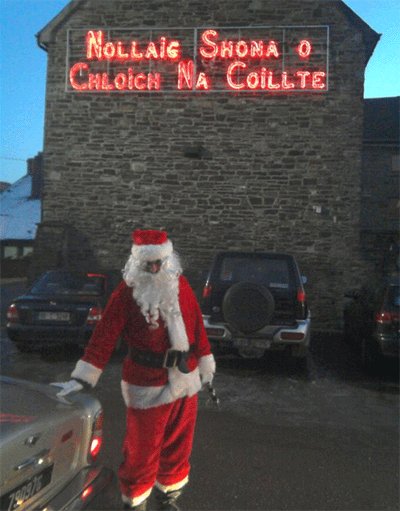 Even Santy travels by vintage car when visiting Clon
7. Ready to Grow Your Own?
A vegetable garden is mandatory for new citizenship applicants and regular inspections will be carried out to ensure that at least 20% of your property is dedicated to growing something Bob Marley would be proud of.

Of course growing things like carrots and potatoes wouldn't really fit with the Clonakilty buzz so you will have to make do with micro-courgettes and Quinoa – for the 99% who have never heard of it, the food looks like goat droppings and is prounced Keane-wah, which could be some Dublin scobe talking about a well known midfield general: as in "is there a better footballer than Roy Keane, wha?".

8. Can you do us a favour?
The official currency of Clonakilty is the "favour" which can be used to trade goods and services on the great clonfavour.com website. So whether you want help determining the pantone colour of your chakra or some tips on how to fine tune your wood chip burner bear in mind that offering euros in return can be considered a grave insult.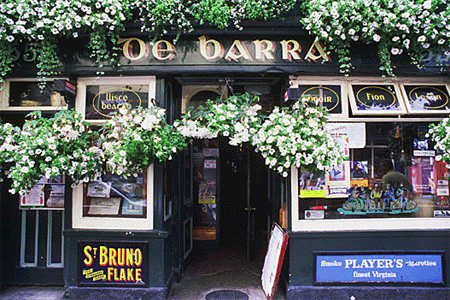 Clonakilty's Official Spiritual Taoiseach John Spillane runs the town from the back room in De Barra's on Pearse Street.
9. How're you for homeopathy?
You're open to the idea that water on entirely on its own, save for a trace particle of spider's belly or fish lung, can cure most ailments and diseases. If you found an alarming lump growing out of your body and had a family history of aggressive cancer yet your first reaction is to reach for healing crystals and a stick of incense then this will further enhance your visa application.

Cigarettes are also frowned about for health reasons unless they are offset with expensive homeopathic "remedies". Of course, if you roll your cigarettes this eliminates any chance of ill health and is the equivalent of going for a long run or colonic irrigation every time you have a fag.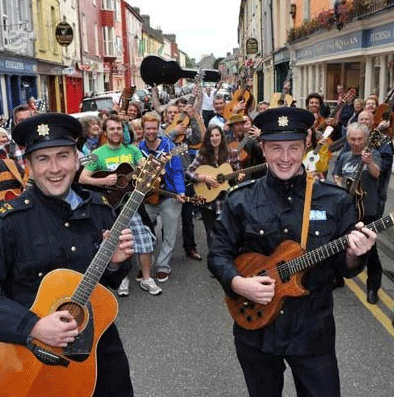 Sickeningly harmonious: in Clonakilty even the law are sound.
10. Are You Sound?
Anyone who has ever been to Clonaklity and met anyone who wasn't really sound or very happy is very unlucky. Should this happen to you during your stay please report the person to the nearest police station where upon they will be arrested, imprisoned and tickled until they are having a laugh.

Posted on Nov 23rd, 2020
Quick! Get into your panic room, take your cyanide tablets and make your last social media post because noisy young fellas on skateboards are having a bit of craic on Grand Parade...

Posted on Nov 20th, 2020
He dominated the Cork skyline against Kerry, the Aussie rules Rebel can Ronan McCarthy and the boys lift us out of a glum winter?

Posted on Nov 9th, 2020
Cork footballers beat the Kingdom at Páirc Uí Chaoimh in a soggy slugfest that has left Kerry reeling...

Posted on Oct 30th, 2020
Have your own virtual Thurles experience at home with our top "tipps"...

Posted on Oct 23rd, 2020
We should be gearing up for the de jazz instead of NPHET's No Craic weekend...