OK, so after this little drama, time for another update. Things might get faster as some signs are saying we are about to see some big movements on the board.

Like this artillery shooting by Ukrainian on the bridge in Kherson. Ask someone with military experience why would you shoot some rounds on the bridge ending and then immediately stop when hitting the right spot without destroying the bridge

First (in English) some information about Russian claims on HIMARS and comment from Wagner mercenaries (RU):

Some Russian mercenaries (as we are on this topic) near Bahnovka village, the place where the Russian trolls claimed total victory three weeks ago. This is the road near Sieviersk which Russians are trying to capture for months now.

Boeing has excluded Russia from placing any orders in the next 20 years. (three days old info)

I do not feel any more I will post today to give some room to complainers and so they can express their thoughts here and share with us their sources of the info

I only place the recent video of Vlad the Cunt so anyone can have a look in what type of shape he is. Poor guy, for me his right hand seems to be not really healthy same as crippled walk he cannot hide anymore:

I lost an interview with English subtitles with the captured Russian officer in hospital saying his story at war. Well if I find it again will post. It is fresh last 24hrs so most likely will pop here and there soon.
Ukraine is saying that we can hit the bridge at will which is your only route to escape/retreat and if you do not move fast we will destroy it and trap you?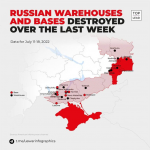 Last edited: