The man below is a former chief of Roskosmos agency - Putin's friend.
Dmitry Rogozin with the call sign "Sarmat" appeared at the front as part of a "special military operation". Russian military correspondents analyzed the photo from Rogozin's personal channel in Telegram.
Equipment analysis:
Carinthia jacket,
Turkish bulletproof vest,
magazines from a German MP5 submachine gun,
front magazines from FN SCAR (308 caliber),
helmet "Armokom".
- Why the former chairman of the board of directors of the Military-Industrial Commission of the Russian Federation does not wear equipment from the "Ratnik" kit (which they promoted and praised for so long) and does not use Russian weapons - I personally do not understand, writes one of the Russian officers.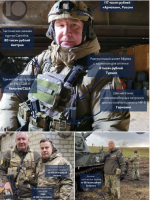 So what is the former head of Roskosmos wearing? Austrian Carinthia jacket before mobilization cost about 80 thousand rubles. Rogozin is also wearing a Turkish bulletproof vest from the BIKATEX company. The vest contains magazines for the German MP5 submachine gun and magazines for the American FN SCAR-H submachine gun, a weapon for special forces. Their prices start at 350,000 rubles.
Rogozin also poses with a modified American AR15 assault rifle and a Glock-18-like pistol. Even the boots are Slovakian (Zephire, starting at 25,000 rubles). And from Russian equipment Rogozin has only the helmet "Armokom" (price - from 120 000 rubles).