Loved Robson as a player. He knew himself he wasn't the most skillful guy on the park but you could count on him to always give 100%. Great man for the big games and he loved putting one over on the huns.
I seem to recall his first kick of the ball for Celtic was a goal. Can't remember against who Dee/Utd maybe? but it was a free kick out on our right-of-centre about 25 yards from goal. He'd just come on as a sub and sent it past the wall. Cracker.
Hilarious the way some people in the media are trying to portray the red card for the Hearts player as the most controversial decision by the officials last weekend.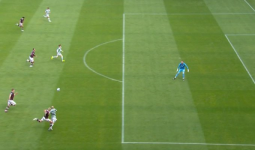 Tripping Maeda with no effort at the ball is clear denial of a goal-scoring opportunity and is a correct red card.
The two armed holding of Duk in the TRFC penalty box by Goldson should not only have resulted in a penalty kick to Aberdeen, but Goldson should've been sent off for it. But many in the Scottish media try pretend it's the red card at Tynecastle is the most controversial desicion.