Five Great Victories for Cork
What a few days for Cork. There are so many plaudits, prizes and plamáses pouring in for Corkonians this week that we've barely enough room to include them all…

The Republic of Rugby
Never have so many Corkonians found themselves wide awake on a Sunday morning so early as to see last weekend's Rugby World Cup clash with Italy. The stunning victory was pioneered by two well known Corkmen – one on the field and one off it – and sees Ireland unbeaten thus far and in a much better side of the draw.

Having rumoured to have had his boots dipped in a bowl of drisheen before he left Cork, Ronan O'Gara's kicking has been even more astoundingly good than usual.

Coach Declan Kidney's gleaming head was allegedly anointed by Bishop Buckley with a mixture of Tanora, Barry's Tea and Murphy's stout just before he left Ballincollig for New Zealand which probably accounts for his incredible man management and clever tactics.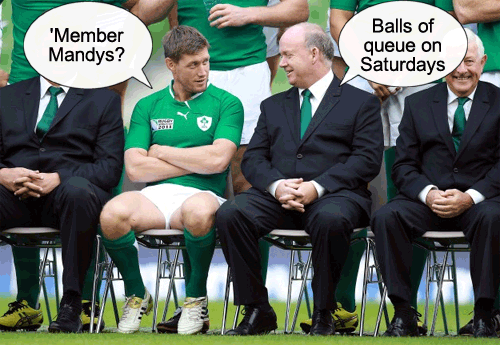 Corkmen Rog and Deccie discuss tactics for the World Cup
What's next? Beat Taffy so far into the ground on Saturday morning that the poor fellas have to apply for a mining license to get back out – something the Welsh are deeply familiar with.
Food Capital of the World
When Corkonians go to Kerry any victory deserves to be milked dry but after the Blas na hÉireann awards in Dingle last weekend this will be one Cork win that everyone outside the country will find easy to swallow.
They say any intercounty challenge can be over come if you have enough hunger and reading about the list of mouth watering taste sensations that have claimed victory for the Peoples Republic it seems our gourmet food producers have been the hungriest of them all - scooping more awards than any other excuse for a county.
It's no eggs-ageration to say Corkonians are really relishing this victory as food production is such a dog-eat-dog industry with little margarine for error. Bagging the Supreme Champion Award, Best Artisan Producer and Seafood Innovation Award among a host of other accolades its clear that in this tough game the steaks are always high - so a big 'well done' to everyone involved.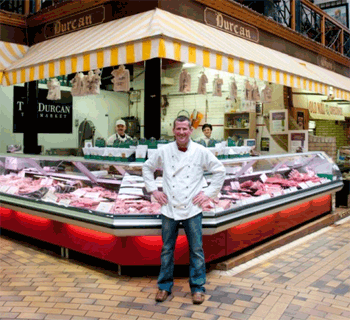 Tom Durcan's award winning meat is tops since feens stopped doing glugs down on it from above in the Farm Gate
What's next?It's a food revolution so let's mustard the troops and get the Queen to come back for seconds. Like Carrigtwohill's great victory last Sunday in 'de county' the war must now move further afield for the inevitable title of Food Capital of the World. A food fight nobody would feel is a missed steak.

Read about this great Cork victory on a Kerry website
http://www.dinglenews.com/news.asp?id=3910

The 'Real' First Ladies of Ireland
Barely ten days have passed since Cork Ladies Footballers ran rings around a lowly group of Monaghan old dolls in Croke Park to claim a sixth All-Ireland title in seven years.

The Rebels have now moved up to second place in the roll of honour and are gaining ground quickly on the Kingdom. Just six years ago Cork were eleventh in the rankings so at this rate of ascent the Kerry girls must be quaking in their wellies.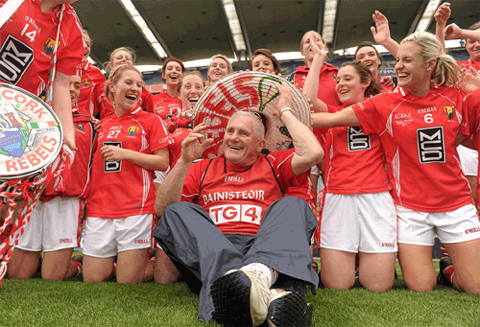 Blessed are we amongst women
What's next?With so many tears from Kerrymen in Croke Park after they were beaten by the Dubs the likes of Gooch Cooper and Aidan O'Mahony may consider joining their county's ladies footballers next year making it a new but easily surmountable challenge for Captain Angela and the Rebelettes.


PeoplesRepublic of Fitness
Corkonians are the fittest people in Ireland. That's not because we were driving up Strawberry Hill the other night and were overtaken by a group of teenage rowing nut cases scrambling furiously up the world's most torturously acute hill.
New research from some serious rheumatology experts at CUH who probably don't like jokes or have untidy desks has shown that out of all the counties on the island the People's Republic is the capital of fitness with more Corkonians than people from any another county exercising at least three times a week for more than twenty minutes.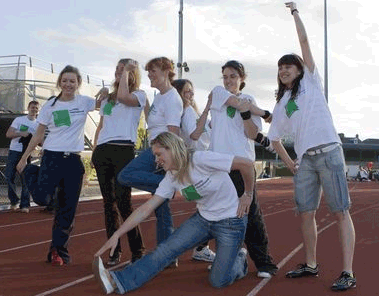 Angela Walsh and these Youghal beours dont even change into shorts when they are running marathons
It's unsurprising that Cork is so healthy. Pick up a newspaper these days and there'll be an ad for a gym with a photograph of some fat feen who has transformed himself into a Donnacha O'Callaghan-esque beast with a Hulk Hogan chest that could open bottles of beer.

If you're not pumping iron, pacing the footpaths or practicing your puc fada these days you might be letting the county down (and we all know what happened to 'Down' in the All Ireland last year).
What's next?connect the city and county's gyms to the electricity network to combat the disgraceful price increases implemented this month by power companies. The more you work out the cheaper watching reruns of the ladies football final on your 72 inch plasma becomes.
Ireland's Golden Apple

Apple's drive for five continued this week with the launch of the much anticipated iPhone 5 which can cook your porridge and tumble dry your underpants while you video call the brother in Australia.

The best minds are required to produce such innovation so you can bet that when Steve Jobs counted his blessings he counted Apple's base in the People's Republic twice.
What's next? Being located in Cork it wouldn't surprise us if the lads up in Knocknaheeny have already got the iPhone 6 and 7 perfected but are holding back until the rest of the world is ready.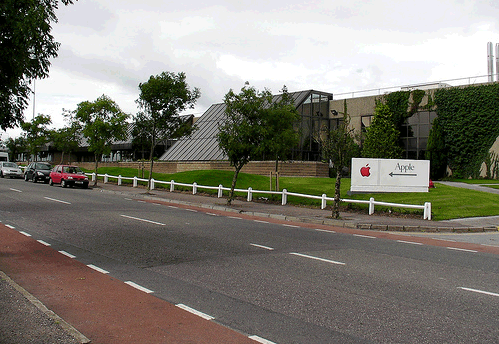 Apple: the jewel in Knocka's knuckleduster
You can understand their thinking: while evidence that Cork is the world's supreme city and county is overwhelming we don't want to get too carried away in case the international media gets wind of it.

Sure then camera crews, journalist fellas and hangers on from CNN, Aljazeera and the BBC would be flocking to Cork and they'd only be taking space in our favourite snugs, shouting loudly into their fancy gadgets and wrecking our heads when we're trying to have a quiet midweek Beamish and the a read off the Echo. So let's keep it quiet a while lah.
Posted on Nov 27th, 2018
With much of the area due to become part of the city in the next few years, Glanmire has confirmed it was just trying to impress the rest of the northside with the "mass brawl" that took place in Riverstown last Saturday morning.
Posted on Nov 20th, 2018
A video taken in Bishopstown of a UFO has been dismissed with a seemingly rational explanation about the sun and the international space station. Fuck that though...
Posted on Nov 13th, 2018
Are you spending most of your day online posting vague, anecdotal evidence to back up your assertion that the Panaban is either the best or worst thing ever? Read on, bubbila.
Posted on Nov 5th, 2018
Last weekend a Dublin newspaper published an entire supplement called "10 Big Ideas to Make Dublin Better". Unfortunately our thoughtful and well considered suggestions were omitted due to the newspaper's anti-Cork bias. Here they are...
Posted on Nov 1st, 2018
Encouraged by his single figure showing in the Presidential election, Seán Gallagher vows to return from the sea and fight the 2025 Presidential election…