Gaddafi Could Be in Cork
After Egypt's Hosni Mubarak was discovered running a yoga camp in West Cork and Saddam Hussein was spotted selling pools door to door up in The Glen before being returned to their own countries to face justice, the chances are that the temptation to move to the Promised Land is also too much to resist for Libya's Colonel Mummar Gaddafi who is now on the run.

We appeal to Corkonians to keep both lamps double wide in an effort to spot this chancer. Here are some suggestions as to where he might be.

1. Virtual Tripoli

Northsiders may be forgiven for thinking that the Libyan conflict itself has spilled on to the streets of Cork city of late. No sooner have they turned off early evening news reports of explosions and fighting from the north African state then the banging and booming around the Northside kicks off.

Although we can attribute this to 'banger season', which runs for about a month either side of Halloween, these deafening repetitive explosions would actually make Mummar Gaddafi feel at home in many parts of Cork city.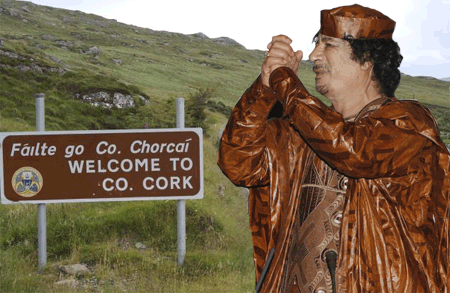 Feen in the pyjamas: Undetered by a rebel stronghold
There are also pockets of the Northside and Southside where wearing pyjamas outdoors in the middle of the day has been normalised.

Gaddaffi's weird sense of dress, particularly his favoured flowing robes, would help him blend into many communities quite well - although his garb's shiny golden trimmings might raise some heckles from those who think the former dictator is a little "up himself" when he skirts down to the local shop for a bag of Monster Munch.
2. Ghost Estates & GAA Clubs
With so many new and unfinished housing estates around the city and county there is ample opportunity for Mummar and his entourage to strike a dark deal with a shady developer desperate to offload a rag tag of cardboard boxes masquerading as dwellings.

Gaddaffi's holiday fund alone could sort out the country's colossal debt so if Fianna Fail are looking for a last-minute attempt to buy off the presidential election the Libyan could make the Irish people a tempting offer.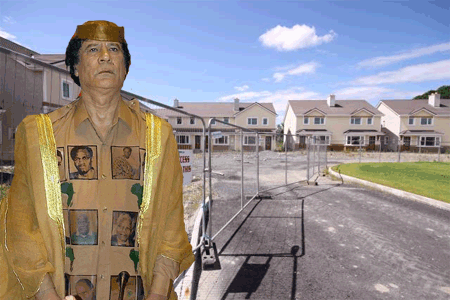 Posing as 'Liam Gaff Daffy' the former Libyan leader is possibly living in one of Cork's many ghost estates
So untidy and unfinished are the fenced off housing projects that nobody locally would think anyone, not to mind the Colonel, would choose to live in such gawdy gaffs - until of course the exiled Libyan eventually joins his local GAA club and tries to take it over. Luckily most Cork GAA clubs have extensive experience of dealing with dictators.
3. The Other Tunnel

Travelling up river from the South Gate Bridge there is a large almost-hidden tunnel that emerges from the southside into the river. Measuring about three meters in diameter it's only properly visible from the old Beamish brewery and rarely registers with Corkonians.

In years gone by the putrid smell from this outlet could crack a hurley in half but since the corpo got their act together the bang is gone and you'll often see kayakers disappearing up it for a couple of minutes for a quick sconse.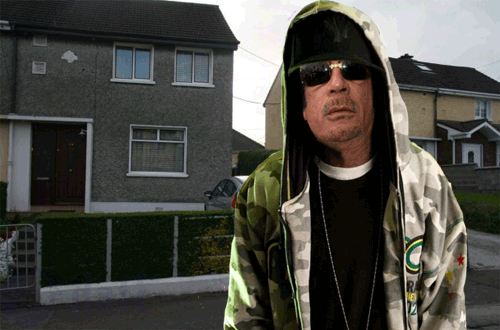 Gaddafi could be the langer setting off all those bangers in neighbourhoods like Gurranabraher
Few people, if any, know where the mysterious tunnel leads although it appears to head in the direction of Gilabbey. This would be an ideal spot for Gaddafi to hide out as he could easily nip up to the pubs around the South Parish after dark.

There are several watering holes on this street which facilitate aging mad men who sit in the corner making grandiose speeches about their alleged past exploits and adventures. Nobody takes the slightest notice of them and Mummar could blab on all night about the corruption of leaders in the West over a pint of Murphys without raising a local eyebrow.
4. In the organ in St. Finbarre's Cathedral
For those who don't know the organ in St. Finbarre's Cathedral it is nothing like the obese dusty piano you might imagine from your local church. This colossal structure of piping, chambers, machines and fans is more like a public air conditioning system for Dubai than an instrument – full of underground caverns that could easily house the former Libyan dictator deep beneath the cathedral floor.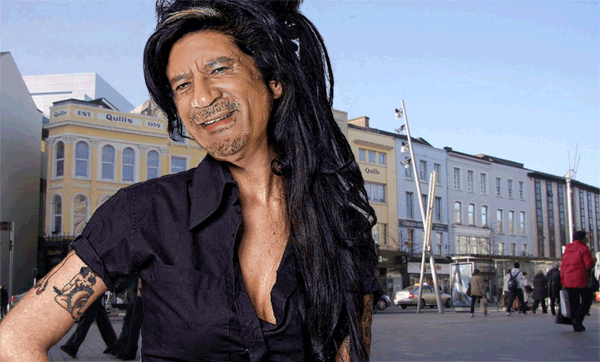 How Gaddafi might look as a pre-op tranny from Cork who pretends she used to be in St. Finbarre's choir. Be wide when youre in the club out dancing to Amy Winehouse and have the horn.
With an ability to ignore deafening choruses of condemnations about his regime in North Africa the sound of Cork's loudest instrument will seem like library silence to Mummar. And of course the cathedral's opulent décor will suit his personal penchant for bling.
5. On Martin McGuinness's Tour Bus
Sinn Féin's presidential candidate has already been to Cork but will no doubt be back again several times before the presidential election such is his sudden affection for the People's Republic. Even the font used for "The People's President" on his Cork campaign posters is strikingly similar to that of a certain t-shirt logo although Dana's hijacking of a PROC shirt in the English Market recently captured on RTE News ranks as the most blatant attempt to become a plastic rebel so far.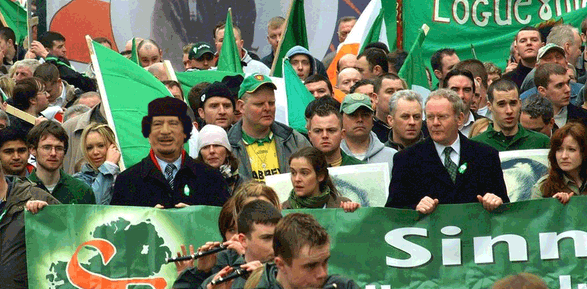 Gaddafi hoping he can do a McGuinness on it:
Say stuff people like and you are absolved of all the murders and abductions you ordered.
With the crowd that poured back on to McGuinness's campaign bus as it left the city, someone like Mummar Gaddafi could easily have slipped on board unnoticed.

Both self-justifying former terrorists who have recently had to hang up their semtex, McGuinness may offer the Colonel some back seat advice in how to make awkward media questions about one's murdering past sound like they are offensively inappropriate – as if one has been asked about the preferred hand for washing sensitive areas in the shower.

How dare those Rebels ask such vile questions!
Posted on May 18th, 2019
In part deux we look at ways we can all help make Cork's Huguenot Quarter become a little more French by changing our accents, taking up chain smoking and having multiple affairs with beours we don't even like...
Posted on May 11th, 2019
With our insatiable appetite for tourists, maybe it is now time to ramp it up and go all-singing-all-dancing frogs legs, onion necklaces and stinky cheese...
Posted on May 4th, 2019
Even though we are a notch above the rest, Cork people aren't all the same – perfection doesn't mean we are homogeneous.Travel around the city and county and you'll find some quirky traits that make each of the jewels in Cork's crown unique
Posted on Apr 4th, 2019
The relentlessly repetitive single word script and leave-whenever-you-want audience policy is sure to be a hit in theatres from Buttevant to Barnet and Brixton to Broadway....
Posted on Mar 13th, 2019
When minority languages try to recover from historical oppression, it is the death-by-a-hundred-thousand cuts inflicted by the native population themselves that properly ensures a language is extinguished..