6 Heads You'll Definitely Spot At The Jazz Festival
Here are some of our favourite Cork Jazz Festival characters that emerge once a year. See how may you can spot next weekend!

Men in Black
Dressed in black four days in a row, under any other circumstances you'd think he was in deep mourning if you didn't know he was an in-demand bass player. The local session musician has been block booked by 10 bands from Friday lunchtime until the wee hours of Tuesday morning so the whole weekend is a high pressure sprint around the city's venues and a musical journey through an exhausting array of genres – one minute playing Autumn Leaves in the Met Bar, the next banging out Rock The Boat at a sardine wedger on Washington Street.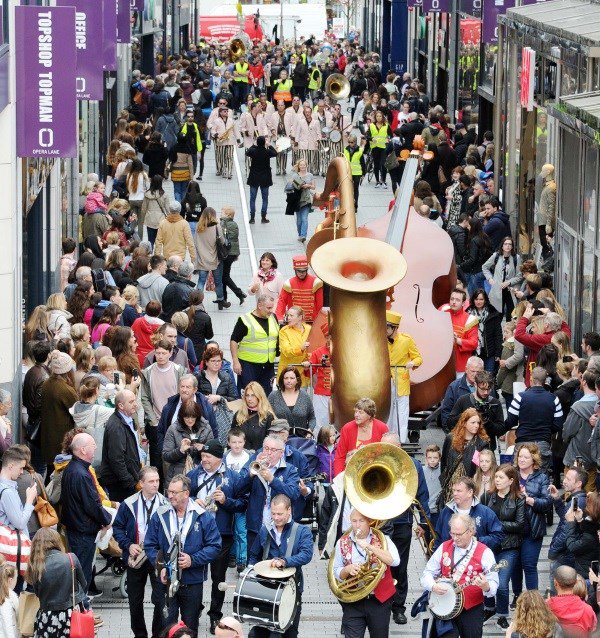 "sorry, I'm just trying to get passed with my...sorry, SORRY! Just trying to get over to the Opera House there like for a gig...."

Spotted: in a panic on MacCurtain Street, struggling to overtake strolling tourists with his double bass case, half an hour late for a gig on Barrack Street and will have to skip getting the burger he's been fantasising about all through the gig he just finished in the Metropole. .

The HighHorse Jazz Jockey
"Jazz festival my arse! Sure, Aslan are playing d'Opera House! They're not JAZZ". These festival moaners love to ride their jazz high horse all weekend as if they're revealing some dark secret that the rest of us have missed.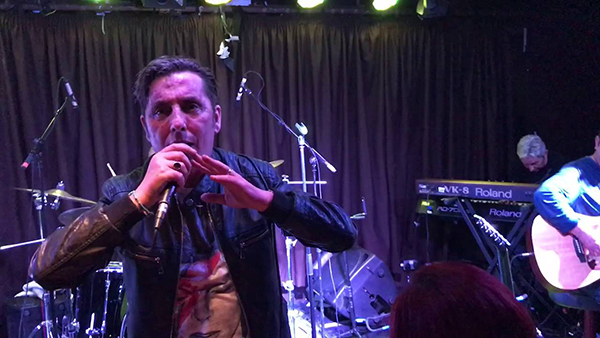 "Hew ken oye, protect youwiz in disss craaaaya issy wordild"
How dare the festival bookers have the audacity to recognise that not everyone likes jazz and books a few non-jazz gigs to make the festival feel more inclusive (or if you're being a bit more cynical – how dare they try to attract Dubs down to Cork with a Dublin rock band that has a big loyal Pale following to the benefit of Cork's economy). As long as they don't bring their gangland wars, mixed martial art bluffers and 8 euro pints with them, Dubs are always welcome in the PROC.

Spotted: lurking in the dark corners of an Aslan gig looking at his phone, posting angry comments on twitter.

Jazz Weekend Music Intellectuals
If you like your audiences sober, quiet, respectful, musically informed and maybe just a little bit up their own trombone, there is still plenty of good gigs to go to and avoid the festival madness.

If your real passion is classic music and you like to get into the spirit of the weekend by jazzing up your crotchets and quavers just a touch, then the Triskel is the place for you. As well as being a beautiful, unique venue steeped in history oozing civility, during the festival it specialises in low-fi violin/guitar duos, and jazz trios whose members have all published post-doctoral papers on topics like the influence of northern Brazilian maracatu samba on southern Javanese Gamelan music.

Spotted: buying a CD from the merchandise stand after the show, discussing pentatonic scales and telling fellow patrons he'd really prefer a vinyl copy.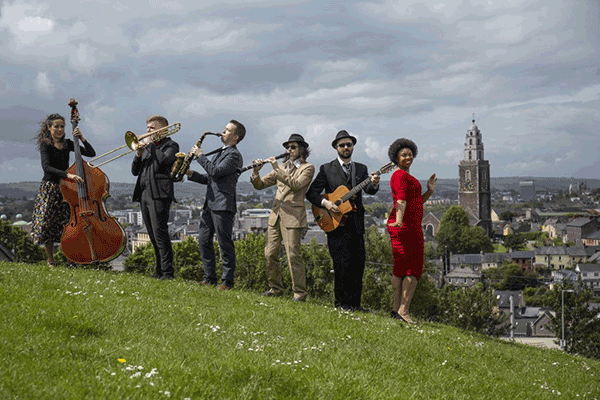 With budget cuts

Wild Atlantic Langer
J'know what'd be hilarious? Ah you should definitely do it now even though you've been drinking for two days straight and any shreds of common sense you might have are in the bottom of the shot glass you just dropped on the pub floor: sure, wouldn't it be absolute gas altogether to climb up on to the stage with the band in your Kerry jersey!

"DO IT!", screams his inner dumbo. Sure the band would love it wouldn't they? The other lads will post it all on the 'gram and he'll be a "total ligind" back home in Killorglin.

Spotted: tripping over cables on a stage, smashing his head against the PA and knocking himself out, while the band continue to play a jazzed up version of Van Halen's "Fools".


Big Brand Grump
Goes out of his (and it's always a feen) way to find a pub only serving locally brewed booze and not "that Dublin soup". In a bad mood most of the week, baulking at every branded poster and advertisment, the only thing he's looking forward to is when it's all over. To be fair, it's only the second worst time of the year – nothing could top the utter awfulness of that thing they call Christmas.
Spotted: watching a Premier League game alone in an empty bar in a suburban town.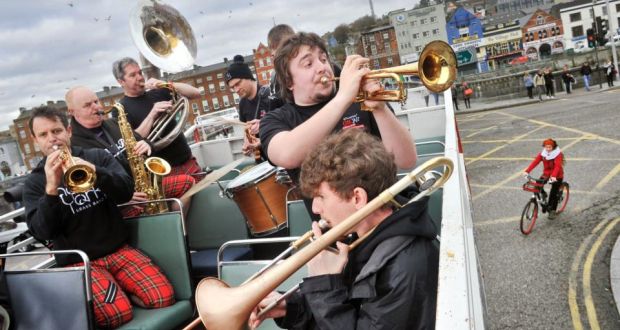 Oh right, Neeeil. Are that crowd paying for that bus now, or are they getting it for free like the fat cats in City Hall? A'course, there's no panaban for them, not like the rest of us - practically banned from our own city, Neil. Grand for 'em isn't? Playing music in the middle of the day! Not like the rest of us, out working hard, trying to pay for all the parking tickets we get, Neil.

She's Out With The Gurrrls
For a girls night out at the jazz, it's important to start the evening with a meal out in a half-fancy burger restaurant – you know, one that has a DJ playing jazz but also serves trays of shots.

Apart from soakage, the pre-booked dinner before the pub and club gives the illusion that the night is going to be sophisticated, but we all know it's just a place where she can practice shrieking without being asked to leave.

The elegant, well-turned out Cork woman that begins the night ordering a glass of prosecco ends up looking like a lost ghoul from the Dragon of Shandon parade by the time the Garda helps her out of the Fountain at 2.30am.
Spotted: asking the fella locking up the kebab shop at 4am if he happened to find a shoe "schimilar to thish one, but de left wan", 'cos, like she's pretty sure she had chips somewhere like this about an hour ago and must have left it behind (ah love, sure you left it in the Burger restaurant jacks).


If you want to go see some jazz or non-jazz this jazz weekend check our event guide

Posted on Aug 3rd, 2020
And beours too, obviously, like. A few words about our new traffic box art piece on South Mall...
Posted on Jul 31st, 2020
Rule no.1 if you're coming down from the NTMA in Dublin to show your street train plans: don't photoshop a Dublin LUAS on to Cork streets. We are better than that, feen..
Posted on Jul 20th, 2020
Even without a global pandemic, you don't need to leave Cork to see the most beautiful sights on earth and have an outer body experience...
Posted on Jul 7th, 2020
There really is no reason to leave Cork for your holiday this year..
Posted on Jun 25th, 2020
If birds are starting to land on your head piece or you've mangled it trying to add your own highlights, the wait is nearly over as hairdressers and barbers reopen....