Cork City FC
Cork City F.C. : The Season So Farwith City Fanzine '4-5-1'
Gareth Williams brings you up to date with the season at Turner's Cross so far.....
First day of the season and City travelled to brand new and improved Flancare Park in Longford. We had every right to be positive, even though our record against Longford wasn't exactly impressive, as they had just played 3 days previous in the UEFA Cup and we had had a somewhat satisfactory pre season. However, in a display that has been branded the worst ever City performance, we were lucky to score in a 4-1 drubbing. It didn't look good, as the next match was to be against double champions of last season - Bohemians. Again City just weren't at the races and Glen Crowe got his own back on the City faithful who had taunted him all day with their Crow posters from the new fanzine FourFiveOne.
Two games two defeats. Ah well, early days, things can only get better right? City next travelled to Bray where signs of a revival were on show as City fought hard to earn a deserved 2-2 draw. With recently promoted dirty Dundalk at home a week later we had every right to think that the corner had been turned. In a display which I reckon ranks among the worst home performances ever by any team at the Cross Dundalk pounced late (again!!!) to inflict our third defeat of the season in front of arguably the smallest league crowd City have seen since Bishopstown. The team were deservedly booed off the pitch and a big Gunther out chant was heard near the final whistle. With highflying Pats in Inchichore a week later, it looked like lambs to the slaughter. Murphy had promised that heads would roll if things didn't improve on the pitch. For once it looked like City would be embroiled in a relegation dogfight. Unbelievably Ollie Cahill beat Pats 3-1 scoring one of the goals of the season and added two more later in the game.
All of a sudden people were again talking of league supremacy. The bigger sceptics among us felt differently and felt that the visit of Shels to the Cross a week later would be a huge test. The game was to be a one sided affair with the jackeens giving us a lesson in football for 85 minutes. Then City break, up jumps Colin P O Brien and heads us to our first home victory of the season. O Brien , an 18 year old from Ballydehob was an instant Shed hero.
Bring on Galway, and he scored again in a hardly deserved 1-2 win. Three wins in a row now and City were on a roll. However, their mettle would be tested later that week with the visit of League leaders Scumrock Rovers. It was the biggest crowd the Cross had seen all season, and definitely turned out to be the best City display in many a long year. After falling behind to one of the most ridiculous goals ever seen, City through everything a Rovers. It looked like it would be all in vain as we were doing everything but scoring. Eventually City were awarded a penalty in the 81st minute to draw level. City still piled on the pressure, roared on by the whole ground and in the 2nd minute of added time, young Colin P scored an absolutely brilliant goal to give city an exhilarating 2-1 win. O Brien had established himself now as a cult hero; after all scoring late winner against two west Brit sides in a week is fairly good going.
City again travelled to Dubland mid week where they played out a 1-1 draw in Belfield against bogey team UCD. Relegation certainties Monaghan were next to visit the Cross. Anything less than 9 points from this lot will be seen as a disaster. In a fairly boring game on a horrible afternoon, City could only manage a 2-0 win, even though Monaghan had only 10 men for 70 minutes. Although having said that they did miss a succession of chances, the most glaring coming from Colin P. Still though, another 3 points in the bag. The trip to Derry is always a daunting trip and this was to prove no different. Derry after all were on a high and, to date, are almost unbeatable in the Brandywell. We duly lost 1-0 although the ref disallowed a perfect Morley header. Even the Derry defenders said after the match it was good. So that was the end of the first round of matches and City were looking very good after overcoming their early bad form. So the second series started with all City supporters imagining great things were to follow. They were not to be let down with the visit of Longford resulting in a somewhat scrappy 2-1 victory for the home side.
Posted on Jul 28th, 2009

If CCFC lose their appeal on Friday the club will be forced to close for good and be removed from the League of Ireland..
Posted on Aug 19th, 2008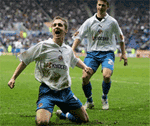 Cork City FC is on the brink of collapse as it applies for Examinership at the High Court. If Kevin Doyle goes from Reading to Villa there's hope....
Posted on May 16th, 2007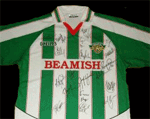 A bunch of loyal and dedicated Cork City FC fans are raising sponosrship funds with an online auction of a signed jersey. Get your hands on it now...
Posted on Feb 6th, 2003

The ever popular CCFC fanzine FourFiveOne present their awards for the end of season....
Posted on Feb 3rd, 2003
No cup this season, no europe next season and Murphy resigns. Gareth Williams sums up the first transition season at Turners Cross....