All's Not Rosy in The Garden
All's not Rosy in the Garden
with Cork City Fanzine 'FourFiveOne'
††† You could be forgiven for thinking that all is well within CCFC at present. They are after all chasing the League Championship again, only 3 points off the top (at the time of writing), were unlucky to crash out of the cup to the Shams due to a bizarre own goal by young Alan Bennett, and due to play rivals Limerick in the quarter final of the League Cup. There is a young team with a promising future, an ambitious manager and a great core support. What more could an Irish national League team want?.....
††† The CCFC board have always been quick to take credit for any good fortunes the club may have, but as soon as things start going wrong, there fix all answer is "well, we are only an amateur club". True you might say, but with an attitude like that how can a club progress? Yes, we do have 6-7 full timers playing now, but I have heard that that figure will fall in the not to distant future, so the club can cut outgoings. It can also be argued that the board don't know much by way of running a football club. I mean, how many times have you seen an ad in the Echo/Examiner for a forthcoming fixture. Why aint there a sign outside the ground? Why are the Full timers not being made to go out and raise the profile of the club on a more regular basis, apart from the annual visit the kids ward in CUH.
†††† On the field of play, things look good. Kind of. But now that City are losing again, people are moaning. And not necessarily because we are losing, but of the manner in which we are doing so. I can remember a few seasons back, City had lost 1-2 to Shels and not being to bothered, simply for the fact that we put up a damn good performance but we beaten by the better team. As for the last few matches, namely the UCD game (traditionally City's bogey team). UCD have probably the tallest centre half in the country in Clive Delaney(6ft 5ins approx!). What tactics are used? High balls up the middle. Needless to say, Delaney headed all that came his way away to safety without too much bother. Did the manager change tactics? No, he just hauled off our most penetrative player on the day, Jimmy Mulligan. The result - 0-2. Same can be said of the Shams game. Long balls up the centre or out to Cahill, who was being man marked by TWO men on the day. Did Gunther do anything about it? Well he hauled off our most penetrative attacking player - James Mulligan. The result - 0-1. However, when Mullers was called off, a number of other players showed their disgust, especially as the other 'striker' hadn't managed to win the ball all day (or all season, depends on who you listen too!).
Which in a roundabout fashion leads me to my point. Something has been rotten within Cork City FC for a long time, but it is only now that it is beginning to smell. The manager obviously has his favourites, question him, you'll be put out in the cold a la Kelvin Flanaghan, Tony Tynan, Greg o Halloran, Mark Herrick and Stephen o Flynn ( a new 'gang of five' maybe ha ha!!!!). Others then seemingly can do no wrong in his eyes (although that would be nothing right to all others) a la his current team selections, and baffling substitutions. I know for a fact that some players are sick of it, and some former players have not a decent word to say for the club. I don't blame the players in the current side for being annoyed with the mangers selections, however, I also don't blame these suspect players either. It isn't their faults that they are too old or just not good enough, or both.
Now that begs a question of the board. It is their fault that the current manager is in place, not Gunther's. He after all refused the job on a full time basis on THREE different occasions. So what do the club do? They offer him a two year extension to his one year part time contract. Kinda baffling isn't it? The question which is begged of the board is this - Do you or do you not want a full time professional club who are likely to make an impact in Europe (a la Bohs)? Would you prefer an amatuer club with no real hopes or dreams, apart from an occasional friendly with Celtic?
Okay, I've bitched enough now. Believe it or not but I am actually a City supporter and wish them all the best on the pitch. This article is not written on the back of the last two results. I would have said the exact same thing had you asked me 6 months ago. I will continue shouting myself hoarse over the rest of the season in the hopes City win the League. I'm just of the opinion that things could be done a bit more professionally. Happy Christmas and a great new year to all.
Look out for FourFiveOne at the Derry game on Dec 30th which will be broadcast live on RTE2.
†
†
Posted on Jul 28th, 2009

If CCFC lose their appeal on Friday the club will be forced to close for good and be removed from the League of Ireland..
Posted on Aug 19th, 2008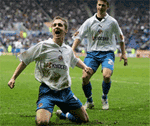 Cork City FC is on the brink of collapse as it applies for Examinership at the High Court. If Kevin Doyle goes from Reading to Villa there's hope....
Posted on May 16th, 2007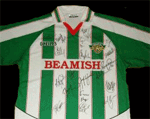 A bunch of loyal and dedicated Cork City FC fans are raising sponosrship funds with an online auction of a signed jersey. Get your hands on it now...
Posted on Feb 6th, 2003

The ever popular CCFC fanzine FourFiveOne present their awards for the end of season....
Posted on Feb 3rd, 2003
No cup this season, no europe next season and Murphy resigns. Gareth Williams sums up the first transition season at Turners Cross....