Corkonians Guide to Dundalk
21st Oct 2014

The winner of the SSE Airtricity League will be decided on Friday night with first place Cork City FC travelling to second place Dundalk. A win or draw would mean City would claim a first league title since 2005 and bus loads of city fans will make the long journey north. If you're one of the lucky few with tickets you may find our guide to Dundalk helpful….

Dundalk town is the principle town of the smallest county in Ireland and was founded by the I.R.A. in 1973 as a holiday destination/prison for its members. County Louth is approximately a mile and a half long by 400 yards wide. It is 1.3 billion times smaller than Cork – for comparison imagine if our county was the size of Turner's Cross stadium then Dundalk would be the size of a single salt on a single chip from the chip van.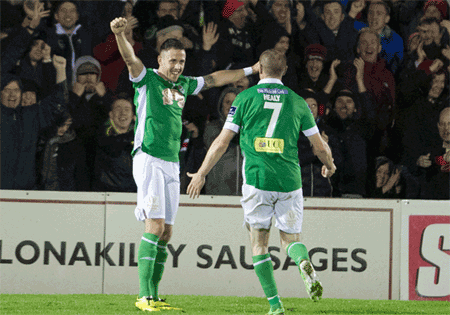 Billy Dennehy celebrates after scoring the winner
against Bohemians to put City top of the league

The location of the town was carefully positioned to be exactly half way between Dublin and Belfast and lies a few miles inside the border of the Republic but is still within stone throwing and petrol bombing distance of the border of Northern Ireland.

The guttural Dundalk accent is an interesting one that often sounds like natives are speaking through a long and narrow copper pipe partially blocked with wet socks. However, Dundalk inhabitants generate speech not from the voicebox, mouth and lips like most humans but from the stomach and the part of the lungs where phlegm gathers.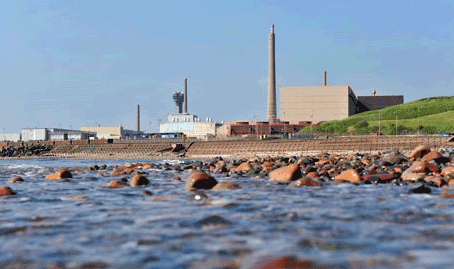 The view of Sellafield from Dundalk if you were a fish.


Much like the way the infamous Spanish lisp is derived from deference to a princess with a speech impediment the Dundalk accent is a nod to locals who have been the subject of mild Republican torture –those being interrogated quickly evolved a method of communication using their digestive system with their captors despite having objects placed over or in their mouths.

Dundalk is the closest centre of population of the country to the Sellafield nuclear plant on the north west coast of England whose nuclear waste was hoped to mutate the pro-Republican population of Dundalk during the seventies and eighties at the height of The Troubles.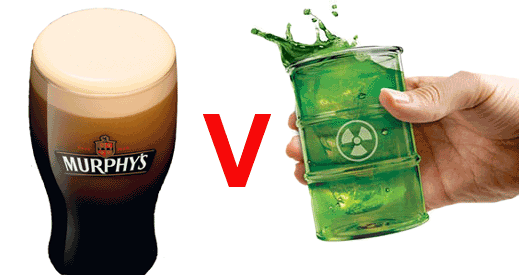 Cork versus Dundalk. Murphy's Stout versus Sellafield's Cider.
League decider at 7.45pm on the de telly on Friday 24th October.

Although some scientists who have visited the town itself and observed the grim faces of the population argue that the mutations were highly successful the town continues to grow with a strong local economy based around fuel smuggling, shotgun sales, grave digging and torture – in fact fifty new jobs have just been announced by 'Waterboarding 365' a company that provides a twenty-four hour callout torture service for Co Louth – giving the town the nickname 'Gundalk'.

Weather plays an important role in Dundalk life. The town's climate is described by Met Éireann as 'tense' – being dominated by high political pressure from both the north and south and ill winds that blows nobody good. While somewhat sheltered from turbulent Atlantic fronts it receives regular showers of plutonium when the wind is easterly.

Down the town: Dundalk lads out on a Saturday night

If you're heading north for the weekend and need to do some urgent washing over the weekend (in fairness Johnny C's boys can do peculiar things to your already nervous insides when they sit back and let teams attack them) then launderettes in the town are not what Corkonians would be used to. While the norm in most city launderettes would be to slot in your euro coins, lob in your clothes and sit it out, the approach to dirty laundry in Louth is quite different so don't look like a fool when you stroll into one with your soiled green jersey and beer drenched socks on Saturday morning.

In this town, when visiting a laundrette you need to bring a large bag of cash in any currency that you "found" in a bag in the lobby of a bank or post office. Usually the numbers on your pre-laundered notes will be sequenced and a little awkward to deposit in the auld trusty savings account but these lads will sort you out and give your gear a good wash.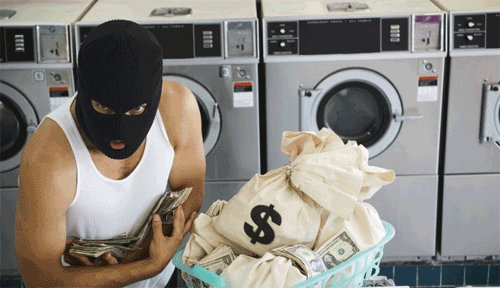 Make sure you use a low temperature wash

After saying the password, you simply close the door on the washing machine and walk out without looking behind you. Your washing will be returned to you in a matter of days in the form of a directorship of a nightclub in Monaghan or a shareholding in a block of new apartments in Torremolinos.

Guidebooks recommend traditional family operation P. O'Neill's as the most reliable laundrette but there have been a few spin offs over the last decade that are said to be also anxious for business..
It's most famous citizen is Sinn Fein leader Gerry Adams T.D., who definitely isn't from Louth (smiley face)and definitely wasn't in the IRA (winking smiley face). Adams is noted for his magical ability to allow him to insist on one policy north of the border and the complete opposite in the south.
Steve Staunton: never quite sure what's going on.

The other famous person from Dundalk is former Liverpool full back Steve Staunton who was the worst football manager of all time and presided over Ireland's embarrassing 5-2 defeat by Cyprus in 2006. Corkonians will be hoping Dundalk are full of his spirit on Friday night when they take on Cork City FC. H'on City!

The match will be shown live on RTE2 at 7.45pm on Friday night or follow the match online at: www.corkcityfc.ie/


Sponsors
PROC Mailing List
On Today
Forum Latest
Sinn Fein are not a Normal Political Party ??
4 min - 228,352 views
who is stevie g?
4 min - 2,161 views
CSN Halcyon Days.
11 min - 7,824 views
Cork Footballers
12 min - 14,563,959 views
The Official Man Utd Thread - Part 3.
14 min - 1,661,571 views
Junior A Football Championship 2022
23 min - 25,064 views
2022 Senior A hurling
42 min - 14,259 views
Kevin Myers on the Surrender of Europe
1 hr - 46,976 views
pj coogan show
1 hr - 793,432 views
Cyclists
1 hr - 516,067 views
Sudoku.
1 hr - 26,708 views
PROC Cork Senior Hurling 'Name the Winners' Competition 2022
1 hr - 7,034 views
The train to Youghal/Waterford
2 hrs - 21,164 views
President Trump 2016-2024 - Official Discussion Thread
2 hrs - 1,881,905 views
Do you think cork could be independent?
2 hrs - 95 views
Simon Coveney
2 hrs - 39,440 views
Olivia Newton John not staying alive
2 hrs - 805 views
The next Government
2 hrs - 381,113 views
Antivirus for Android....
2 hrs - 42 views
Jesus lads, 'tis looking like BREXIT!
2 hrs - 2,232,071 views