Rosetta Probe Actually From Cork
A probe which made history by being the first to land on a comet is more or less from Cork.

Rosetta (Nee Dennehy) is, in fact, directly related to the Dennehy-McCarthy clann originally from Bandon, Co. Cork and now spread around the Kilbrittain and Coolmaine parishes.

There were jubilant scenes on Coolmaine beach yesterday as Rosetta touched down on a comet she had been tracking for over ten years.

"Cork women are good at stalking their prey", said ESA chief Finbarr O'Sullivan, "that's why we chose her. She never gave up".

Cork's top old doll will now relay back information about the beginning of the universe – the big bang which created Cork and, of course, a number of other places with left-over bits from the People's Republic.

Locals were in buoyant mood although there were some concerns that the probe's harpoons were not secured to the comet.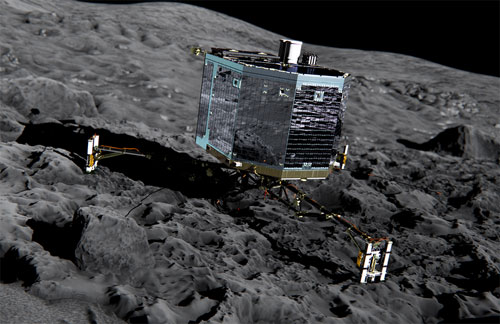 Rosetta as a child practicing comet-landing near Timoleague

"Sure look it's nice to somebody from the area, getting on well", said local farmer Dinny Walsh, "whether it's America or Australia or on comet 67P it's important now that she keeps her feet on the ground – harpoons or no harpoons."

The Cork probe was launched soon after the Munster final win over Waterford in 2004 and was asleep until earlier this year.

"It wouldn't have been fair to launch before she got to see the final really", said Rosetta's former school friend Marion Keane, "she has missed an awful lot of big news events like the whale washing up on the beach and Mike Lehane's wife of 45 years running away with their Spanish student".

Officials in Bandon, who recently put TV presenter and comedian Graham Norton's name to a new walkway, are considering renaming the entire town to 'Rosetta'.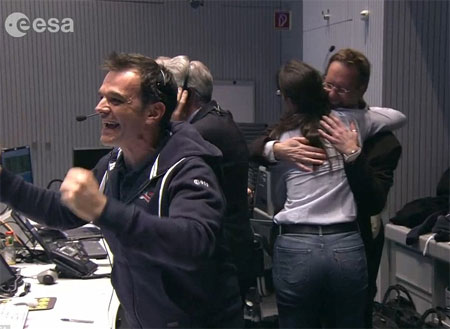 "H'on the Rebels!"

"We have to go one better this time", said a local councillor on condition of anonymity, "it's fantastic that this Cork probe has made history like this and we have to capitalise on it by bringing tourists to the town to sample the produce of our delicious café. We do very tempting soup down here as the Protestant community can verify."

67P will officially be made part of Cork in the next few weeks at a meeting of the People's Republic of Cork provisional government (a referendum will take place on the comet but it will be unlikely anyone will vote against being part of the PROC) while Rosetta Dennehy is given freedom of the city by Cork City Council.
Posted on May 18th, 2019
In part deux we look at ways we can all help make Cork's Huguenot Quarter become a little more French by changing our accents, taking up chain smoking and having multiple affairs with beours we don't even like...
Posted on May 11th, 2019
With our insatiable appetite for tourists, maybe it is now time to ramp it up and go all-singing-all-dancing frogs legs, onion necklaces and stinky cheese...
Posted on May 4th, 2019
Even though we are a notch above the rest, Cork people aren't all the same – perfection doesn't mean we are homogeneous.Travel around the city and county and you'll find some quirky traits that make each of the jewels in Cork's crown unique
Posted on Apr 4th, 2019
The relentlessly repetitive single word script and leave-whenever-you-want audience policy is sure to be a hit in theatres from Buttevant to Barnet and Brixton to Broadway....
Posted on Mar 13th, 2019
When minority languages try to recover from historical oppression, it is the death-by-a-hundred-thousand cuts inflicted by the native population themselves that properly ensures a language is extinguished..