Keane Still Box Office
The furore over the launch of the Roy Keane's second autobiography has been predictably hysterical but given the his team's results against Gibraltar and Germany maybe the Corkman should release a book before every set of qualifiers for France 2016.

Any time Mayfield's finest opens his mouth to answer a question hoards of anti-Keane and anti-Cork internet haters rush to their favourite server to tell us that he should keep his mouth shut. It's a circle of fun for Roy at this stage: he knows his honest opinions drive the curmudgeons demented as they cease on any hint of hypocrisy as confirmation that The Boy is not, in fact, the Second Coming.

Our own favourite is the line that Keane is a hypocrite because, having mocked them for years as a player and manager, he became one of the very TV pundits he appeared to detest. This flimsy theorem is apparently 'evidence' that Keane is becoming the very person he once despised but it doesn't make sense.

Keane has offered plenty' Roypinions' on clueless pundits over the years but he hardly dismissed the job itself and swore he'd never become one. What he did mock were ex-players who achieved very little in their careers passing judgement on him or his teams without any consideration for what might be going on behind the scenes. Even having to explain this to those who get wound up every time Keane opens his mouth shows how entrenched they are in second guessing what goes on in the Corkman's mind.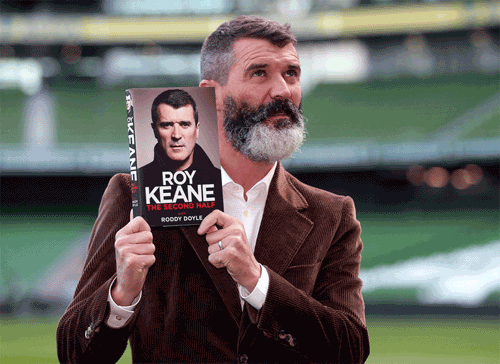 New Testament: 'Cmere God this is what you call a book'

Drawing simple conclusions with flimsy evidence is something that Keane has abhorred. When Pat Kenny asked Roy about Stephen Ireland's reasons for not playing for his country on the Late Late Show in 2009, Roy told him -

"It's very dangerous for me to be second guessing what's going on there, I've never met the lad."

Grumpy anti-Keaneites will clutch at any part of his life to have a go at him. The beard? He must be depressed. All the charitable work he does for the guidedogs? Just so he can mouth off to the media when he's helping to promote the do-gooders cause. All the visits home to Cork? Just trying to make himself look authentic. It seems he can't win. But he is.

The FAI have failed in promoting international home games over recent years, even against major opposition so imagine the potential failure that confronted the FAI's marketing team when it came to trying to promote a match against the worst team in Europe – Gibraltar.

If anyone in their right mind thinks that the FAI would have drummed up more publicity for the two international matches without Keane's autobiography being accidentally-on-purpose released a few days beforehand in Manchester (in fairness Eason's in Dublin might have given the game away) then they need to wake up and smell the freshly printed cover of his 'New Testament'.

How utterly naïve to the modern world they must be - advertising and marketing gurus are running rings around them! It's a dead cert that the FAI were wholeheartedly behind the book launch in order to generate publicity for their own event at the Aviva where they've been really struggling to pull in the punters.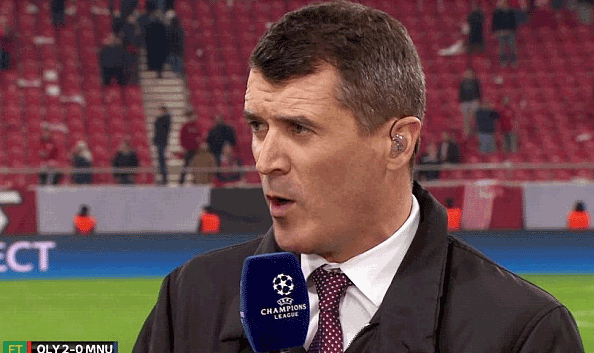 Box office.

Every week we see some half-naked badly fake-tanned young one in a short dress trying to look sexy next to two middle aged bankers launching a boring pension product or a moderately popular sportsman awkwardly cutting a ribbon at a car dealership. They are there to attract eyeballs in the hope that a certain percentage of us will also pick up the real message: buy our thing, bubbila.

If you're trying to sell a boring product like a new savings account or the Republic of Ireland versus a terrible soccer team, then at the very top of the list of people who could help you get the publicity you need is Roy Keane. Whether you like him or you're a langer the boy is box office.

The notion that Roy decided to launch the book on the week of the Euro qualifiers himself is seriously deluded. You can be sure that the FAI heavily influenced the launch date and "manager" Martin O'Neill and the Irish squad were briefed about it well in advance.

That's why they all seemed to have no problem with it - the media meltdown over the book guaranteed the sale of thousands of extra tickets to the Aviva and glued far more TV eyeballs to the match than they would have got without the book launch.

The internet, anti-Cork newspapers and pro-Dublin radio stations felt obliged to descend into hysterical finger pointing because Roy's book was "distracting" from 'the real reason' he was in town. What? A game against a few lads from a country with a population smaller than Leitrim?!

After years of frustration with the media's need to second guess reasons for his every move Roy has, as he would have as a player, finally figured out how to use the media's speculative second guessing to his and his team's own advantage. Critics got their answer as they always do.

The Real Manager's team won seven nil against Gibraltar and drew away from home against the world champions. Case closed.


Check out the excellent Roy Keane Rant - Fiction thread on our sports forum for a hoot
Posted on Oct 8th, 2018
The building boom is back. Are you a hospital consultant thinking of getting into attic conversions or the CEO of a Fortune 500 company that fancies a career in roofing? Then know how proper langers treat their customers....
Posted on Oct 1st, 2018
In Europe's friendliest city more than one bicycle is stolen every..eh....several days. That's a whopping 0.05% of the population. Be careful out there....
Posted on Sep 17th, 2018
An 83 year old man foiled a three-man raid in Glanmire last Saturday evening and in the process delivered a beautiful kick up the arse to one of the humiliated raiders. Who else needs a Dinny Funt?
Posted on Aug 27th, 2018
A buskers' code agreed between buskers, traders and residents is well worth pursuing before wrapping ourselves up in legal knots and slapping low-income buskers with fines...
Posted on Aug 15th, 2018
It has been rumoured for years that Bob Marley lived in Cork...and possibly still does. Only that can explain the manic devotion to the reggae superstar on Leeside...