Charity Appeal: Hurling Fans Asked to Send Socks to Jackie Tyrell
28th Jun 2021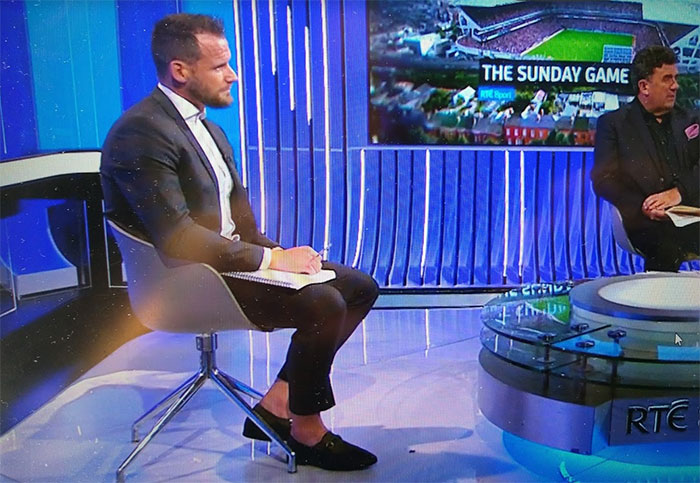 Hurling fans around the country are clubbing together to send socks to former Kilkenny hurler and pundit Jackie Tyrell who has been appearing on RTE's Sunday Game partially unclothed. 
There have been on-going concerns in GAA circles for some time about Tyrell's inability to dress himself properly despite heavy sponsorship from an English retailer. The reluctance of the national broadcaster to offer the analyst a spare pair of socks or a tie before appearances has also drawn criticism. 
"This is Ireland, not the set of some pretentious reality TV show full of langballs," said a representative for the group "we'll start with a lash of socks and we'll move on to getting him some ties after that."
A source close to the hurler, that is definitely not Eoin Larkin, has denied the multiple All-Ireland winner has a problem with attracting cotton-eating moths infesting his sock drawer. 
Sponsors
PROC Mailing List
On Today
Forum Latest
The Official PROC Restaurant review thread.
1 min - 1,033,717 views
Russia's unjustifiable war of aggression in Ukraine
2 min - 429,165 views
The Official Liverpool Thread - Part 2
5 min - 2,996,168 views
Woke School Alert...
8 min - 19,222 views
2022 Premier Senior Hurling
9 min - 243,897 views
the official betting thread.
17 min - 650,549 views
What video games are you playing / looking forward to?
40 min - 50,723 views
MacCurtain Street 1957-2007
40 min - 11,848 views
Pubs reopening June 29th
50 min - 474,962 views
Jesus lads, 'tis looking like BREXIT!
57 min - 2,279,022 views
Coolio goes bang!
1 hr - 975 views
How Ireland Works
1 hr - 1,004 views
The Official Celtic Thread
1 hr - 1,843,168 views
The Official Man Utd Thread - Part 3.
1 hr - 1,749,251 views
Sudoku.
2 hrs - 29,556 views
The Official Irish Rugby Thread 19/20.
2 hrs - 203,510 views
Benny does it again.
2 hrs - 160,432 views
The official Cork court report thread.
3 hrs - 194,577 views
pj coogan show
3 hrs - 804,700 views
Gaa brawls
3 hrs - 21,349 views