The Official BBQ Of Us
MURPHY'S Little Big Nights Out
presents
THE OFFICIAL SUMMER BBQ
Friday July 29th , 6.00pm
at two of your favourite locals
Fionnbarra, Douglas Street, Cork
Tom Barrys, Barrack Street, Cork
The Summer's here and the time is right for a culinary celebration Cork style! MURPHY'S Little Big Nights Out will host a sizzling BBQ at two of Corks top city venues. Each get together will be a showcase of tasty BBQ treats from two of our finest local producers. MURPHY'S Little Big Nights Out are delighted to champion the culinary excellence of our fair city and tantalise the buds of MURPHY'S fans across Cork!
On Friday July 29th at 6.00pm, smokin' BBQ's will be lit in two of Cork's best beer-gardens- Fionnbarra on Douglas Street and Tom Barrys on Barrack Street- where MURPHY'S fans will be invited to take part in the Official Summer BBQ!
It's up to you which venue you'd like to hang out in for the evening! O'Flynns Gourmet Sausages will be firing up the coals at Fionnbarra, where Cork's most famous sausage man will be cooking up platefuls of handcrafted, locally sourced sausages and burgers with lashings of your favourite toppings. Chill with the lads to a groovy summer soundtrack and enjoy a complimentary pint of MURPHY'S.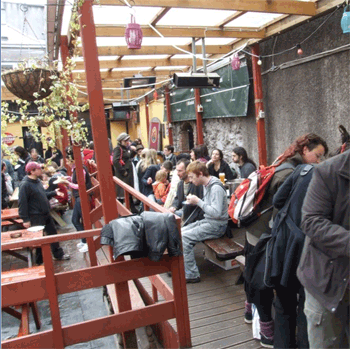 The beer garden at Fionbarra on Douglas Street
Tom Barrys will host Artisan Catering's food magician Barrie Tyner will be handling the BBQ tongs at Tom Barry's, where sizzling hot, slow-cooked Texan beef and tangy organic Connemara salmon will be the order of the day served on a bed of spicy cous, cous, all washed down with a cool, creamy pint of MURPHY'S, the perfect BBQ accompaniment!
As a super retro after dinner treat, MURPHY'S will be providing old fashioned sweeties from Cork's confectionary wonderland, Aunty Nellies Sweet Shop.


It's the perfect way to start the Bank Holiday Weekend and both events are free to MURPHY'S connoisseurs, courtesy of the Official Pint Of Us. The only decision you have to make is which venue to spend the evening in!
All you have to do is log onto www.littlebignightsout.com and register your details to be in with a chance to win a pair of tickets to the venue of your choice.
Always enjoy MURPHY'S responsibly, visit drinkaware.ie
Make sure to like us on Facebook. Search MURPHY'S – The Official Pint of Us
Posted on Nov 27th, 2018
With much of the area due to become part of the city in the next few years, Glanmire has confirmed it was just trying to impress the rest of the northside with the "mass brawl" that took place in Riverstown last Saturday morning.
Posted on Nov 20th, 2018
A video taken in Bishopstown of a UFO has been dismissed with a seemingly rational explanation about the sun and the international space station. Fuck that though...
Posted on Nov 13th, 2018
Are you spending most of your day online posting vague, anecdotal evidence to back up your assertion that the Panaban is either the best or worst thing ever? Read on, bubbila.
Posted on Nov 5th, 2018
Last weekend a Dublin newspaper published an entire supplement called "10 Big Ideas to Make Dublin Better". Unfortunately our thoughtful and well considered suggestions were omitted due to the newspaper's anti-Cork bias. Here they are...
Posted on Nov 1st, 2018
Encouraged by his single figure showing in the Presidential election, Seán Gallagher vows to return from the sea and fight the 2025 Presidential election…