Church Approaches Junk Status
The Vatican is to offer 'prayer bonds' and additional masses in an attempt to pay the compensation owed to clerical abuse victims.
Minister Ruairi Quinn is to meet religious congregations on Friday to discuss the huge shortfall in the Catholic Church's contribution to the €220 million compensation fund for victims of abuse in industrial schools.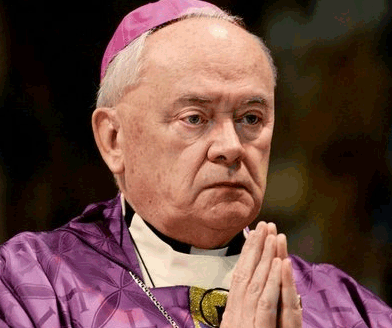 Paedo Shield in hiding: The disgraced Northern Ireland born John Magee who once claimed that it was he who found the body of Pope John Paul 1 while working at the Vatican...and later admitted it was actually a nun. He failed to report 9 of 15 abuse cases to Gardaí.

Although the Minister has requested the transferring of schools from religious orders to the state in an attempt to pay for the trail of abuse, the Church is resisting and will instead offer the largest amount of masses ever seen in an attempt to pay off their debt.
A church spokesman (it was never going to be a woman in fairness) said that the value of masses had increased in recent months.
"The only solution to this attack on the church is more masses. We could really drive the shit out of this with a massive increase in fellas knocking out daily sermons and shortening sessions to under 30 minutes."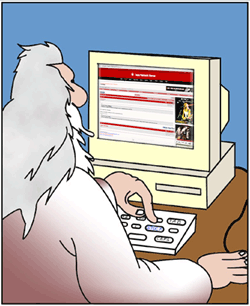 God browses the Cork hurlers thread looking for 'answers'. He's not digging Cloyne at the moment.
"It's a wing and prayer job but it could work", the spokespriest continued, "we should be aiming to hit over 1.4 million Hail Mary's a month nationally, that will certainly make victims feel a lot better and will give the impression that we're doing something worthwhile".


Another suggestion from Vatican sources is to increase the number of nodes on rosary beads by up to 20% thus increasing the amount of prayer per capita.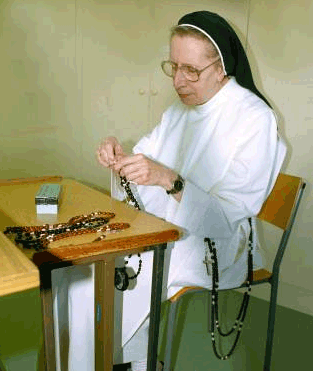 Herself adds extra beads to increase prayer yields
CHURCH APPROACHING JUNK STATUS
In a significant and possibly planned leak from Heaven, it is clear that the Vatican risks losing the lucrative God franchise if their inability to pay mounting debts to the Irish state continues.
Markets responded negatively to the news with the price of 'transubstantiated' communion bread dropping several points on the FTSE while shares in Mormon churches and tambourine stocks rallied on Wall Street.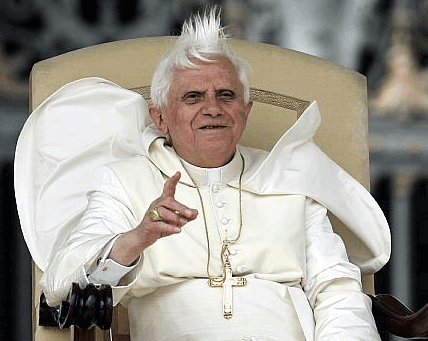 "I haff ze solution! Vee need more masses!"
A spokesman for Moody's, the credit rating agency, said the church needed a miracle to prevent a loss of credibility and had to focus on productivity.
"The Catholic Church hasn't announced a decent miracle or moving statue in decades especially since the proliferation of modern technology like video cameras. Another 'Ballinspittle' would be good for tourism as well as the religious industry itself."
Bishop Magee who has gone into hiding after the publication of the Cloyne report on sexual abuse was unavailable for comment but is said to be looking forward to his next mass.
Posted on Jan 7th, 2019
Stick in your headphones, turn off your bike lights and throw away your helmet - everyone knows you can't die if you're under 25...
Posted on Jan 1st, 2019
Just what you needed to make you feel worse about your dizzying hangover and your half-baked new year's resolutions to get fit....
Posted on Dec 30th, 2018
Our recommendations to improve the pure purity of your pure Corkness in pure 2019...
Posted on Dec 20th, 2018
From toasted specials and hot ports to big wheels and seeing the real Santy...
Posted on Dec 10th, 2018
Fancy yourself as a Cork bus driver? Can you whistle the same tune over and over again for hours on end whilst trying not to turn crazed cyclists into oily sandwiches?