Dunmanway Raises PROC Flag
Libyan Rebels' advances in the last few weeks have been inspired by the PROC Dunmanway 1st Brigade who re-captured a small townland in West Cork after an incursion from Kerry forces from the west.
Under heavy artillery fire from a converted cow shit spraying toilet bowl several Kerrymen took the hillock at Yewtree Hill 2km north of the town.

While this plot may seem insignificant to outsiders the Kerry animals were aware that the roundy hill was birthplace of Sam Maguire – the Cork icon who's name is on the All-Ireland Senior football trophy.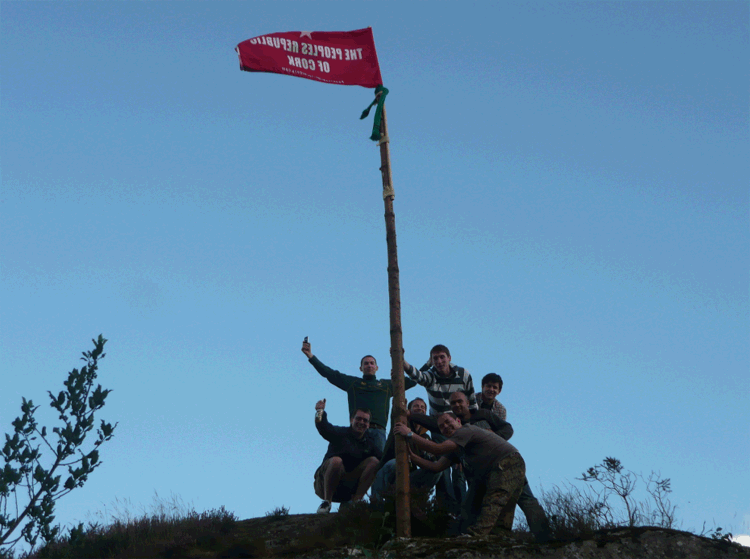 The Dunmanway 1st Brigade raise the flag after reclaiming a hillock from occupying Kerry pro-Dublin forces
Using anti-aircraft guns, hellfire missiles and a can of deodorant the Rebels reclaimed the hillock in a matter of hours leaving the Kerry troops in disarray.

The ferocity of the Rebel assault was driven by concerns that the Kerry forces contain sleeper cells known as 'Dubs' although a Kingdom spokesman appeared to deny this when he said 'Yerra sure lookah, there wouldn't be much in that now and sure listen that's the way it is and sure we'll be done with it now, took our batin' fair and schquare t'fuck'.
Dunmanway has a ferocious reputation (in 2009 the local soccer club embarrassed Premiership side Liverpool when they came to visit the Cork town) and is often described as a hot bed of Corkonian nationalism.

UN and EU envoys have pleaded with the leadership of the main Rebel separatist group to reign in extremists who want to dig a moat around the Cork border and eventually have the county towed away from the Republic of Ireland.

Pictured during victory celebrations on Yewtree Hill raising the PROC flag are John Calnan, Donnie Bán, Mango, Colm Bambury, John "Galway", Aidan Buckley and Michael Milner.
Commanding officer James Duggan of Funmanway led the mission and has been awarded a red heart medal which entitles him to free Beamish in any Cork pub for life and an old doll under 15 stone in every major Cork town.
With Rebels like this Cork's drive for freedom is in safe hands.



Posted on Jul 16th, 2018
It's time to hand the event centre tender over to the Peeple'a'Cork. Just give us 100 Saturdays and we'll knock it together. Anyone have a spare trowel?
Posted on Jul 2nd, 2018
It has been very dry over the last few weeks and things are tough all over the country but did you hear about how bad the drought is up in Clare? They haven't won a Munster title now in 20 years.
Posted on Jun 29th, 2018
We have the weather so now all we need is to drive like lunatics, make siestas legal and look a lot more philosophical whilst smoking....
Posted on Jun 19th, 2018
We turn the slightest, most tenuous Cork connections to other countries and their players into blind loyalty so you have a reason to scream 'C'MON ON D'REBELS!' at your telly every night for the next month...
Posted on Jun 12th, 2018
Read our guide to holding up traffic, driving at terrifying speeds through villages and sleeping in your tractor....all so Chinese women can give up breastfeeding...