Cork Gig Preview for September
The usual lash of fantastic gigs are lining themselves up like lambs to the slaughter this month especially with the Beamish Cork Folk Festival pencilled in for Sept 29-Oct 2nd. On the bill are T with the Maggies, Julie Felix, Gemma Hayes, Craobh Rua, Roy Bailey, Mundy and about another half-million acts.

Hopefully making you aware of how much live music Cork has got on this month you won't cause a bout of 'Gig Panic' - this is a sudden burst of irrational movements due to the brain being overwhelmed by mouth watering choice. Symptoms include relentless foot tapping, singing to yourself, foaming at the mouth and unusual bowel movements. If you experience this please consult your nearest music venue for advice or just cop on and make a plan.
Here there lah:
Cork: a more vibrant live music city than all the others put together - including Vegas. Probably.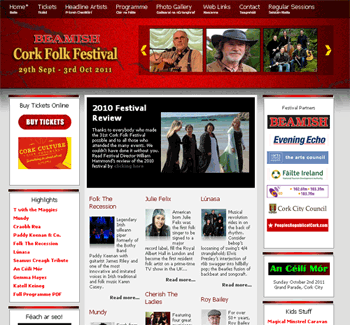 Corkfolkfestival.com now has full festival programme
Posted on May 18th, 2019
In part deux we look at ways we can all help make Cork's Huguenot Quarter become a little more French by changing our accents, taking up chain smoking and having multiple affairs with beours we don't even like...
Posted on May 11th, 2019
With our insatiable appetite for tourists, maybe it is now time to ramp it up and go all-singing-all-dancing frogs legs, onion necklaces and stinky cheese...
Posted on May 4th, 2019
Even though we are a notch above the rest, Cork people aren't all the same – perfection doesn't mean we are homogeneous.Travel around the city and county and you'll find some quirky traits that make each of the jewels in Cork's crown unique
Posted on Apr 4th, 2019
The relentlessly repetitive single word script and leave-whenever-you-want audience policy is sure to be a hit in theatres from Buttevant to Barnet and Brixton to Broadway....
Posted on Mar 13th, 2019
When minority languages try to recover from historical oppression, it is the death-by-a-hundred-thousand cuts inflicted by the native population themselves that properly ensures a language is extinguished..