Cork Gig Preview for September
The usual lash of fantastic gigs are lining themselves up like lambs to the slaughter this month especially with the Beamish Cork Folk Festival pencilled in for Sept 29-Oct 2nd. On the bill are T with the Maggies, Julie Felix, Gemma Hayes, Craobh Rua, Roy Bailey, Mundy and about another half-million acts.

Hopefully making you aware of how much live music Cork has got on this month you won't cause a bout of 'Gig Panic' - this is a sudden burst of irrational movements due to the brain being overwhelmed by mouth watering choice. Symptoms include relentless foot tapping, singing to yourself, foaming at the mouth and unusual bowel movements. If you experience this please consult your nearest music venue for advice or just cop on and make a plan.
Here there lah:
Cork: a more vibrant live music city than all the others put together - including Vegas. Probably.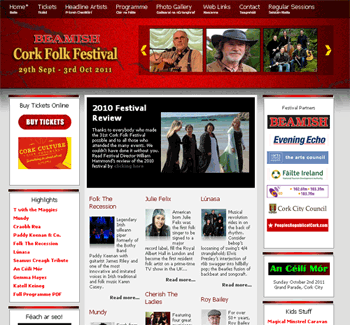 Corkfolkfestival.com now has full festival programme
Posted on Oct 8th, 2018
The building boom is back. Are you a hospital consultant thinking of getting into attic conversions or the CEO of a Fortune 500 company that fancies a career in roofing? Then know how proper langers treat their customers....
Posted on Oct 1st, 2018
In Europe's friendliest city more than one bicycle is stolen every..eh....several days. That's a whopping 0.05% of the population. Be careful out there....
Posted on Sep 17th, 2018
An 83 year old man foiled a three-man raid in Glanmire last Saturday evening and in the process delivered a beautiful kick up the arse to one of the humiliated raiders. Who else needs a Dinny Funt?
Posted on Aug 27th, 2018
A buskers' code agreed between buskers, traders and residents is well worth pursuing before wrapping ourselves up in legal knots and slapping low-income buskers with fines...
Posted on Aug 15th, 2018
It has been rumoured for years that Bob Marley lived in Cork...and possibly still does. Only that can explain the manic devotion to the reggae superstar on Leeside...