Cork Gig Preview for September
The usual lash of fantastic gigs are lining themselves up like lambs to the slaughter this month especially with the Beamish Cork Folk Festival pencilled in for Sept 29-Oct 2nd. On the bill are T with the Maggies, Julie Felix, Gemma Hayes, Craobh Rua, Roy Bailey, Mundy and about another half-million acts.

Hopefully making you aware of how much live music Cork has got on this month you won't cause a bout of 'Gig Panic' - this is a sudden burst of irrational movements due to the brain being overwhelmed by mouth watering choice. Symptoms include relentless foot tapping, singing to yourself, foaming at the mouth and unusual bowel movements. If you experience this please consult your nearest music venue for advice or just cop on and make a plan.
Here there lah:
Cork: a more vibrant live music city than all the others put together - including Vegas. Probably.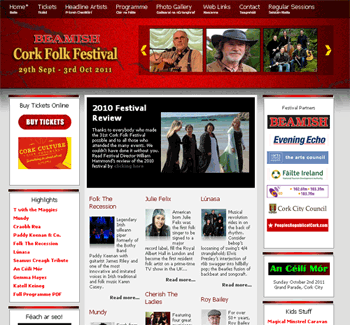 Corkfolkfestival.com now has full festival programme
Posted on Aug 15th, 2018
It has been rumoured for years that Bob Marley lived in Cork...and possibly still does. Only that can explain the manic devotion to the reggae superstar on Leeside...
Posted on Aug 8th, 2018
If you haven't moved abroad in protest after the last time the Panaban was tried or set yourself on fire in defiance then check out our frequently asked questions guide to Panaban's second coming.
Posted on Jul 24th, 2018
This time last year Cork were Munster champions going into the All-Ireland semi-final on a high. It didn't end well. The Rebels have added some steel that should help avoid another semi drubbing but is it enough to beat a tough Limerick outfit?
Posted on Jul 16th, 2018
It's time to hand the event centre tender over to the Peeple'a'Cork. Just give us 100 Saturdays and we'll knock it together. Anyone have a spare trowel?
Posted on Jul 2nd, 2018
It has been very dry over the last few weeks and things are tough all over the country but did you hear about how bad the drought is up in Clare? They haven't won a Munster title now in 20 years.