Ughhhhh: Imagine Shifting Someone You Just Met in a Pub
3rd Apr 2020
You could hear a pin drop on Patrick Street last Friday night about an hour after Leo announced his national lockdown. The traffic lights outside Eason's on Patrick Street turned red and back to green again four times, but there wasn't a car or a crossing pedestrian in sight.

There were no taxis to be seen anywhere and a brightly lit double decker stood at the bus shelter outside Brown Thomas, empty.

Up around Grand Parade a few busy delivery cyclists and the odd car pattered by, while a half a dozen, half-dozing sparrows fluttered around the big tree opposite the Queen's Old Castle. They must be wondering where all the humans have gone.

Grand Parade and Oliver Plunkett Street at this time of the week are normally teeming with craic, bursting with banter and ball-hops. Young couples snog the face off each other in bars, swapping Instagram handles and saliva.

Restaurants are usually pouring their chatty, wined-up punters into the street and giddy groups take time-outs to decide on where best to move their bouncy Friday night energy to. There's hard earned coin to be spent, quare new cocktails to be supped and dancefloors to be murdered.

There are the loud-talking, 'martyrs' who come into town straight from work in Ringaskiddy and Little Island – 'Sultans Of The Pharma Dollar and The 4 O'Clock Finish'. The unrelenting boredom of pharma-documentation held at bay all week by the lure of lifting the first creamy pint of the weekend to lip by the time Shandon strikes five bells on Friday.

By 10 O'clock they're already sitting around a plastic table, inhaling kebabs and chips-with-cheese. They'll see how that mixes with the gallons of stout washing around 'down below' before having a boisterous conference at the fountain - like disorientated climbers on a stormy hilltop, debating the best route to the summit: the pints are better up Barracka, but the old dolls are better in town.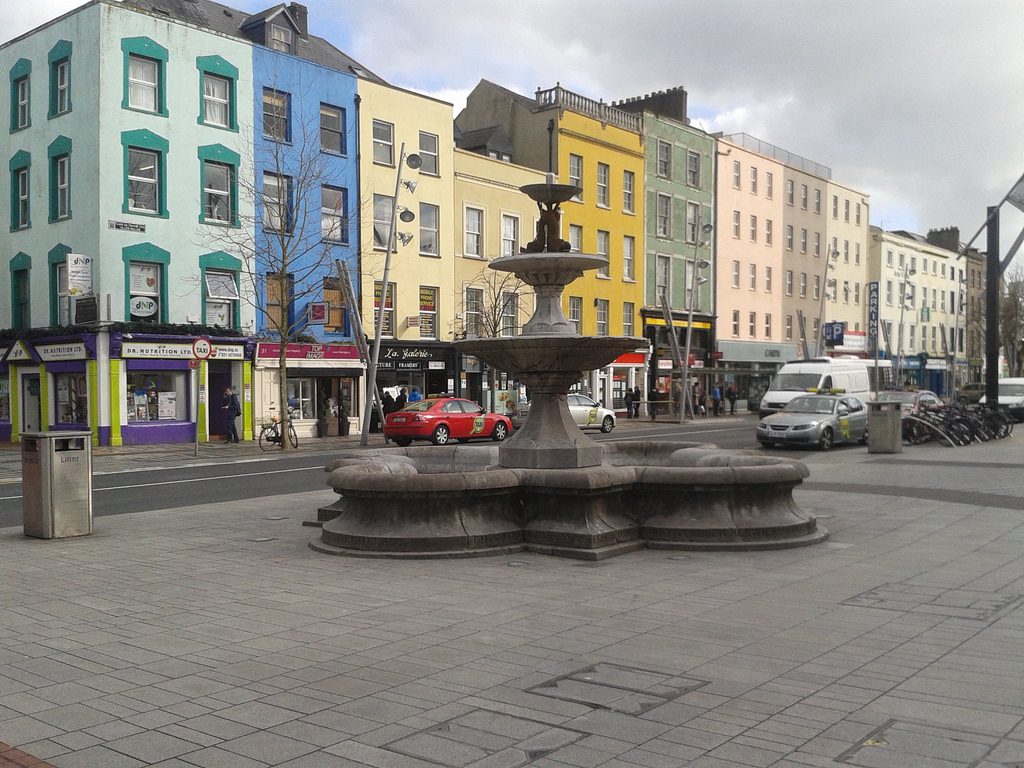 Oh, if the Berwick Fountain could talk it'd tell you what to do – imagine the wisdom it has gained listening to Corkonians for centuries! But it sits in seven-day silence now with Corkonians holed up at home.

Having Cork's city centre almost entirely to yourself is weird and beautiful at the same time. Only on Christmas Day is it ever like this and that brief period when cash registers fall silent.

There's only so long that the eery silence and the pleasant, leafy boulevards of Cork can exude the charm we've always taken for granted. The weirdness begins to outweigh the beauty. It dawns on you slowly as you turn into one empty street after another:

The novelty of the unusual peace quickly morphs into melancholy. Without people, our big little republic is only a set of physical structures that trigger positive memories of the past – the city centre is full of beautiful buildings, attractive window displays and atmospheric street lights, but it's empty.

After half an hour of strolling around the weirdness gets too much. You want to go home. It's like wishing you had your favourite Cork pub to yourself and then realising it's zero craic on your own.

A hundred years ago our city was also under curfew, but for very different reasons. Fighting back against today's threat only involves staying at home and washing your hands. In 1920, if you wanted to fight you might end up in front of a firing squad in Collins's Barracks.

For now, we're all holed up in our gafs, finishing the internet, re-enacting Frozen with smallies for the eleventh time, or preventing teenagers from clocking each other over the head with frying pans.

The dry weather has been a God send. There's hardly an uncut lawn in Cork this week. By next weekend the hedges and the painting will be done and the top of the kitchen units will be cleaned and the car will be washed twice and the dirty necks of half-mad young fellas will be scrubbed.

April is going to be long, but we're all in this together. Like the curfew one hundred years ago, this one will end too and the People's Republic will return to its normal state of heavenly glory.
It might be hard to imagine it now, but we will stand together again, wedged into the Blackrock End, roaring on Hoggie as he pops one over the bar and queuing like sardines for chips.
We will struggle to find standing room in our favourite pub on a Friday night and go for a stroll on one of our beaches with close friends without a shred of covid-related guilt. Half-eaten kebabs and overflowing cartons of curry slop will be passed around queues for festival toilets and taxis.

And, as utterly revolting, criminally unhygienic and even, unpatriotically sinister as it sounds now, feens and beours will shift the face each other in clubs and pubs around the city and county and nobody will bat an eyelid. We can do this, Cork.

Up the Rebels....and wash your hands!




Sponsors
PROC Mailing List
On Today
Forum Latest
Protesters storm US Capitol In Washington
26 min - 23,428 views
How many people have been Vaccinated to date
1 hr - 7,538 views
The Official Man Utd Thread - Part 3.
4 hrs - 978,617 views
President Biden 2020-? - Official Discussion Thread
4 hrs - 3,128 views
Wuhan Wheeze
5 hrs - 1,611,440 views
Cork Footballers
5 hrs - 13,182,047 views
How did the Norries ever agree to this??
6 hrs - 675 views
What are you listening to right now???
6 hrs - 3,088,449 views
The Hurling Thread
6 hrs - 4,554,844 views
President Trump 2016-2024 - Official Discussion Thread
6 hrs - 1,680,457 views
Mojo's
7 hrs - 3,214 views
Rate the last movie you watched out of 10
7 hrs - 2,361,348 views
South doc u turn
8 hrs - 194 views
Cork Hurlers - Part 2
8 hrs - 14,045,403 views
What has happened The Examiner?
8 hrs - 3,225 views
Can I get pregnant when he urinates inside me ???????
8 hrs - 5,610 views
What TV Series Are You Watching Now?
8 hrs - 340,266 views
The Official Celtic Thread
8 hrs - 1,740,636 views
late late now
8 hrs - 204,857 views
A Ghastly Future Awaits Planet Earth
9 hrs - 1,244 views