Toddler Emailing Mam's Boss While She Blacks Out on Couch
3rd Apr 2020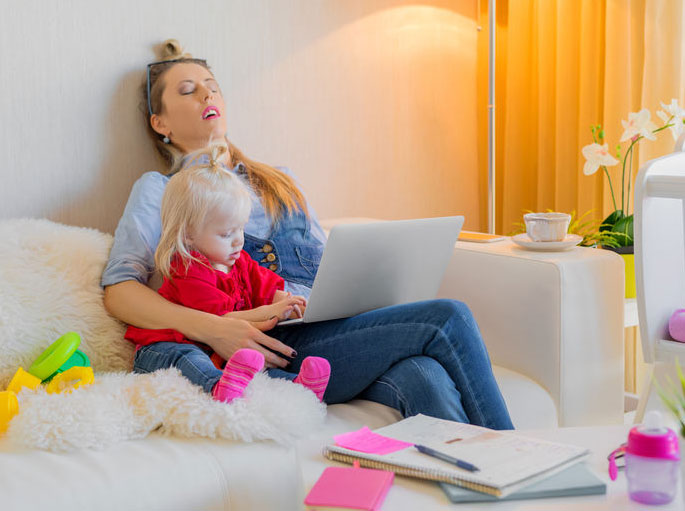 Wendy Buttimer, age 2 and one quarter, from Blarney has decided to send an important work email on behalf of her mam while she nodded off on the couch.

Cornetta Concepta Burke, 33, who works for a Cork tech company, has been asked to work from home in light of the national lockdown and is under pressure to send a quarterly report on the company's EU cash flow ledger by close of business tomorrow.

With Wendy's creche closed indefinitely, her mother must also care for her daughter around the clock and has averaged four hours sleep over the last week due to a severe bout of teething.

Finally collapsing into semi-coma on the family sofa this afternoon, the deadline for Cornetta's report looked to be in jeopardy – possibly being the last straw in an already fraught relationship with her boss.

However, young Wendy has decided to help by finishing and sending the email her mam was writing to her boss's boss by bashing the laptop keys repeatedly until the email sent and the screen went black..

Mummy will be so pleased when she wakes up.

Sponsors
PROC Mailing List
On Today
Forum Latest
Eoghan Harris?
1 min - 5,459 views
Wuhan Wheeze
4 min - 1,952,748 views
Sudocrem goes BANG!
24 min - 255 views
Official Champions League 20/21 Thread
27 min - 14,158 views
Cork Hurlers - Part 2
44 min - 14,133,875 views
The Official Man Utd Thread - Part 3.
46 min - 1,073,037 views
Jesus lads, 'tis looking like BREXIT!
1 hr - 1,808,398 views
Pubs reopening June 29th
1 hr - 237,218 views
Should Ireland just legalise Cannabis
1 hr - 4,045 views
The Official Arsenal Thread - Part 2
1 hr - 604,458 views
The Sons of Sam on Netflix from tomorrow
2 hrs - 530 views
Arlene about to go bang?
2 hrs - 4,379 views
"Heavy cost burden on students" - YCMIU
2 hrs - 160 views
Penneys..
2 hrs - 417 views
The Official Liverpool Thread - Part 2
2 hrs - 2,633,404 views
Training Run Times
2 hrs - 3,422,439 views
Today's show at 5pm, 98.3fm
2 hrs - 246,298 views
What was your favey TV show as a kid?
3 hrs - 4,967 views
PROC 2021 Hurling League 'Name the Winners' Competition
3 hrs - 1,200 views
Kindle Unlimited
4 hrs - 273 views