Toddler Emailing Mam's Boss While She Blacks Out on Couch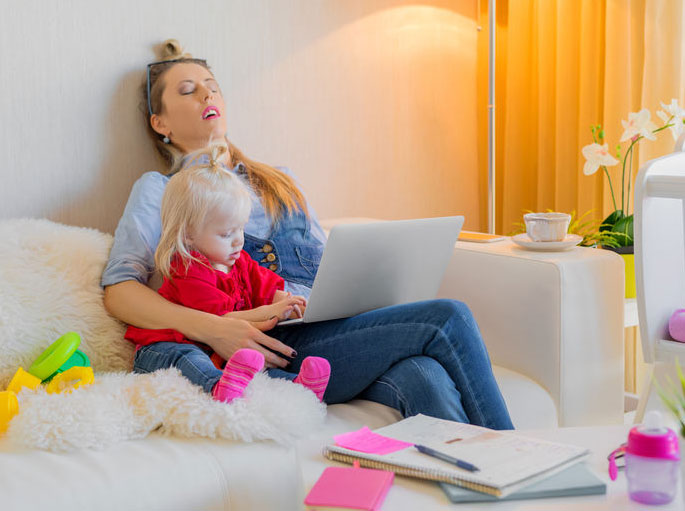 Wendy Buttimer, age 2 and one quarter, from Blarney has decided to send an important work email on behalf of her mam while she nodded off on the couch.

Cornetta Concepta Burke, 33, who works for a Cork tech company, has been asked to work from home in light of the national lockdown and is under pressure to send a quarterly report on the company's EU cash flow ledger by close of business tomorrow.

With Wendy's creche closed indefinitely, her mother must also care for her daughter around the clock and has averaged four hours sleep over the last week due to a severe bout of teething.

Finally collapsing into semi-coma on the family sofa this afternoon, the deadline for Cornetta's report looked to be in jeopardy – possibly being the last straw in an already fraught relationship with her boss.

However, young Wendy has decided to help by finishing and sending the email her mam was writing to her boss's boss by bashing the laptop keys repeatedly until the email sent and the screen went black..

Mummy will be so pleased when she wakes up.


Posted on Nov 23rd, 2020
Quick! Get into your panic room, take your cyanide tablets and make your last social media post because noisy young fellas on skateboards are having a bit of craic on Grand Parade...

Posted on Nov 20th, 2020
He dominated the Cork skyline against Kerry, the Aussie rules Rebel can Ronan McCarthy and the boys lift us out of a glum winter?

Posted on Nov 9th, 2020
Cork footballers beat the Kingdom at Páirc Uí Chaoimh in a soggy slugfest that has left Kerry reeling...

Posted on Oct 30th, 2020
Have your own virtual Thurles experience at home with our top "tipps"...

Posted on Oct 23rd, 2020
We should be gearing up for the de jazz instead of NPHET's No Craic weekend...