Toddler Emailing Mam's Boss While She Blacks Out on Couch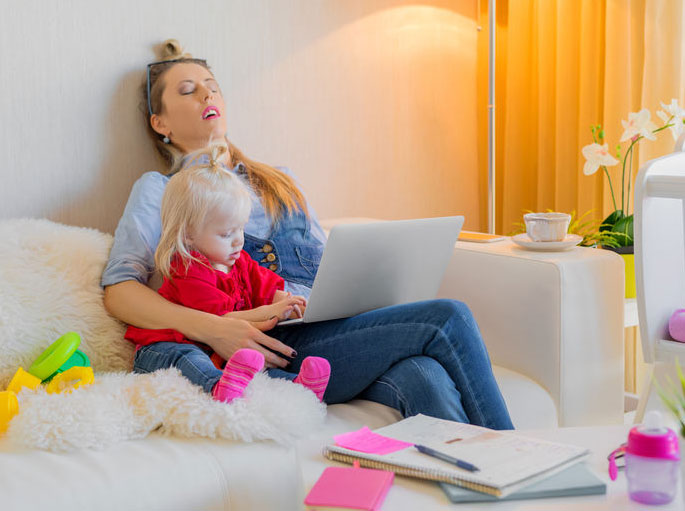 Wendy Buttimer, age 2 and one quarter, from Blarney has decided to send an important work email on behalf of her mam while she nodded off on the couch.

Cornetta Concepta Burke, 33, who works for a Cork tech company, has been asked to work from home in light of the national lockdown and is under pressure to send a quarterly report on the company's EU cash flow ledger by close of business tomorrow.

With Wendy's creche closed indefinitely, her mother must also care for her daughter around the clock and has averaged four hours sleep over the last week due to a severe bout of teething.

Finally collapsing into semi-coma on the family sofa this afternoon, the deadline for Cornetta's report looked to be in jeopardy – possibly being the last straw in an already fraught relationship with her boss.

However, young Wendy has decided to help by finishing and sending the email her mam was writing to her boss's boss by bashing the laptop keys repeatedly until the email sent and the screen went black..

Mummy will be so pleased when she wakes up.

Posted on Jun 1st, 2020
When the 5km travel restriction increases to 20km, close to 200,000 Cork city citizens will be able to flock to three or four small beaches like Myrtleville and Rocky Bay....
Posted on May 6th, 2020
Even though there are reasons to justify it in his own head, Finbarr* knows this is wrong even though the young woman who he contacted seems to be fine about it...
Posted on Apr 20th, 2020
As the lockdown drags on and patience grows thin among the population, Corkonians are taking risks and doing all sorts of things they would never have done before...
Posted on Apr 6th, 2020
To help morale, the post-covid rewards for parents locked down with kids for weeks on end have been published...
Posted on Apr 3rd, 2020
As utterly revolting and criminally unhygienic as it sounds in the middle of the corona crisis, one day soon Corkonians will once again swap saliva in public and nobody will bat an eyelid....