How I'm Living Rent-Free...Inside Homophobic People's Heads
15th Jun 2023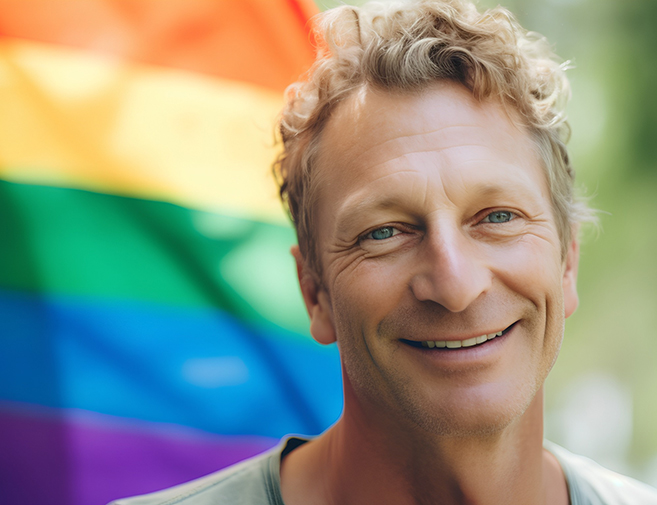 Local gay rights activist Roy Kiernan has come up with a novel solution for solving the housing crisis for himself by posting LGBTQ+ messages on social media and living rent-free inside the heads of furious homophobic trolls who can't resist replying.

"All I do is take pictures of myself with rainbow flags and post them online and the comments arrive within minutes. Then these users spend hours composing long, furious rants and conspiracies about the LGBTQ+ community."

The Cork native from Evergreen Road regularly ups the ante by taking pictures of actual rainbows in the sky and posting them with comments suggesting God is showing his support for gay people.

"It's unbelievable craic. I've accidentally wound up I'm actually living rent free in their heads. I'm in some of their heads so long that I'm going to apply to the council for permission to build an extension with a sauna in it. A gay one obviously…I'm going to post that one now actually!".

"If I only I could actually physically live in their heads it'd be a be a really handy way to avoid paying stupidly high rents though, no chance of that, like."


Sponsors
PROC Mailing List
On Today
Forum Latest
Junior A Football 2023
39 sec - 80,345 views

Coal bargain
2 min - 113 views

Before 5 preschool
4 min - 456 views

2023 Premier sfc
5 min - 163,337 views

How many Pride weekends are there?
12 min - 221,700 views

Rugby World Cup 2023
14 min - 21,296 views

Pubs reopening June 29th
14 min - 561,423 views

The Official Man Utd Thread - Part 3.
15 min - 2,286,594 views

Russia's unjustifiable war of aggression in Ukraine
21 min - 845,981 views

Cyclists
28 min - 829,503 views

Wuhan Wheeze
34 min - 2,894,356 views

Gay pub erasing gay folx
36 min - 2,164 views

Holidays.
45 min - 12,140 views

The Official Arsenal Thread - Part 2
59 min - 1,153,220 views

pj coogan show
1 hr - 883,712 views

Dail Protest
3 hrs - 1,824 views

The Official Athletics Thread
3 hrs - 50,235 views

Good music documentaries?
3 hrs - 19,091 views

The Official Spurs thread
3 hrs - 684,867 views

Immigration Thread
4 hrs - 98,512 views

ok