HSE Could Trial Conor McGregor Style Press Conferences To Get Covid Message To Dubs
14th Sep 2020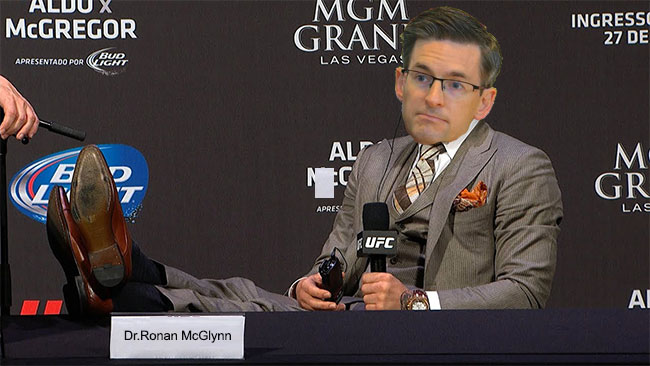 You don't have to have a doctorate in epidemiology to know where to avoid if you want to minimise your risk of contracting covid-19 these days. One look at the latest colour-coded county map of the virus in Ireland and it's clear that there's yet another reason for Corkonians to stay in Cork.

With 80 cases per 100,000 (ten times the rate in Cork) it's getting to the point now where there is so much corona virus infecting dirty Dublin, that clusters of covid molecules may start to become visible to the naked eye as accumulations of it get bigger and bigger.

For the last three weeks, public health doctors at the nightly press conference at the Department of Health where case numbers are released, have raised "concerns" about the capital. Recently they have added a "very" to how concerned they are.
Repeatedly, the Dubs are asked to get their house in order, but there's far too much pussy-footing around. Quietly spoken, diplomatic doctors in suits have failed to get the message across - the softly-softly approach isn't working.

On Monday, the Dubs were again warned that "restrictions were on the table", but the government's communication strategy has completely failed to get the message across to them.

Instead of the mild-mannered approach at these HSE briefings, to get them to listen, they need to reimagine these opportunities to speak to the capital's 1.3 million inhabitants as a Conor McGregor press conference.

A public health official who can do a proper scobey Dublin accent needs to stand up at the next HSE press conference decked out in a dirty wife beater, waving an angry finger into the camera whilst making stabbing motions with a broken bottle of cider:
"Youwiz Doobs nee-id to get yizzers bleeeeedin' act tehgedder quick, or yiz widdle bee getting' anudder lock dow-win. Ah here now, I'm bleedin' seeeeryuss, yiz won't even be allow-wid outta yizzers howwizeses and if I catch wunayiz bollickses widdoah a mask yizz'll be bleedin' for it, yeah?"

At this point, having built himself up into a fury, he should make a go for one of the nearby sign language translators, accusing him of mocking him behind his back while he was talking. Security staff can pretend-restrain the angry doctor and the whole thing will go viral faster than covid in a Crumlin bar.

It's definitely worth a shot (the communication tactic, not a nip of Conor McGregor's whisky that is).
Whatever about what's happening 250km up the M8, more worryingly, there are now counties on our borders where covid has gone out of control too.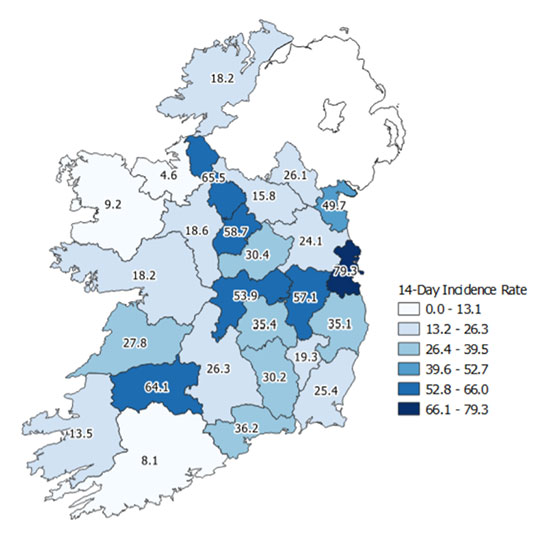 12th September 2020: only Sligo has less covid than Cork

Cork is now surrounded by counties where cases are rising fast. Limerick has eight times more positive covid cases per 100,000 than Cork. Waterford is four times higher, Tipperary three times as high. Even Kerry's rates have nudged well above the Rebel county.

If only Cork County Council had gone rogue like we advised back in March and sealed our borders. It's still not too late. We shouldn't be afraid of taking the law into our own (well sanitised) hands.

Teak tough, experienced council workers in high vis vests at roadblocks on the county bounds would be no match for inexperienced army lambs from The Curragh – most of whom, being based in covid hotspot Kildare, are probably all under the weather from covid anyway.

There was a time when some sort of alliance with Munster counties was a possibility. We could have clubbed together and argued strongly that strict lockdowns be lifted in the south while covid raged in Leinster.

Now the counties in 'Outer Munster' have fallen to surging covid numbers and, Cork, Munster's inner core, looks like it has been completely surrounded.

Rather than fear capitulation we should just keep on playing senior intercounty covid fighting the way we have been doing it. And we should give ourselves a pat on the back for doing so exceptionally against this utter langer of a virus so far.

The only county remaining with a lower covid case rate than us is now Sligo. We should be aiming to pick them off too and when we do we should celebrate. Never would Corkonians be so happy to be bottom of the league in something.

Speaking of which, with Dublin's toxic case rate, plans to use Croke Park for the All-Ireland championships including the finals in December should be shelved immediately lest intercounty GAA players be put at risk.

Matches should instead be moved to the much safer environs of Páirc Uí Chaoimh with an appropriate amount of spectators from Cork only allowed. Assuming it goes really well, as any Corkonian should expect, it should become a permanent thing.

One more reason to not have to go to Dublin every year would be a fitting reward for our vigilance.
Sponsors
PROC Mailing List
On Today
| | |
| --- | --- |
| | |
Forum Latest