Happy 5th Sod Turning Anniversary
9th Feb 2021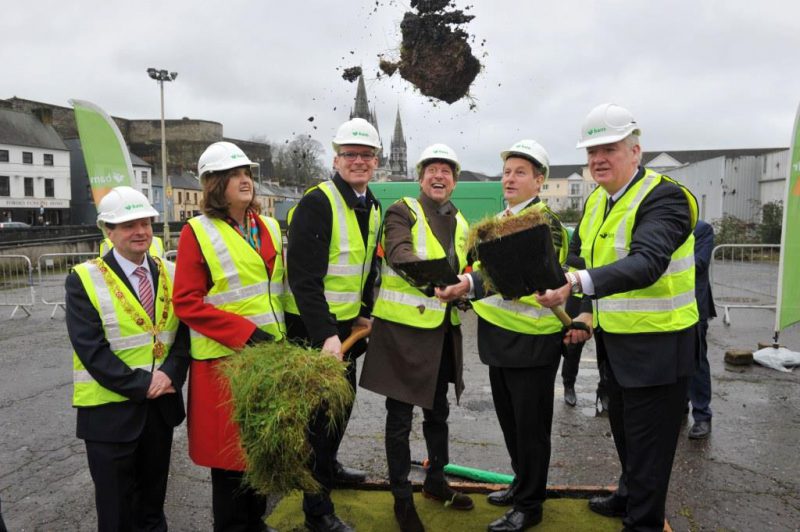 This week marks the fifth anniversary of the turning of sod on Cork's infamous event centre on South Main Street. 2,000 days later, with still no sign of movement on the site, the photograph from that day is all we have to show and spending some time studying it is an important exercise in learning about the oppressive and evil Dublin government's attitude to the dear old People's Republic.
First off, isn't Lord Mayor Chris O'Leary's body language intriguing? It's symbolic that there was no place for Cork's 'first citizen' on the 'podium' despite city council being central to the event centre plans.

At best he looks bemused – the image of national politicians and business men positioned physically above him having a laugh without him, looks like a metaphor for the attitude of Ministers in Dublin to local government and its elected councillors: it's a step below them. To compound the metaphor, he's even standing slightly behind Labour leader, Joan Burton's elbow.

Meanwhile there's great craic up on the grassy knoll. Taoiseach Enda Kenny and Mike Adamson from Live Nation are having a right hoot, and who would blame them? In his mind, the latter's company would be soon inviting big acts to Cork (what a huge privilege to be able to fulfil the dream of so many famous musicians who have longed to play on Leeside).

The Mayo man, at that point Taoiseach for nearly five years, was only too happy to be there announcing a big, positive story to boost his re-election campaign for his €200,000 a year job in Dublin.

To the right of them, Theo Cullinane from BAM is firmly focussed on his shovel – you can tell he's the feen with plenty of experience turning sods.

His focus on the sod belies a certain distance from the jovialness of the other four on the podium.

While the three politicians are in town to loudly claim construction is now underway to a media scrum hungry for breaking news, Theo is the man who will be ordering in the diggers, cranes and hundreds of breakfast rolls every morning to get the thing built.

Using our new-found arty skills of image interpretation, we have to ask: does his face portray some discomfort with the government's bold claims about how soon Corkonians will be crowding into the new arena?

Is his mind racing with doubts about this high-profile pre-election 'song and dance' when certain important elements of the project that have yet to be thrashed out? Who knows?

Then we look at the photograph's foreground and the nice, clean sods and the lush, green grass being tossed into the air.

Justifiably cynical Corkonians who had, by then, experienced five years of punishing austerity under Kenny, Burton and Coveney's government were already hyper allergic to the slightest whiff of political bullsh**t, especially around election time, and were closely monitoring last-minute promises like this for insincerity.

The alarm bells rang loudly as soon as we saw it. Every Corkonian knows that there hasn't been a blade of grass on that site since St. Finbarr pucked a sliotar up and down the river bank with his monks, and the imported turf seen in the photo shoot doesn't add authenticity – despite the sight of the great man's cathedral in the background.

Had the three amigos been pictured in the middle of the site itself, rather than out at the gate on South Main Street, hacking at the manky grey concrete or pinky-brown mud with a pick axe or even working a JCB, many more Corkonians might have believed that construction was actually about to get under way.

Instead, we're left thinking about where the government's well-paid 'communication strategists' who conjured up the publicity stunt, procured the pretty little box of perfect grass – did they stop off at a garden centre on the edge of, God forbid, Dublin? Shudder!
With the benefit of hindsight, the whole scene is dripping with pre-election plamás, and you could be forgiven for thinking the Lord Mayor, awkwardly squirming below his political rivals, thinks so too.
That big lump of s**te in at the top of the photograph, is as high as the event centre has got in the last five years. It's all we have to show despite a decade of talk while Dublin is plush with conference centres, stadiums and indoor arenas.

What goes up, must come down of course and while the trigger-happy press pack captured the sods going up, we don't see them flop to the ground a second later. Five years on, that's where they still are (not just Enda or Joan's political careers, but the whole event centre project too).

In the background, maybe we should look to the magnificent St. Finbarr's Cathedral which took decades to complete, for inspiration and patience. Good things come to those who wait and all that, right?

Poignantly, just over the Lord Mayor's shoulder is a funeral home on French's Quay. Let's hope that that's not a symbol for where this much-needed project for Cork, is ultimately headed.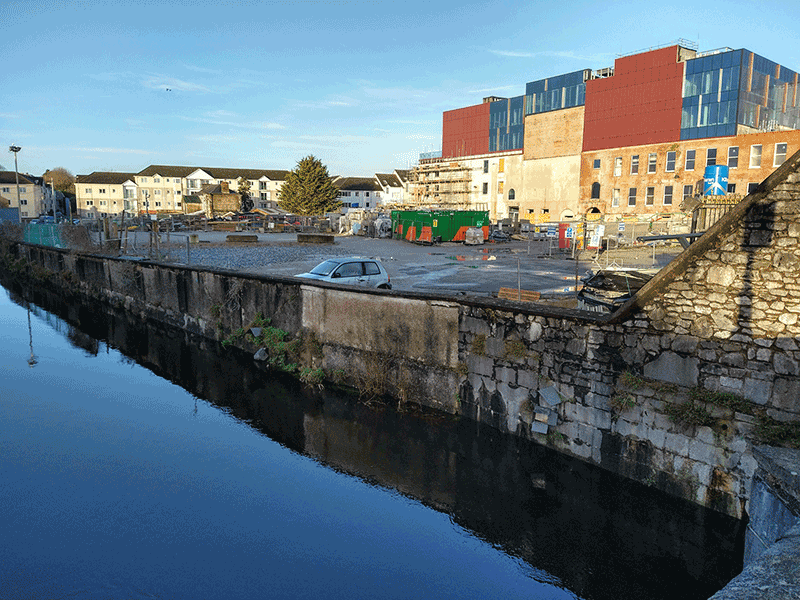 Sponsors
PROC Mailing List
On Today
Forum Latest