Cork Hurling: Our Favourite Five From Sunday's Win Over The Blaas
11th May 2021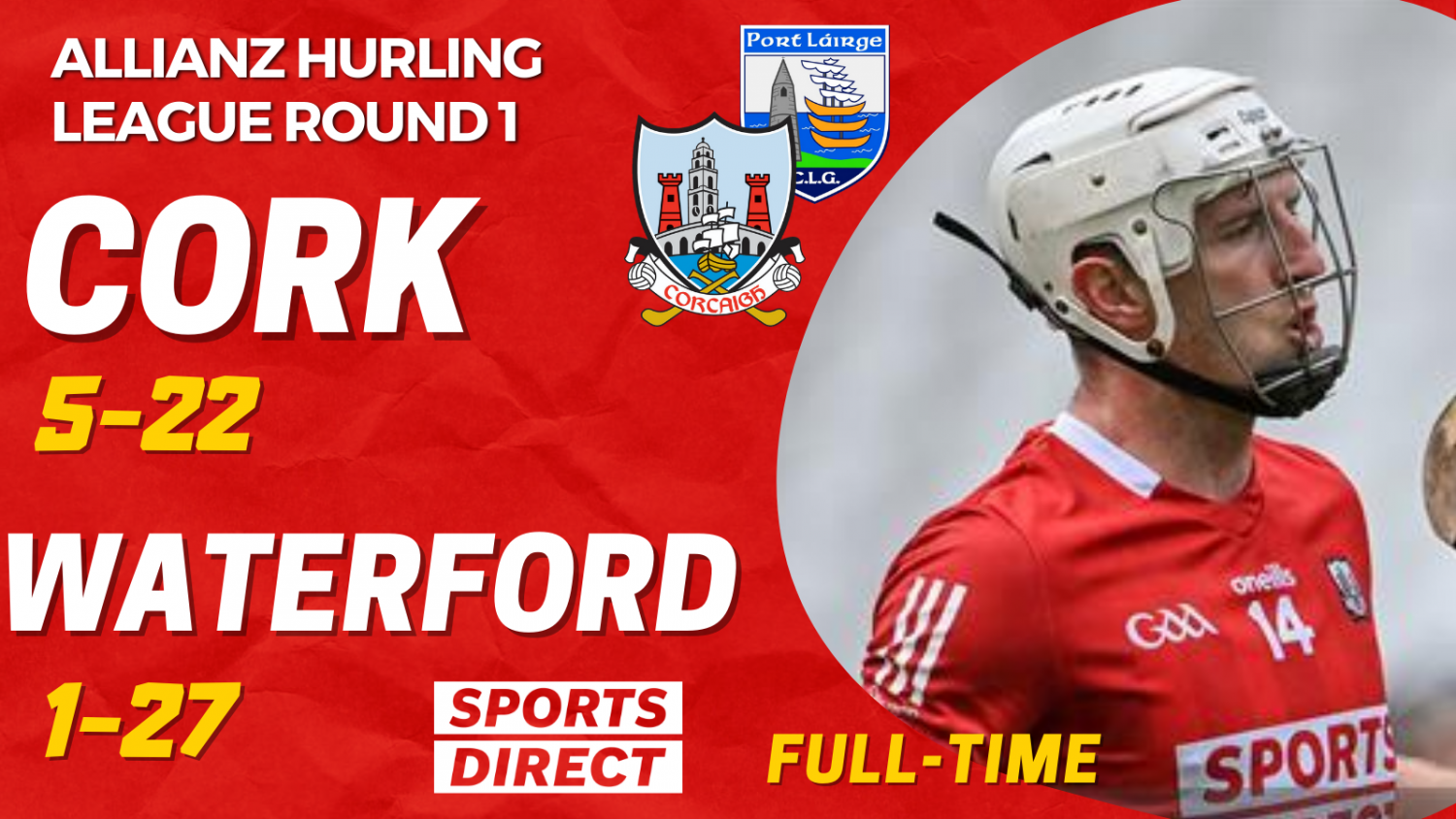 It has been a long 'hurlingless' winter for Cork fans of the small ball and what a way to return as supporters were treated to a goal fest with the Rebels victory over Waterford last Sunday.

The urgent appeals to not get carried away with ourselves were predictable, but with all that has passed over the last year, have we not learned to live in the moment a little and at least enjoy the spoils of a comprehensive Cork win while we can?

Who cares about what might happen next Sunday against Tipperary when it could all come tumbling down around us. Let's wallow in last Sunday's victory for another few days and revel in five fan favourites from the first game of the year while we can!

Ground Hurling Hero
Older Cork fans' two biggest gripes over the last decade has been that city clubs have been weak (the implication being that when they were strong, Cork were at their strongest) and that you don't see any ground hurling anymore with the 'possession obsession'.

Enter Blackrock's Alan Connolly who, at 19 years of age, scored 5-52 in last year's county championship, was man-of-the-match in the county final and scored two sublime goals against Waterford on Sunday – one of which was the result of a magnificent ground strike.

Okay, some of the lets-not-get-carried-away brigade are saying the game was almost over when he came on and Waterford were clearly wilting, but what a way to make your debut and fill Cork hurling fans with hope for the year ahead. Hupyaboya!

The King's Son
After such promising performances from the newcomers, it was comforting to see the calibre of Alan Cadogan and Shane Kingston being introduced as subs late in the second half. After being hooked in his first possession, the bainisteoir's son didn't let the early error bother him.

Within minutes he had burned his marker using that trademark gallop and produced a stunning goal. Cork supporters love those moments where we start to think a fella has run down a blind alley, but then suddenly produces some hurling wizardry to prove us wrong: Kingston batted the ball nonchalantly into the net despite the impossibly tight angle - announcing that he's raring to go for the 2021 season.

Blitzy Fitzy
Darragh Fitzgibbon was the inevitable man of the match on Sunday and has the engine of a nuclear powered jet ski. Once he gets the ball in his hand and those shoulders go up, there are few who can catch him. Fans love the Charleville Chaser, not just because he seems to be everywhere all the time, but because he's capable of those monster scores from inside his own half – something teams like Tipp and Limerick have used to great advantage against us in recent times.

Fitzy is the type of big game player that gives us those moments that make us suddenly stand up and punch the air with delight – even if it's in our suiting rooms and not in the south stand of the Páirc!

His score from about half a mile out from goal on Sunday was so inspiring that it may have caused a few fans to put their backs out as they involuntarily jump up off the couch to celebrate it.

The Hungry Wolf
Some of Shane Barret's two scores against the Deise were sublime, especially the one from the touchline in the first half having poached the ball from his man. But what Rebel fans really loved about the Blarney Bruiser is how manically he fought for the ball when Waterford were trying to work it out of defence. If there's a sniff of blood or a whiff of doubt among the opposition, Barrett will sense it and be on it like a hungry wolf ready to ravage his victims.

There's an unusual sense of comfort for Cork fans knowing that Hoggie was flanked by two corner forwards that are more than ten years his junior and who both scored as much from play against Waterford as master himself, who, to his credit, still slotted two over the bar, along with ten frees.

TOMahawk Timmy
There has been plenty of debate over the long, hurling-less winter about who should be on the Cork team and who shouldn't. But with Newtownshandrum's Tim O'Mahony, the only debate is about where he should start and not if. Kieran Kingston is sticking with the philosophy that he's going to be a club forward and a county-back. Us, Cork supporters couldn't care less once he's dominating the way he did last Sunday.


At the start of the second-half he found himself deep in the Waterford half fighting for a breaking ball that resulted in Jack O'Connor's goal. The score got all the attention, but it was the crazed work rate of O'Mahony, firing himself into the middle of a sea of bodies and cleverly spinning around while repeatedly kicking at the ball that actually created the chance in the first place – Waterford's backs just couldn't cope with him when he surged forward.

The debate about where he should be played will go on, but he's a nailed-on starter for the championship opener against Limerick.

H'on the Rebels!
Sponsors
PROC Mailing List
On Today
Forum Latest