Clouds of Doom & Rays Of Hope
19th Apr 2022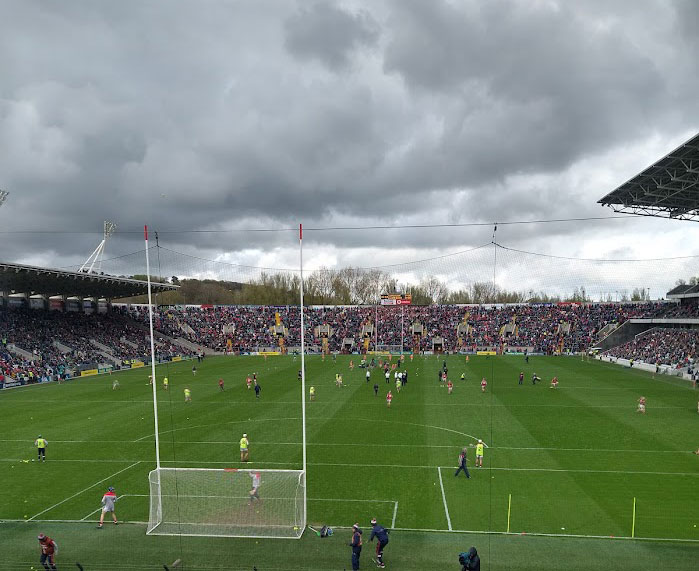 Strolling down to the Páirc last Sunday evening we cut through Kennedy Park and came across a strange and worrying sight: a young fella in a Limerick jersey panned out on his back on the wet grass. Appearing unconscious and with no other Limerick fans around, this column initially feared the worst.

"C'mere are you ok there, boy?"

After a brief pause, your man suddenly and unexpectedly sat up straight, looked us straight in the eye and slurred:

"Yeah man, yeah….yeah. S'hawll good here man, yeah. Good to go, good to go! Woo!"

He wouldn't be the first fella to come back to life on Easter Sunday and his resurrection was symbolic of what was to come shortly after.

Passing though the park again on the way home after a massive hiding from the All-Ireland champions your man on the grass was long gone. He was probably one of the langers in the City End taunting us for the last 20 minutes of the game, delighting in singing 'Cheerio!' at anyone in red heading for the exit after Jack O'Connor's late miss.

Limerick, like their young fan in Kennedy Park, were metaphorically panned out on the grass during the league too – Cork even gave them a trimming in the Gaelic Grounds. Some Limerick fans might have feared the worst, but when their name was called out on Sunday they sat up straight and gave all the doubters the right answers. They were awesome. Again.

This defeat felt worse than the All-Ireland last year. Fans expected our hurling heroes to have learned lessons from both the brutal loss in Croke Park and the dispiriting league final defeat in Thurles.

The Cork Hurlers thread on our forum surpassed 5,000 pages on Sunday night. Browsing it, it's clear the mood is now very low.

Usually, at the end of a season without silverware there can be a wide spectrum of opinion on where things went wrong.

After Sunday's crushing loss, Cork fans seem to be united in rounding on at least one aspect of Cork's play that simply isn't working: "the tippy-tappy stuff".

That might not sound like a very professional term in today's world of TV-friendly sporting jargon, but it does point to a collective frustration among fans with what we might call Cork's elaborate passing game.
In a world where sport has become hyper-analysed to within an inch of its very existence, some fans' opinions can often seem basic and ill-thought out in comparison to those of TV pundits.

Calls for backs to just "drive the feckin' thing into the full forwards" are simplistic in one sense – the opposition will just snuff that tactic out too by piling bodies back, playing a sweeper etc. The modern game requires far more complexity than that.

But when those calls from fans have become so loud and ubiquitous and now, after Sunday, vociferous, then their sheer volume must surely mean Cork fans en masse are on to something. There isn't one Cork fan on our forum saying we should 'stick to the process'.

Even if you listened to the howls and groans from Cork fans that went up as Sean O'Donoghue soloed the ball ominously towards a wall of Limerick defenders and gave away possession for Limerick's second goal there was a real sense of despair around the home ground.

Come on, like, we're WAY better than this.

Cork fans were very disappointed after Croke Park when we persisted with a high-risk passing game that didn't pay off. They went mad when we doubled down on it in Thurles and got hosed by Waterford three weeks ago. Last Sunday, both in the stadium and afterwards online, after giving away an eye watering 2-16 in turnovers, it is clear Cork fans are done with both tippy and his evil brother tappy.

After Thurles, optimistic Rebel supporters hoped that the league defeat was a sign that Cork had something up their sleeve that they didn't want to reveal until Limerick came to town. It now looks like the only surprise we had in store for Limerick was not surprising them.

From the outside, fans see no sign of a plan B and the threat of Cork being done and dusted by May is unthinkable. But still, there is hope and there is time.

Cork have this weekend off and time to come up with something different. Supporters will as ever unleash a torrent of different ideas as to how we can rescue the season that range from wholesale personnel changes to just minor tweaks to the style of play that fans have to admit did get us as far as an All-Ireland final last year.

We have a squad full of very talented hurlers and we've put in some brilliant performances in the league. We're not no-hopers.


Right now, we are metaphorically speaking flat on our backs in Kennedy Park and look like we're out for the count. In two weeks time we'll be summoned again to Thurles let's hope we sit up and eyeball the opposition with the same enthusiasm that Limerick showed on Sunday and fight our way back into contention.

Rebels Abú.

Click here to join the discussion on Cork's hurlers
Sponsors
PROC Mailing List
On Today
Forum Latest
The Official Arsenal Thread - Part 2
3 min - 1,032,774 views

The Official Man Utd Thread - Part 3.
10 min - 2,069,195 views

Cyclists
12 min - 727,512 views

The Official PROC Restaurant review thread.
29 min - 1,076,656 views

Cork city has gone to the dogs.
43 min - 711,667 views

2023 Premier Junior football
44 min - 5,086 views

Where in Cork am I?
1 hr - 130,242 views

Immigration Thread
1 hr - 76,423 views

What are you listening to right now???
2 hrs - 3,181,838 views

Toilet Signage
3 hrs - 20,200 views

UEFA u21 Euros - Official Thread
3 hrs - 190 views

Teddy Mac RIP
3 hrs - 14,902 views

The Official Athletics Thread
3 hrs - 30,103 views

Jesus lads, 'tis looking like BREXIT!
3 hrs - 2,481,061 views

Russia's unjustifiable war of aggression in Ukraine
3 hrs - 701,994 views

Fuck off Sun!
3 hrs - 67,995 views

the official betting thread.
3 hrs - 704,874 views

Cork Footballers
4 hrs - 15,349,160 views

President Trump 2016-2024 - Official Discussion Thread
4 hrs - 1,930,469 views

2023 Premier sfc
4 hrs - 18,674 views

ok