Black Death to Help FF Stay Put
21st Jan 2011

As Brian Cowen half-resigns, fears are mounting of a resurgence of medieval Black Death and bubonic plague with Tánaiste Mary Coughlan taking over the ministry of health and children in the Dublin dominated Irish Republic.
In the latest governmental shambles the bungling Donegal TD has worryingly been awarded the health ministry for the remainder of the government term and her performance has been so bad to date that fears are mounting that she will out-blunder her own reputation again.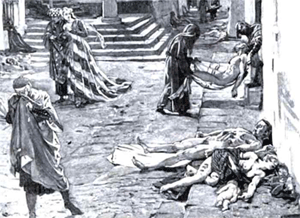 Black Death, which wiped out millions in 1347, could help Fianna Fáil to stop people going to polling stations
Such has been her catastrophic performance with Fás scandals and other toe-curling gaffes during her tenure as Tánaiste that a resurgence of the long extinct but deadly diseases, Black Death and bubonic plague, may now occur.
In the late 1300's the Black Death was responsible for killing up to 50% of Europe's population and reducing the world's population to just 375 million. Untreated the disease can kill a healthy human within a week.
Now, Coughlan who mistakenly believed that Einstein was behind (Darwin's) theory of evolution has sparked a European health panic as other EU countries assemble vaccination programmes on foot of what might happen in Ireland in the coming weeks as the state descends into total chaos.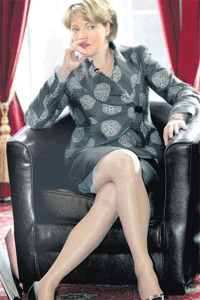 Desperate mesaures: Coughlan contemplates the boost a 'Sharon Stone' moment would have for her re-election.
The Tánaiste is understood to be of the view that only a threat on the scale of the Black Death will allow Fianna Fáil to remain in office as it will prevent voters from attending polling stations and the low turnout will make any election null and void.
Samples of the ancient disease that are believed to be housed for research purposes in high-security laboratories at the Department of Health and may be released around anti-Fianna Fáil regions in the next few days at the instruction of the new Minister for Health.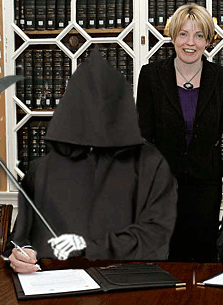 Coughlan signs electoral deal with death
Commenting on the latest austerity measure to be mooted by Fianna Fáil, a spokesperson for the Tánaiste said that "the minster believes everyone outside Fianna Fail's golden circle has to share the pain and any medieval diseases released into the population will be distributed equally and fairly to all. This is line with the government's impeccable track record on equality.".
Sponsors
PROC Mailing List
On Today
Forum Latest