The Lesser of Two Evils
This time last year we were basking in a warm haze of sunny excitement. Cork footballers were in the All-Ireland final with only a Division Two team between them and Sam. Balls poured over the Down crossbar almost as fast as the skies opened up at the end of the game and Rebels rejoiced around the world.

Many Corkonians are getting unnecessarily upset about the prospect of Sunday's All-Ireland final being contested by Cork's biggest rivals Dublin and Kerry. Although then again rival, is a bit of an exaggeration with Dublin, their pitiful efforts at capturing Liam and Sam over the years has been inexcusably pathetic given their population. Kerry are our rivals and we just don't like Dublin.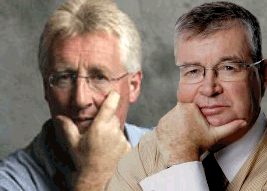 Spillane or Duffy?
Rebels are uncomfortable about either element of the axis-of-evil capturing Sam Maguire – the image of someone in 'that' jersey lifting OUR cup is too much for them to bear. We beg to differ.
The thing Corkonians intent on putting themselves through the All Ireland final next Sunday must focus on is the loser. Instead of being perturbed at the sight of the winners celebrating Corkonians will be able to find some cold hearted joy in knowing that one of these over-hyped teams will lose. Yes, its unpopular and unsporting to say it, but it's what we're all thinking.
While we would all want someone in red and white to be hoisting the Dunmanway native aloft that's not an option since we ran out of steam (or a plan B) against puke-football purveyors Mayo in late July.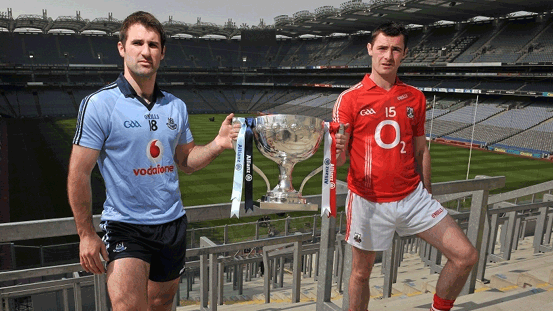 Remember the 2011 league final?

Those who wince at the thought of a Kerry win should remember that there will be much to be thankful for between now and championship 2012 if the title comes back to Munster on Sunday.
The Kingdom will of course relish re-claiming Sam Maguire but they are regular football championship winners so off they'll head back to Killarney for a party, they'll get locked, have a few sneaky digs at Cork, do some cocky interviews and that'll be it until next year (aside from Galvin Klein's relentless media whoring but nobody in Cork takes him seriously anymore).
The tone from the Dublin camp when losing to Cork in last year's semi-final was an unfathomable arrogance that they had somehow deserved to win but technically, somehow, Cork advanced to the final. In every media interview this 'it should have been us' attitude from Dublin has been grating Cork ears since our lads throttled them in their most recent Croker Choker.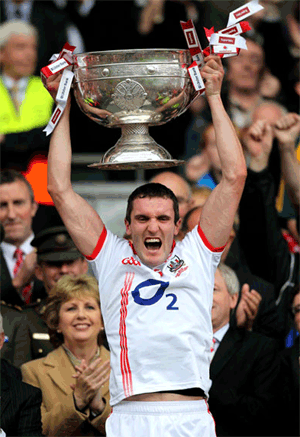 Yes we canty...again
Even the pundits agreed, Bernard Brogan was sent to the White House on Paddy's Day and chosen as player of the year while mind-bogglingly no Cork forward was awarded an All-Star.
We got the same cocky delusional tripe again after they 'defeated' Donegal in the semi-final. The awful spectacle was all Donegal's fault apparently. If the Dubs had it their way it would have been samba-football all the way. The bells of irony are deafening to all but the Dubs.
The reason Corkonians begrudge a Dublin win is because we'll never hear the end of it.
Most programmes in RTE's winter schedule will be about the Dubs, every second advert will be for a Dublin football DVD box set, The Late Late Show will be stuffed with sickening Dublin sports media black-slapping, some Hill 16 spoofer will come up with a "Bernie Brogan For President" song, RTE's Dublin 4 presenters will be exaggerating their northside accents and every sports writer in the national papers will be instructed to predict a decade of Dublin dominance to boost sales.
Even in five or six years time, having never won it again since 2011, the talk will be of this 'special' Dublin team even if Eoin Cadogan and Aidan Walsh are collecting their third or fourth Celtic Cross.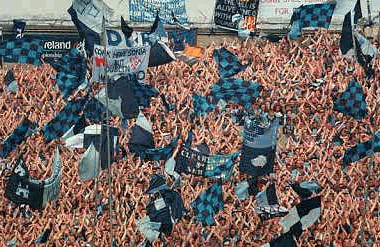 Let the booing begin
To add salt to Cork wounds the cynical and unsporting booing by Dublin fans has continued this year and nobody in the GAA has the liathróidí to stand up to it. Opposition free takers are subjected to Premiership-style serpent hissing from the West Brits on Hill 16 while ordinary Dublin fans shrug their shoulders and pretend its just tradition and a bit of craic.
And sure listen if the Dubs do end up winning Sam, we'll be the first to congratulate them and the first to ball hop the nearest Kerryman about losing to The Pale!
If Dublin win:
- Disconnect your aerial from your television to block Dublin channels
- Stay under your bed until at least May next year.
- Wait for eleven months before considering buying a national newspaper again
- Only listen to Cork radio stations
- Avoid the Dublin national holiday - Arthur's Day
- Blow your horn aggressively at any D-reg car hesitating for even a split second on Cork roads and roundabouts (adding in Hill 16 style booing where possible).
- Avoid any trips to the Pale for 4-5 years
- Stock up on Paul Galvin fashion jokes
- Text both your Kerry friends regularly with the above
If Kerry win:
- Do not cross the Kerry border for at least a week
- Keep your TV on mute in case you hear Pat Spillane's voice.
- Avoid pubs around the 'Washington Street Village' where Kerry students drink.
- Feel free to mention the Kerry under-21's annihilation by Cork in Pairc Úi Rinn earlier this summer.
- Remember that Kerry have never defeated any big Ulster team on the way to claiming Sam and we have beaten plenty of them so under our criteria it's not a "real" All-Ireland!
- Mention to your Kerry friends that in this decade so far in the football it's Cork 1 Kerry 1
- Read all Dublin newspapers thoroughly and get particular enjoyment from the range of excuses.
- Think about karma and all the Hill 16 lads booing
- Ring up Joe Duffy to talk about what it feels like to be from a great sporting county like Cork
- Avoid any trips to Dublin. Yes, Dublin, even if Kerry win. This is standard for any right thinking Corkonian regardless of sports results.
Posted on Dec 14th, 2017
Our flawless money-back guarantee guide to convincing Cork exiles to return home for good without getting that many dawks in the head...
Posted on Dec 14th, 2017
Our flawless money-back guarantee guide to convincing Cork exiles to return home for good...
Posted on Dec 14th, 2017
High end beautifully hand crafted string art encased in a solid Irish hardwood white deep box frame. Get it delivered to any Corkonian's doorstep from Allihies to Alaska...
Posted on Nov 21st, 2017
Got a langer load of spondoolies you need to hide from that tax grabbing crowd up in Dublin but would love your friends to know about? Join PROC bank today and let us make stashing your cash easier than playing hurling against Kerrymen.
Posted on Nov 14th, 2017
There are political langballs all over the shop trying to divide nations and reverse integration and tolerance. We shouldn't take Cork's contrasting harmony for granted...