Sundays Support March Photos
Second Support March Photos
Finbarr Barry (photos: Wouter Groenendij)
Cork's football and hurling panel have unanimously rejected the County Board's proposals to resolve the dispute regarding the appointment of manager Teddy Holland in place of Billy Morgan. They met for two hours last night in the Imperial Hotel to discuss the issue.
Meanwhile another giant show of public support for the players took place in the city centre yesterday - an opportunity for those who did not make last Monday night's march to make their feelings known. The second march took place on the back of a huge majority of support for the players in a poll conducted by the Irish Examiner, over two thirds of those surveyed believed that Teddy Holland should resign.
The pathway to Cork's entry into the national league and Championship is very clear. Teddy Holland should step aside and the new manager, be it the same individual or not, should be allowed to choose his own selectors. If the County Board agrees to this then Cork fans will return to stadia nationwide.
Without the reversal of this, the Rebels have vowed not to participate in inter-county competitions. The validity of a potential Kilkenny three-in-a-row without Cork's participation is questionable and major sponsorship deals, tickets sales and the GAA's image will be tarnished if Holland does not accede to the players' request to resign and re-apply under the system agreed in 2002.

To view a youtube clip of last Monday night's march click here

Photos by adopted Corkman Wouter Groenendij...the Dutchman who came to visit Cork and never left.
Click here for more
Posted on Mar 19th, 2009
Corkonians of all shapes, colours and creeds nearly melted in the sweltering 13 degree heat...
Posted on Oct 6th, 2008
Comrade Aaron Scott has been busy capturing last week's final visit of the QE2 to Cobh among other great shots....
Posted on Jun 12th, 2008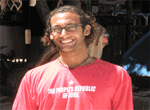 Jon Heller from New York hasn't even been to Cork yet but he's so excited about it he's already got the shirt..
Posted on Nov 26th, 2007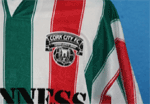 A comprehensive lamp at every home, away and special city jersey produced since the club's conception..
Posted on Nov 26th, 2007
Shane O'Gorman brings us his top action shots from the coast of the Peoples Republic...