Sinn Féin to Buy New Calculator Watch as Adams 'Delighted With Overall Majority'
Sources close to Sinn Féin have said they plan to buy a new calculator watch as a gift to party president Gerry Adams as well as rehiring his old primary school teacher as an advisor in the wake of their leader's performance in the run up to the general election.

The Louth TD's grasp of maths and economics was in the spotlight in the run up to the general election as he was grilled by several radio and TV presenters about where his party would find money for the plans outlined in their manifesto.

At the count centre in Drogheda on Saturday night Mr. Adams praised his party's candidates and their supporters.

"With over fifteen seats we now have an overall majority and are delighted to be able to form a government on our own", said Mr. Adams before being called aside by an advisor and having the maths explained to him.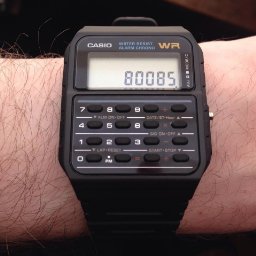 Adams will be able to use his new calculator during debates in the Dáil and on TV and radio

Unable to answer questions during the election campaign, including basic addition and subtraction, Adam's ability to manage the country's finances were put in doubt. Many pundits attribute his shaky maths to the opening of a previously narrow gap between his party and rival opposition party Fianna Fáil.

In addition Mr. Adam's former maths teacher Bernie MacGiolla has been hired as a consultant to help the party with basic addition and subtraction.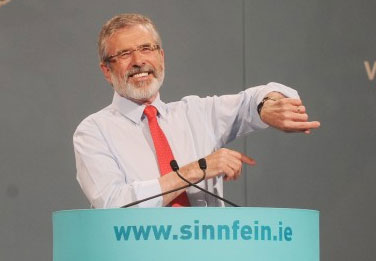 It's maths time

"Mr. MacGiolla will also be tasked with helping our good republican friend Mr. Slab Murphy to calculate his taxes correctly", said a Sinn Féin source, "it's just a question of simple arithmetic."

With at least another five years ahead of them on the opposition benches Sinn Féin TDs are encouraging Mr. Adams to return to compete the first and second class syllabuses to allow him to compete with other party leaders on economic matters.

It is understood that the new calculator will travel with Mr. Adams wherever he goes on party business as it fits neatly in the same pocket in which he used to carry his gun.
Posted on May 25th, 2018
With 18 All-Ireland medals and 10 All-Stars Rebel Reena Buckley has retired. Resident PROC poet John Paul Valentino has been spending soime quality time in his poetry isolation chamber...
Posted on May 14th, 2018
With the concrete pillars and devoted crowds those not familiar with the area might confuse it with Mahon Point Shopping Centre but the all new Páirc Uí Chaoimh is more than a smell of coffee, big brands and long lines of traffic.
Posted on May 4th, 2018
Top 5 touristy things his nibs should do while he's in Cork. We've even worked out how to play 'Shape of You' on the Shandon Bells for him...
Posted on Apr 12th, 2018
The #Panaban on cars from 3.30pm to 6.30pm in the city centre is having a devastating effect on Cork's jaywalking community...
Posted on Mar 27th, 2018
At Shaky Bridge Analytica we throw more shapes than a Midleton dance school and more balls than a Southside driving range. We specialise in data analytics and metaphors...