PROC Guide to U-turns for Politicians
The turning circle at the end of the runway at Cork airport would not be big enough for the colossal u-turns that we will see after the election from Ireland's political heavy weights - certainly from those who have any chance of getting into government.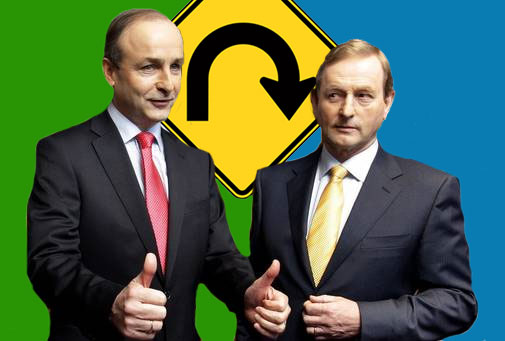 Big Mickey and Small Enda: will they get into bed with each other?

If you have topped the poll by promising the sun, moon and stars to the electorate over the last few weeks and were adamant you wouldn't go into government with pretty much anyone bar your own mother read our guide to brassneck back-pedalling and getting a fat pay cheque without officially u-turning:

PULL INTO A SAFE PLACE
When you finally realise you need to u-turn to get that juicy government salary the first thing to do is to find a good opportunity to pull in and stop. The morning of the count is the best time to cease saying that you will "certainly not" share power with another rival party.

CHECK YOUR MIRRORS
Check your wing mirror first to see if any other party is going to overtake you or you could be run over and left for dead. You might not be the only kingmaker in town so if you're going to do this then you'd better get on with it quickly.

GLANCE OVER YOUR SHOULDER
Never fully trust your mirrors – they could be lying – so take a lamp behind you to see if anyone in your own party is thinking about a post-election leadership coup. How will you know? Simple. The first thing you'll notice is that they will call a press conference to declare their 'confidence' in you as leader. If you hear that murryeah loyalty then you're in big trouble.

PUT ON YOUR INDICATOR
You nailed your colours to the mast so firmly in the run up to the election that it'll take a very big hammer's claw and a lot of sweating to yank it out so you've got to get your right indicator going well before you put the wheels in motion for your big 'cas timpeall'.

Ring a sympathetic Dublin journalist to tell them that you are 'absolutely sticking' to your pre-election commitment to not do business with such-and-such a party but that you must fulfil your 'duty to the electorate' by having a discussion with its leader as no party has a majority.

HERE WE GO! HERE WE GO! HERE WE GO!
Emerge from highly publicised meetings with the old enemy, declaring your surprise that the other side were so open and cordial. You're now softening up the public for your big about-turn by intimating that you don't publically detest each other as much as you did last week.

Back then you would have stepped on their heads if they were drowning but now that you can almost smell that ministerial pension you would feel obliged to at least throw them a life ring. Tell the media that any contact between you and them is just talking about talks which would be about talks.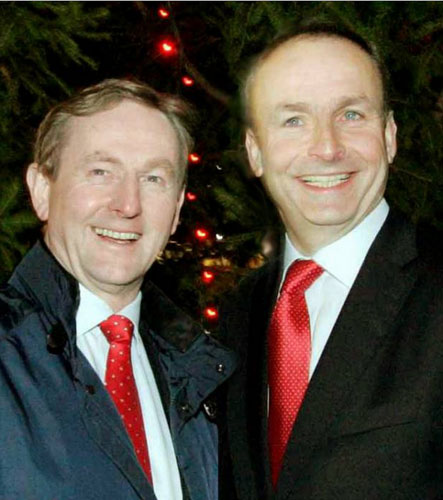 They don't even need the mistletoe

MOVE ACROSS THE ROAD
As you accelerate into your big turn around it seems like a fair distance to the opposite kerb. Along the way talks turn into 'serious discussions' which turn into 'negotiations' which eventually turn into 'ironing out the kinks'.

There's no question of you u-turning on any of your main policies of course. You made a commitment to those who voted for you and you would never break a promise.

'You mean the promise that you wouldn't go into government with the other crowd?', ask the cynics.

No, don't be silly - the promise you made to your constituents to form a government that can implement the policies they voted for. Wink! Wink! Hupoudat!

THE BUMP & REVERSE
No manoeuvre like this is complete without a bump off the kerb to make it look like all these discussions have been fraught with tension when in fact you've all been lashing back pints together to celebrate the gravy train's departure with you in the driver's seat. Deciding who gets six-figure pay packets is some howl.

A frothy break-up of talks about forming a government makes it look like everyone is sticking to their election promises during negotiations. Make it look like you're going to have to abandon this vehicle right here with everyone gawking on at you inexplicably – oh no, not another election!

But then of course 'the people on the ground' are telling you that you should put this juggernaut into reverse. Roll back just a few feet and you've created enough room to complete a full u-turn.

YEEHOO IT'S FULL SCHTEAM AHEAD!
On the third night when the booze in the Dáil bar runs out, walk solemnly with your new government partners to the plinth outside Leinster House about 4am (the later in the night you leave it the longer it looks like you stuck to your election promises before capitulating) to tell the nation that they can now rejoice as Ireland has been saved.

The Celtic Tiger is back on track and you didn't u-turn at all. Twas only a three point turn.
Posted on Jan 21st, 2019
A nil-all borefest between two mid-table hoof merchants or a nail biting, do-or-die grudge match between arch-rivals vying for a top half finish?
Posted on Jan 7th, 2019
Stick in your headphones, turn off your bike lights and throw away your helmet - everyone knows you can't die if you're under 25...
Posted on Jan 1st, 2019
Just what you needed to make you feel worse about your dizzying hangover and your half-baked new year's resolutions to get fit....
Posted on Dec 30th, 2018
Our recommendations to improve the pure purity of your pure Corkness in pure 2019...
Posted on Dec 20th, 2018
From toasted specials and hot ports to big wheels and seeing the real Santy...