Sinn Féin to Buy New Calculator Watch as Adams 'Delighted With Overall Majority'
Sources close to Sinn Féin have said they plan to buy a new calculator watch as a gift to party president Gerry Adams as well as rehiring his old primary school teacher as an advisor in the wake of their leader's performance in the run up to the general election.

The Louth TD's grasp of maths and economics was in the spotlight in the run up to the general election as he was grilled by several radio and TV presenters about where his party would find money for the plans outlined in their manifesto.

At the count centre in Drogheda on Saturday night Mr. Adams praised his party's candidates and their supporters.

"With over fifteen seats we now have an overall majority and are delighted to be able to form a government on our own", said Mr. Adams before being called aside by an advisor and having the maths explained to him.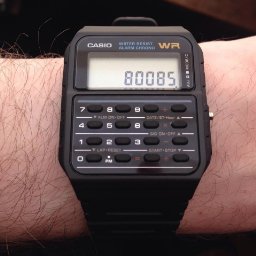 Adams will be able to use his new calculator during debates in the Dáil and on TV and radio

Unable to answer questions during the election campaign, including basic addition and subtraction, Adam's ability to manage the country's finances were put in doubt. Many pundits attribute his shaky maths to the opening of a previously narrow gap between his party and rival opposition party Fianna Fáil.

In addition Mr. Adam's former maths teacher Bernie MacGiolla has been hired as a consultant to help the party with basic addition and subtraction.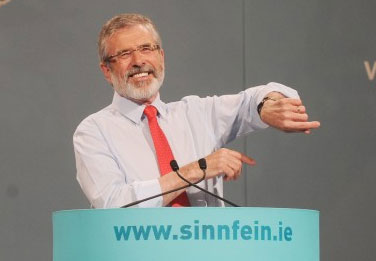 It's maths time

"Mr. MacGiolla will also be tasked with helping our good republican friend Mr. Slab Murphy to calculate his taxes correctly", said a Sinn Féin source, "it's just a question of simple arithmetic."

With at least another five years ahead of them on the opposition benches Sinn Féin TDs are encouraging Mr. Adams to return to compete the first and second class syllabuses to allow him to compete with other party leaders on economic matters.

It is understood that the new calculator will travel with Mr. Adams wherever he goes on party business as it fits neatly in the same pocket in which he used to carry his gun.
Posted on Jan 7th, 2019
Stick in your headphones, turn off your bike lights and throw away your helmet - everyone knows you can't die if you're under 25...
Posted on Jan 1st, 2019
Just what you needed to make you feel worse about your dizzying hangover and your half-baked new year's resolutions to get fit....
Posted on Dec 30th, 2018
Our recommendations to improve the pure purity of your pure Corkness in pure 2019...
Posted on Dec 20th, 2018
From toasted specials and hot ports to big wheels and seeing the real Santy...
Posted on Dec 10th, 2018
Fancy yourself as a Cork bus driver? Can you whistle the same tune over and over again for hours on end whilst trying not to turn crazed cyclists into oily sandwiches?