Sinn Féin to Buy New Calculator Watch as Adams 'Delighted With Overall Majority'
Sources close to Sinn Féin have said they plan to buy a new calculator watch as a gift to party president Gerry Adams as well as rehiring his old primary school teacher as an advisor in the wake of their leader's performance in the run up to the general election.

The Louth TD's grasp of maths and economics was in the spotlight in the run up to the general election as he was grilled by several radio and TV presenters about where his party would find money for the plans outlined in their manifesto.

At the count centre in Drogheda on Saturday night Mr. Adams praised his party's candidates and their supporters.

"With over fifteen seats we now have an overall majority and are delighted to be able to form a government on our own", said Mr. Adams before being called aside by an advisor and having the maths explained to him.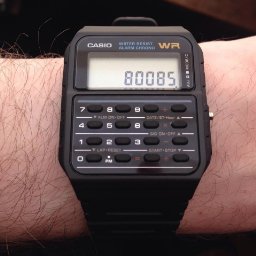 Adams will be able to use his new calculator during debates in the Dáil and on TV and radio

Unable to answer questions during the election campaign, including basic addition and subtraction, Adam's ability to manage the country's finances were put in doubt. Many pundits attribute his shaky maths to the opening of a previously narrow gap between his party and rival opposition party Fianna Fáil.

In addition Mr. Adam's former maths teacher Bernie MacGiolla has been hired as a consultant to help the party with basic addition and subtraction.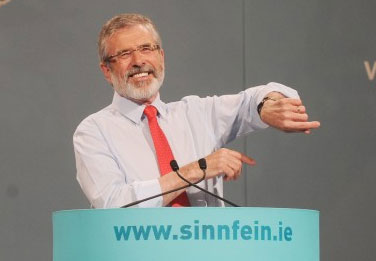 It's maths time

"Mr. MacGiolla will also be tasked with helping our good republican friend Mr. Slab Murphy to calculate his taxes correctly", said a Sinn Féin source, "it's just a question of simple arithmetic."

With at least another five years ahead of them on the opposition benches Sinn Féin TDs are encouraging Mr. Adams to return to compete the first and second class syllabuses to allow him to compete with other party leaders on economic matters.

It is understood that the new calculator will travel with Mr. Adams wherever he goes on party business as it fits neatly in the same pocket in which he used to carry his gun.
Posted on May 18th, 2019
In part deux we look at ways we can all help make Cork's Huguenot Quarter become a little more French by changing our accents, taking up chain smoking and having multiple affairs with beours we don't even like...
Posted on May 11th, 2019
With our insatiable appetite for tourists, maybe it is now time to ramp it up and go all-singing-all-dancing frogs legs, onion necklaces and stinky cheese...
Posted on May 4th, 2019
Even though we are a notch above the rest, Cork people aren't all the same – perfection doesn't mean we are homogeneous.Travel around the city and county and you'll find some quirky traits that make each of the jewels in Cork's crown unique
Posted on Apr 4th, 2019
The relentlessly repetitive single word script and leave-whenever-you-want audience policy is sure to be a hit in theatres from Buttevant to Barnet and Brixton to Broadway....
Posted on Mar 13th, 2019
When minority languages try to recover from historical oppression, it is the death-by-a-hundred-thousand cuts inflicted by the native population themselves that properly ensures a language is extinguished..