Getting Ahead In Traffic
Getting Ahead in TrafficThe Kinsale Road Roundabout:
A PeoplesRepublicofCork.com Case Study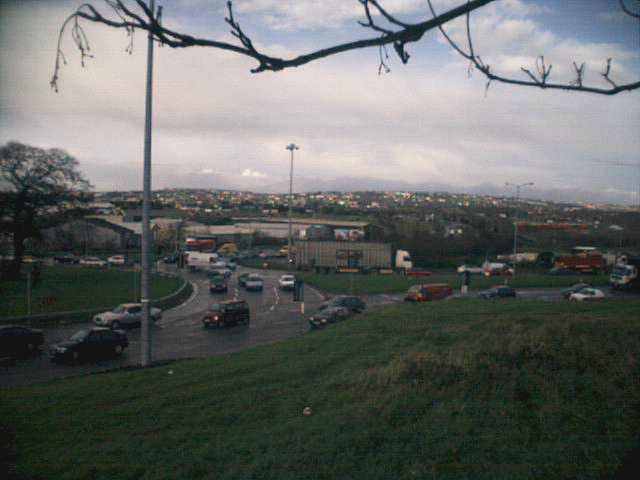 Raw sleepy eyes, dry mouth and horrendous tiredness are some of the minor discomforts you all experience on a weekday morning. That eight-more-hours-until-I-get-to-go-home feeling is shared by the majority across the City and County. When you have dealt with the issue of hauling yourself out of bed, quenching your early morning semi and finally come to terms with the idea of another day at work or college chances are if you are anywhere in the immediate south end of Cork City you will have to take on the infamous Kinsale Road Roundabout.†
Each morning the queues start just before 8 O'Clock and five minutes later there are tailbacks as far as the rear view eye can see. A minimum of twenty minutes of each precious morning of one's life is spent in one of the lanes of it's approach roads. Glance at the other cars surrounding you: animal kids going crazy in back seats, old dolls fingering with make-up kits desperately trying to cover up their morning mank; middle-age businessmen quickly retracting snot coated index fingers from deep inside the nasal passage, smoothly darting their bounty onto the waiting tongue. Turn away in disgust, wipe the fog off your windscreen and turn the heater up to four'
Posted on Jun 19th, 2018
We turn the slightest, most tenuous Cork connections to other countries and their players into blind loyalty so you have a reason to scream 'C'MON ON D'REBELS!' at your telly every night for the next month...
Posted on Jun 12th, 2018
Read our guide to holding up traffic, driving at terrifying speeds through villages and sleeping in your tractor....all so Chinese women can give up breastfeeding...
Posted on May 25th, 2018
With 18 All-Ireland medals and 10 All-Stars Rebel Reena Buckley has retired. Resident PROC poet John Paul Valentino has been spending soime quality time in his poetry isolation chamber...
Posted on May 14th, 2018
With the concrete pillars and devoted crowds those not familiar with the area might confuse it with Mahon Point Shopping Centre but the all new Páirc Uí Chaoimh is more than a smell of coffee, big brands and long lines of traffic.
Posted on May 4th, 2018
Top 5 touristy things his nibs should do while he's in Cork. We've even worked out how to play 'Shape of You' on the Shandon Bells for him...