Getting Ahead In Traffic
Getting Ahead in TrafficThe Kinsale Road Roundabout:
A PeoplesRepublicofCork.com Case Study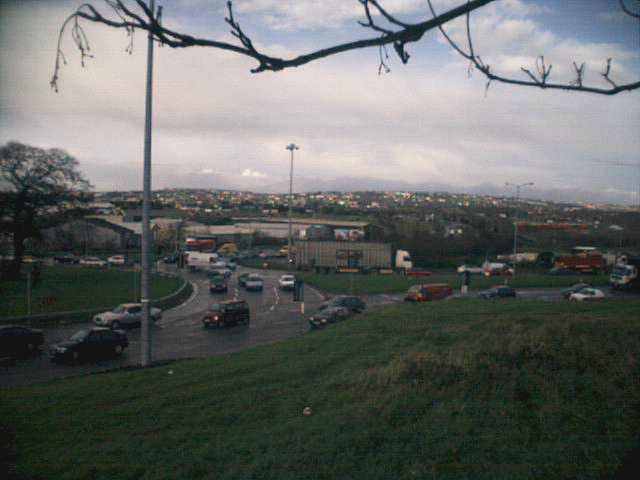 Raw sleepy eyes, dry mouth and horrendous tiredness are some of the minor discomforts you all experience on a weekday morning. That eight-more-hours-until-I-get-to-go-home feeling is shared by the majority across the City and County. When you have dealt with the issue of hauling yourself out of bed, quenching your early morning semi and finally come to terms with the idea of another day at work or college chances are if you are anywhere in the immediate south end of Cork City you will have to take on the infamous Kinsale Road Roundabout.†
Each morning the queues start just before 8 O'Clock and five minutes later there are tailbacks as far as the rear view eye can see. A minimum of twenty minutes of each precious morning of one's life is spent in one of the lanes of it's approach roads. Glance at the other cars surrounding you: animal kids going crazy in back seats, old dolls fingering with make-up kits desperately trying to cover up their morning mank; middle-age businessmen quickly retracting snot coated index fingers from deep inside the nasal passage, smoothly darting their bounty onto the waiting tongue. Turn away in disgust, wipe the fog off your windscreen and turn the heater up to four'
Posted on Nov 27th, 2018
With much of the area due to become part of the city in the next few years, Glanmire has confirmed it was just trying to impress the rest of the northside with the "mass brawl" that took place in Riverstown last Saturday morning.
Posted on Nov 20th, 2018
A video taken in Bishopstown of a UFO has been dismissed with a seemingly rational explanation about the sun and the international space station. Fuck that though...
Posted on Nov 13th, 2018
Are you spending most of your day online posting vague, anecdotal evidence to back up your assertion that the Panaban is either the best or worst thing ever? Read on, bubbila.
Posted on Nov 5th, 2018
Last weekend a Dublin newspaper published an entire supplement called "10 Big Ideas to Make Dublin Better". Unfortunately our thoughtful and well considered suggestions were omitted due to the newspaper's anti-Cork bias. Here they are...
Posted on Nov 1st, 2018
Encouraged by his single figure showing in the Presidential election, Seán Gallagher vows to return from the sea and fight the 2025 Presidential election…