Getting Ahead In Traffic
Getting Ahead in TrafficThe Kinsale Road Roundabout:
A PeoplesRepublicofCork.com Case Study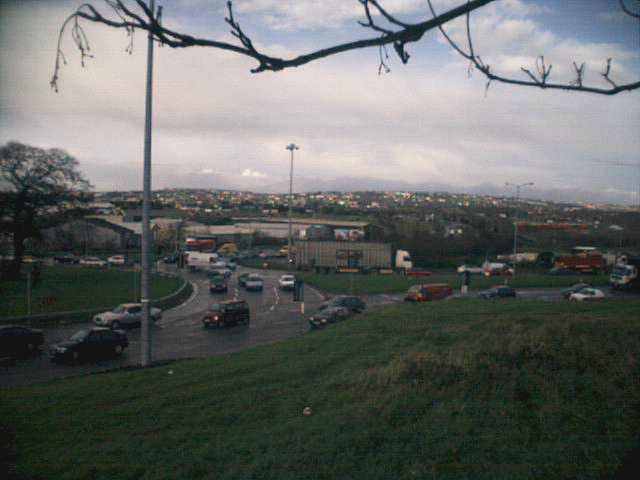 Raw sleepy eyes, dry mouth and horrendous tiredness are some of the minor discomforts you all experience on a weekday morning. That eight-more-hours-until-I-get-to-go-home feeling is shared by the majority across the City and County. When you have dealt with the issue of hauling yourself out of bed, quenching your early morning semi and finally come to terms with the idea of another day at work or college chances are if you are anywhere in the immediate south end of Cork City you will have to take on the infamous Kinsale Road Roundabout.†
Each morning the queues start just before 8 O'Clock and five minutes later there are tailbacks as far as the rear view eye can see. A minimum of twenty minutes of each precious morning of one's life is spent in one of the lanes of it's approach roads. Glance at the other cars surrounding you: animal kids going crazy in back seats, old dolls fingering with make-up kits desperately trying to cover up their morning mank; middle-age businessmen quickly retracting snot coated index fingers from deep inside the nasal passage, smoothly darting their bounty onto the waiting tongue. Turn away in disgust, wipe the fog off your windscreen and turn the heater up to four'
Posted on Sep 17th, 2018
An 83 year old man foiled a three-man raid in Glanmire last Saturday evening and in the process delivered a beautiful kick up the arse to one of the humiliated raiders. Who else needs a Dinny Funt?
Posted on Aug 27th, 2018
A buskers' code agreed between buskers, traders and residents is well worth pursuing before wrapping ourselves up in legal knots and slapping low-income buskers with fines...
Posted on Aug 15th, 2018
It has been rumoured for years that Bob Marley lived in Cork...and possibly still does. Only that can explain the manic devotion to the reggae superstar on Leeside...
Posted on Aug 8th, 2018
If you haven't moved abroad in protest after the last time the Panaban was tried or set yourself on fire in defiance then check out our frequently asked questions guide to Panaban's second coming.
Posted on Jul 24th, 2018
This time last year Cork were Munster champions going into the All-Ireland semi-final on a high. It didn't end well. The Rebels have added some steel that should help avoid another semi drubbing but is it enough to beat a tough Limerick outfit?