Dublin Judge orders Cork City to close
Dublin Court Orders Cork City to Cease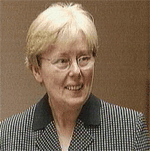 Dubiln judge Mary Laffoy ordered CCFC to shut up shop
A Dublin court has ordered Cork City FC's holding company to close which would bring an end to twenty five years of football at Turners Cross. In a judgement clearly aimed as a message to Corkonians as a whole Dublin judge Mary Laffoy insisted the club close with immediate effect.
The club now has until Friday to come up with the money demanded by the Dublin Government through its oppressive quango 'The Revenue Commisioners' which collects money for tribunal lawyers earning up to €5,000 per day, bailing out Dublin's corrupt banks, crooked expense-claiming politicians, ruthless property developers, bullshitting PR companies, the construction of large metal spikes in O'Connell Street, the self congratulating 'national' broadcaster and its overpaid 'stars'.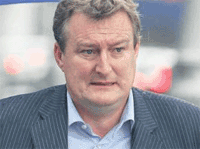 Tom Couglan is believed to have put €700,000 of his own bobs into the club
This money will also pay off the billion-euro street tram called after some fella Lewis (whose tracks don't even join up) and the e-voting joke as told by Waterford's bungling minister (that's a deliberate lower case 'm') Martin Cullen.
We could go on but talking about that filthy den of iniquity on the east coast and the oppression it forces on those outside of it but it makes us nauseous. Now they are determined to take our football club from us by demanding more money to fund hundreds more money wasting schemes like those above.

Cork City FC will play Bray Wanderers this Friday night at the Cross. The only way you can help is by buying your ticket in advance so that the club's representatives may be able to pay this ludicrous sum of money demanded by the Dublin judges.
For more on the story see the Examiner's report

To purchase a ticket for Friday night's game click on this link:
http://www.ticketmaster.ie/artist/961884?brand=ie_ccfc

Posted on Aug 19th, 2008
Cork City FC is on the brink of collapse as it applies for Examinership at the High Court. If Kevin Doyle goes from Reading to Villa there's hope....
Posted on May 16th, 2007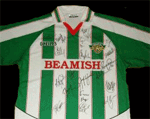 A bunch of loyal and dedicated Cork City FC fans are raising sponosrship funds with an online auction of a signed jersey. Get your hands on it now...
Posted on Feb 6th, 2003

The ever popular CCFC fanzine FourFiveOne present their awards for the end of season....
Posted on Feb 3rd, 2003
No cup this season, no europe next season and Murphy resigns. Gareth Williams sums up the first transition season at Turners Cross....
Posted on Jan 28th, 2003
A disappointing end to Cork City's season came with a dull encounter on Sunday, losing a 13 match unbeaten record at The Cross to UCD...