Cork City FC Applies for Examinership
All Eyes on the Premiership
Alan Ger
At some point logic will have to be brought kicking and screaming into the Eircom league. Forever wandering between glimmers of a genuine European challenge and cash strapped hoofing tomfoolery both on and off the field the Eircom League is again making headlines for all the wrong reasons with
Cork City FC on the brink of financial collapse
.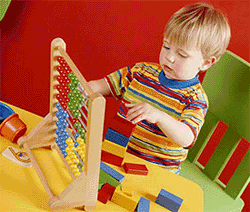 The accountant decides its time to invest in an Irish football club
The old excuse about a disinterested media is gone. Publicity is not in short supply.

Red FM and the Evening Echo are generally festooned with any breaking news from the club and with the highest attendances in the Eircom League it seems perplexing that a great club like City that has produced so many top players that have gone on to Premiership clubs could be in such dire straits.
Despite the column inches and valuable airtime, attendances at Turners Cross are below the 3,500 mark for most home games.
YOU DO THE MATH
Many of city's top players' wages are well above the €2,500 per week mark so the club needs at least 300 paying adult spectators at each fortnightly home game to cover each player. By that raw calculation after 3,000 fans have walked through the turnstyles we're still short a striker.
Advertising, merchandising and sponsorship make up some of the ground but it's bums on seats that fill the coffers and give every club its purpose.
City aren't alone in their financial toil. Galway are in such a monetary shambles that manager and ex-Ireland international Jeff Kenna has had to come out of retirement to replace players that had to be sold to keep the club solvent.
Arkaga homepageshot: the Cork City FC investors just can't be found anywhere - even in their own London offices
Shelbourne were Premier Division top dogs for a few short years and suddenly collapsed under giant unfeasible wage bills into a First Division nobody.
The country's top three teams Drogheda, Bohemians and now Cork are all in very serious trouble. Is anybody learning anything?

ABRAMOVICH WANNABEES
In any profession employees will always go wherever they can ply their trade for the best financial return. Full time soccer is no different.

The league's problem is primarily that cocky investors (eager to flaunt the new richboys' ultimate accessory) are pouring money into clubs and offering packages to players that other clubs either cannot match or struggle to maintain (CCFC's debt is now circa €800,000). Within a few seasons bored investors disappear, players move on and dedicated loyal fans are left sitting in empty stadiums shaking their heads.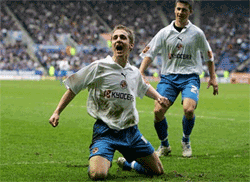 Kevin Doyle: please go to Villa.
The reality is that the Premier Division is overloaded with weak clubs whose pitiful home attendances would make any city centre nightclub look depressingly empty - a recent Finn Harps/UCD Premier Division 'showdown' attracted less than 300 fans.
Some of them have to be sent packing to lower divisions for the good of everyone else - even from a purely cosmetic point of view.
MNS
The snazzy Monday Night Soccer show on RTE makes a mockery of its amateurish predecessor on TV3 but the one thing it cannot hide in its widespread coverage is the empty stadiums up and down the country - hardly an enticement to the fair weather supporter not to mind the average unconverted punter.
It isn't enough to just say that Cork can sustain a soccer club - it needs one. Berating those Corkonians who cling with delusional pride to their Chelsea jerseys or condemning the Munster bandwagon jumpers won't fill the Cross on Friday night.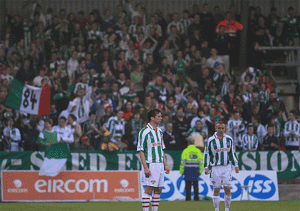 By far the most vocal supporters of any Cork sport are at the Cross
Those sports' marketing executives made a plan and it's working. It still remains to be seen if those involved in domestic soccer can execute a similar cute-hoor plan of their own.
Again, all the talk is about investors and where the next giant cheque will come from. As well as level headed business people, for long-term sustainability the league's clubs need more supporters but they must be enticed for the right reasons, not converted through Premiership guilt or oval ball bandwagon shame.
GET OUT JAIL CARD
Genuine rays of hope for City fans and those who work hard at the club this week often refract into unfounded rumour by late evening. Reading turned down an Aston Villa bid for striker Kevin Doyle for £8 million. City will get 10% of any transfer fee which interestingly equates to the worrying deficit at Turners Cross - never have so many Cork computer mice clicked around the club websites of Aston Villa and Reading waiting for news of another bid.
Star player Dave Mooney has been offloaded to Reading for €250,000 which will plug a few holes and reduce the wage bill until the club's Examiner forms an opinion on whether the club can continue trading.
So all eyes on the Premiership then. And, there in a nut shell, lies the crux of the problem.

Cork City play Bray Wanderers at Turners Cross this Friday night (Aug 22nd) at 7.45pm.
Tickets €15 at the gate. More info...
--------------------------------------------------

Statement from Cork City FC club this morning:
" At a meeting of the board of Cork City Football Club with its legal, and other, advisers a decision was taken to petition the High Court to place the club under the protection of the examinership process.
The board remains in talks with potential investors and is very optimistic and confident that Cork City will emerge from this difficult period and continue in to the future as one of the best clubs in the League of Ireland.
It is critical that the support given so generously, and over so many years, to Cork City Football Club by its fans continues during this period of examinership.
This is a time when the fans, players, management and officials need to come together and ensure that the best supported club in Ireland continues to be successful in to the future."
Posted on Jul 28th, 2009
If CCFC lose their appeal on Friday the club will be forced to close for good and be removed from the League of Ireland..
Posted on May 16th, 2007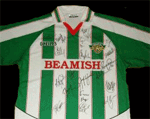 A bunch of loyal and dedicated Cork City FC fans are raising sponosrship funds with an online auction of a signed jersey. Get your hands on it now...
Posted on Feb 6th, 2003

The ever popular CCFC fanzine FourFiveOne present their awards for the end of season....
Posted on Feb 3rd, 2003
No cup this season, no europe next season and Murphy resigns. Gareth Williams sums up the first transition season at Turners Cross....
Posted on Jan 28th, 2003
A disappointing end to Cork City's season came with a dull encounter on Sunday, losing a 13 match unbeaten record at The Cross to UCD...