Cork City 0 UCD 1
Cork City 0 UCD 1
FourFiveOne
Belfield Park has become something of a fortress for UCD, well at least
when City are there anyway. It seems we are the only team in the league
that has trouble beating the students and so it was on Friday night as
a 1-0 loss confirmed what many had suspected for a while now - City are
out of the running for the league title and will have to scrap it out
for a European place.
The first half saw City hold onto possession quite well, keeping the
ball on the deck and passing it to green shirts for a change. However,
despite all their possession, they did little to trouble the UCD back
four; a couple of long range efforts and some set-pieces never really
threatened Barry Ryan in goal. In the closing stages of the first half
Mucka had a great chance to put City in front when he expertly
controlled the ball inside the box, but his shot was straight at Ryan
who diverted it past the post for a corner. At the other end Mick
Devine was rarely troubled either as the first half ended scoreless.
Half-time saw the now-infamous unfurling of a 'Murphy Out' banner by
some City fans.
The opening stages of the second half suggested this match would finish
scoreless as neither side impressed, but as the minutes ticked by the
home side were slowly gaining the upperhand. And, with less than 20
minutes to go they managed to take the lead through Tony McDonnell. A
free-kick to the edge of the City box brought Devine off his line but,
for the second week running, he failed to slear the ball and McDonnell
was able to loop the ball into an empty net.
The goal brought a flood of substitutions from the City bench as Colin
P came on for Bennett almost immediately, closely followed by Colin T
O'Brien, who replaced Mucka and finally Dave Warren came in for
Woodsie, but these were merely changes in personnel, rather than
tactics, and City looked consigned to defeat at that stage. The closest
they came to an equaliser was in injury time when John O'Flynn chased
another long ball in behind the UCD defence but, while he managed to
evade the goalkeeper, Darragh Ryan managed to get back in time to clear
the ball away.
Cork City: Devine; O'Halloran, Daly, Murray, Horgan; Mulconroy (C T
O'Brien 83), Bennett (C P O'Brien 75), Reynolds, Woods (Warren 87);
O'Callaghan, O'Flynn.
*Issue 12 of FourFiveOne will be on sale Friday, before City take on
Shels at the Cross
Lamp the FourFiveOne Website
Posted on Jul 28th, 2009
If CCFC lose their appeal on Friday the club will be forced to close for good and be removed from the League of Ireland..
Posted on Aug 19th, 2008
Cork City FC is on the brink of collapse as it applies for Examinership at the High Court. If Kevin Doyle goes from Reading to Villa there's hope....
Posted on May 16th, 2007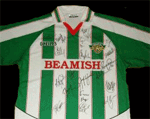 A bunch of loyal and dedicated Cork City FC fans are raising sponosrship funds with an online auction of a signed jersey. Get your hands on it now...
Posted on Feb 6th, 2003

The ever popular CCFC fanzine FourFiveOne present their awards for the end of season....
Posted on Feb 3rd, 2003
No cup this season, no europe next season and Murphy resigns. Gareth Williams sums up the first transition season at Turners Cross....