Beach Reviews: Fountainstown
PROC Beach Reviews
Fountainstown

No longer a place where posh people from Shanakiel go on their holidays Fountainstown has perhaps suffered from a lack of inhabitants and day-trippers in the last decade as the city's well-to-do fly off to impressively exotic destinations and cheap property havens. For a short trip or a quick dip, Fountainstown is remarkably close to the city, barely fifteen minutes from Carrigaline with the new mini-ring road. With weather like summer 2007 a short break in the clouds needs to be capitalised on as rapidly as possible, making this spot ideal for minimising the effects of a moody mother nature.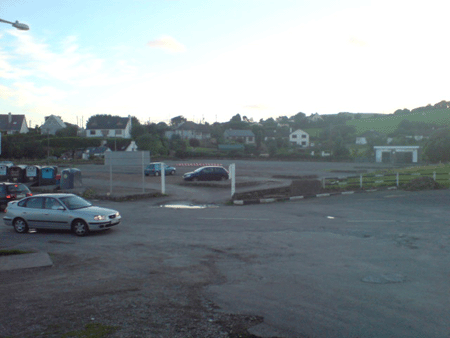 Plenty of parking space. Fancy a doughnut?
If you're wondering where all of Cork's fit young women are on a summer week night look no further than the highways and byways leading to Fountainstown. Around every bend on your way to the beach you'll find pairs of frantic arm-swinging female power walkers pounding the road, so take it handy on the accelerator as many of them leave their cars abandoned in the middle of some choice accident black-spots such is their enthusiasm to embrace nature.


Click on the photo for panoramic view
Deterring the majority with its rougher stony strand, those seeking nothing but a peaceful swim or a spot of fishing get the beach to themselves - albeit the army of on-looking power walkers only drops off in tandem with the TV scheduling of Desperate Housewives but other than that, it's cosy out.
Fishing from the beach is popular for a few reasons, not least the fact that you can park barley five yards from the strand, making hauling all the equipment to the shore far easier than somewhere like Inchadoney.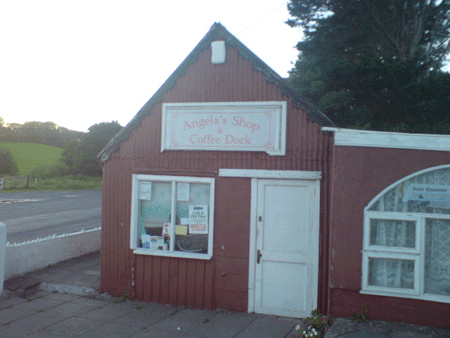 Angela's. Remarkably surviving gale force winds and driving rain since its construction soon after the Battle of Kinsale
Ringabella Bay is favourable for mackerel as the shoals literally boil around the shallows in late July and August. If you've come upon hard times and find prices among city fish mongers offensive, a short term investment in some fishing gear will stuff your freezer full of seafood for the next six months.
Another lazy yard from the beach is the red corrugated "Angela's Shop" which does a mean Barry's and a copy of the Echo to accompany your few hours balming out.
Sand: N/A
Swimming: 8/10
Parking: 10/10
Puck around space: 1/10 (unless you fancy the car park)
Scobe factor: medium
Flies: a few from the recycling bins nearby
99 Cones: Collins in Carrigaline
Posted on Jun 11th, 2013
Only forty minutes from the city beautiful Coolmaine beach is a safe bet if you want to avoid cider partying scobes and smelly chip vans...
Posted on Jul 14th, 2011
Tops off, fishin rods out and flagons at the ready: some anthropological observations on the scobe species when the sun comes out...
Posted on Jun 21st, 2010
Perfect for surfing, Long Strand is the quiet next door neighbour of celebrity beach Owenahincha....
Posted on Jun 15th, 2010
Less than 15 minutes from Clonakilty cosy Red Strand is one of Cork's best kept secrets...
Posted on May 24th, 2010
One of the county's top blue flag beaches, this spot just beyond Kinsale has it all..