8 Ways To Have The Perfect St. Patrick's Day in Cork
The Parade
It is your obligation as a Paddy to honour the legacy the patron saint of snakes and parades by attending the annual procession of half frozen children and weary-looking adults as they wave their way around the city and county's streets hoping to instil some glint of joy on those watching. And they always do. Even the crankiest grump bag would struggle to hold back a smile as a train of superb marching bands, giant puppets, mesmerising dancers and a spectrum of multi-cultural fun swishes by.

Banter-fy The Tourists
It is your duty as a Corkonian to burn the ear off as many visitors as you can on Paddy's Day. Tourists are always on guard in a foreign country when approached by random strangers – in most places hawks are trying to sell a "free" trip to their brother-in-laws suit factory, fake watches or jiffy bags full of suspiciously smelling "moss". Not here.

Our unrestrained, hyperactive friendliness can overwhelm tourists, especially more reserved northern European types, but a tray of triple distilled whiskys and an unsolicited but passionate, lecture on the complete daycintness of Cork that contains fifty percent spit will have them all eating out of your hand – especially if it's got a 'traditional Irish' snack box in it. Jaaa, vee are hanging with ze localz!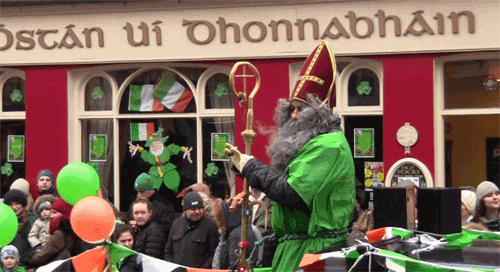 Pre-gat antics in Clonakilty
Gat O'Clock
The parade will be over by half two so your genetic obligation as a Hibernian is to attend your nearest watering hole and start gatting like there's no tomorrow - preferably ordering two pints at a time in case they run out. There are only a few times a year you'll get away with lashing into it early and often and this one not to be missed. Sure, what could go wrong? And sure judges these days tend to be sound when your previous convictions are still in single figures.
The Rugby
All the frustration of having to listen to Brexit waffle over the last year will pour out of you here as the newly crowned Six Nation Champions, Éire, take on Borris Johnson's Engerland in London at 2.45pm on the telly.

Not to overblow its significance but this match is bigger than the War of Independence, The Troubles, The Famine and Euro 88 all put together so the atmosphere will be unreal in Cork's pubs as Ireland aim to hammer home a political message via the oval ball: there'll be no hard borders on this island, Blighty, especially while our top scorer is the son of a Presbyterian minister from Co. Armagh.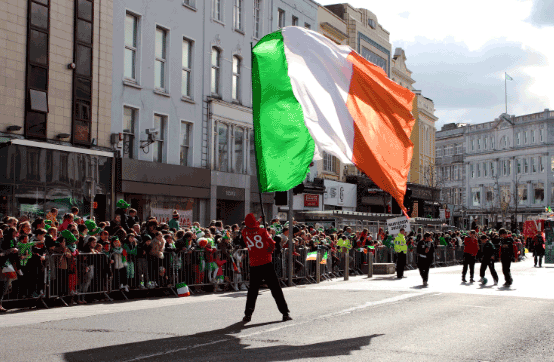 Bet they don't have a flag that big in Dublin! What? They do? Eh...sure we don't even like Ireland. H'on de Rebels!


Declare You're Going to Revive Your Gaeilge
Paddys' Day is not complete without having the traditional Irish drunken conversation about the national language, in English of course: You'd love to be good at it but sure, twas taught badly in school, the grammar do be fierce quare and you wouldn't have wanted people to think you were in the I.R.A.

You close your eyes and swear on a blow up shamrock to definitely-maybe do some night classes…or download an app….or at least look at the Irish part of the road signs when you're stuck in traffic at the tunnel. Maith thú!

A Feed of Chips
After Saint Paddy saw the very last snake in Ireland board the ferry to France at Ringaskiddy the next thing he did, according to historical manuscripts, was to eat "charred potatoes and minced bullock" – if you don't get a feed of burgers and chips into you by midnight legend has it that the snakes start will slithering back to the auld sod.

Or at least that's the story you gave to the beautiful, slim Spanish old doll that latched on to you in the club….before she snaked off "to the toilet" having seen you eat fast food slop like a crazed pig.

Where's Me Jumper?
Figures from the Central Statistics Office show that approximately four million items of clothing are lost in Cork pubs and nightclubs every weekend (have you ever wondered why cheap clothes shops are so packed on Sundays?).

That number doubles for Paddy's night. Researchers have found that Irish dancing to cheesy club versions of traditional folk tunes are to blame – the body heat generated by this high energy, uncoordinated gyrating causes Corkonians to discard clothing left, right and centre. Spending the last two hours of the night drunkenly retracing your steps through pubs you weren't even in asking everyone if they've seen your geansaí is quite a traditional end to a top Paddy's Day.

The city centre parade starts from South Mall at 1pm.

Posted on Jan 7th, 2019
Stick in your headphones, turn off your bike lights and throw away your helmet - everyone knows you can't die if you're under 25...
Posted on Jan 1st, 2019
Just what you needed to make you feel worse about your dizzying hangover and your half-baked new year's resolutions to get fit....
Posted on Dec 30th, 2018
Our recommendations to improve the pure purity of your pure Corkness in pure 2019...
Posted on Dec 20th, 2018
From toasted specials and hot ports to big wheels and seeing the real Santy...
Posted on Dec 10th, 2018
Fancy yourself as a Cork bus driver? Can you whistle the same tune over and over again for hours on end whilst trying not to turn crazed cyclists into oily sandwiches?