Top 10 Cork Sporting Moments Of 2021
20th Dec 2021

A roundup of some of the sporting moments that made our Cork hearts jump out through our rebel rib cages in 2021!

1. Cat Killers
The extra time win over Kilkenny in the All-Ireland hurling semi final was the highlight of the GAA intercounty year and anyone who didn't have a banger while watching it won't need to have their heart checked for a few years – your ticker would have had to be in good health to have survived that one!


2. Stack On Her Back
There we were, pure delighted for one of Cork's greatest footballers of all time, Bríd Stack, as she jetted off down under to start her Aussie rules career having won 11 All-Ireland medals with the Rebelettes. It seemed like she had barely passed through Cork Airport and the next thing we hear she has been hospitalised with a broken neck after her very first training session. Thankfully, after putting the heart crossways on us, she pulled through, but there wasn't a saint that didn't hear the prayers of Rebels the morning the news broke.

3. Ogbene Arrives
Ah sure stop. After working his way up the ranks from the League of Ireland to League One in England, Douglas dynamo Chiedozie Ogbene scored his first international goal for the Republic of Ireland against Azerbaijan in October.

Being the first African born Irish player is only the second-best milestone he's achieved – he's also the first Nemo Rangers player to score for Ireland, heading home Josh Cullen's corner. A few weeks later he scored another beaut against Luxembourg displaying his exemplary 'Gegenpress' credentials by winning the ball back from a defender and going on to score.



The 24 year-old is a must-start for Stephen Kenny's side now, but surely it can't much longer before he gets a call from Mr. Gegenpress himself, at Old Trafford.

4. The Rowing Capital
Skibbereen's golden boys Paul O'Donovan and Fintan McCarthy cruised to victory in the men's lightweight double sculls at the Tokyo Olympics with the world looking on. Their club mate Emily Hegarty won bronze in the women's fours too, but would probably have won gold if the boat was pure Skibbereen from bow to stern. Without these three Rebels, the country's medal haul would have been embarrassing. You're welcome, Ireland.




5. Raising The Barr
With everyone singing the praises of the board for the new club championship structure, it was left up to the teams to provide the entertainment on the field and they didn't disappoint. Football champions St. Finbarr's were forced into a penalty shootout with rivals Castlehaven in the senior semi-final and goalkeeper John Kerins Jnr., whose late father also played between the sticks for Cork, not only made a spectacular save to deny the Haven, but followed it up by scoring the winner for the Barrs who went on to beat Clonakilty in the final. Roy of the Rovers has nothing on this fella.


6. Going Direct
"Hmmm", said Cork hurling and football fans as UK sports retailer Sports Direct was revealed as the new sponsor on the Cork GAA jersey. With so many centenary commemorations in the news, we might have expected a little more than the usual anti-British barstooler brain-fart backlash on social media, but this is the self-confident Cork that respectfully welcomed 'Mrs. Windsor' in 2011, so if Hoggie and Ian Maguire were happy to don the gear, that was fine with fans too.
We should probably consider all the British moolah being poured into Cork GAA as some sort of delayed cash prize for running their troops out of the county 100 years ago!

7. Hurling Heartache Halved
Forever, sporting quizzes will ask: which county won the same All-Ireland hurling title twice in the same year? And Cork will always be the answer!

Our under-20s beat Dublin in the 2020 All-Ireland final in July this year and just six weeks later, despite losing a number of key players, they beat Galway in the 2021 final too - looking as comfortable as a robot tree on Pana in doing so.

Three days later our minors routed Galway in their All-Ireland final and the seniors reached their final too, making it an exciting year for Cork hurling.





8. Goal of the Year
There were contenders in all codes this year including Chiedozie's warrior goal in Luxembourg and Jack O'Connor's screamer in Croke Park against Kilkenny, but the best Cork goal of the year must surely be Cork City FC's Becky Cassin's absolute stunner against Galway in March. It took place in the slightly less glamourous surrounds of Eamonn Deacy Park in Not Cork, but it didn't take from the glorious 30 yard-strike. Wow.

9. Dublin Not Winning the All-Ireland
The five-in-a-row Jackeens finally being beaten by 'Poor Auld Mayo' in the All-Ireland semi-final, brought a wry smile to many Rebel lips. As Corkonians, it would be wrong for us not to find wonderous joy in a devastating Dublin defeat.
10. Internet Moment of the Year
Only the Mayfield Maestro could create a social media account for himself that appears like a parody profile. At a time when it has reached epic levels of self-aggrandising navel-gazing weirdness, Roy Keane's arrival to Instagram earlier this year may, in fact, save humanity from itself, with no shortage of the Cork humour and takedowns of bluffers he trades off as a sports pundit - summarised by a cute photo of himself and his granddaughter and a single sentence:
"My granddaughter idolises me, I told her join the queue"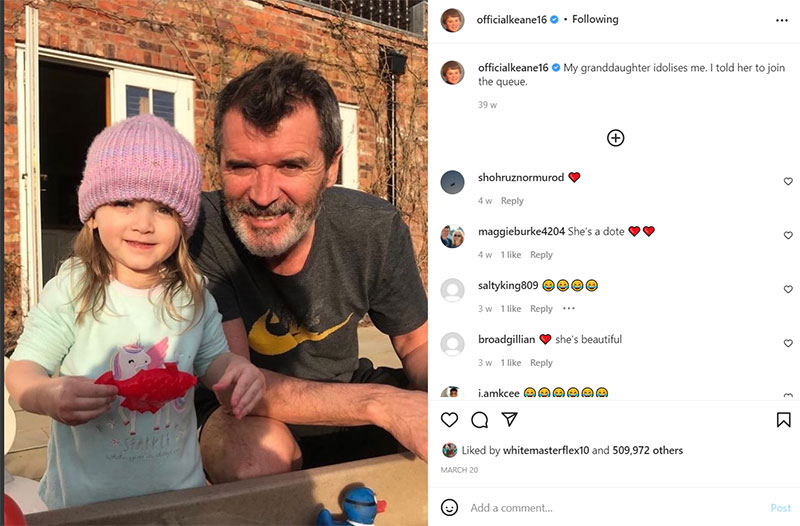 Sponsors
PROC Mailing List
On Today
Forum Latest
ok