Thomas Kent -True Rebel
9th May 2006
Thomas Kent: True Rebel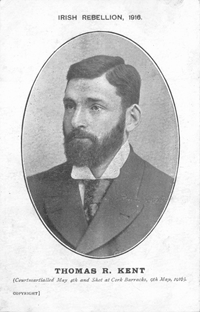 When we think of true rebels these days current GAA stars like Brian Corcoran and Seán Óg come to mind as well as legends like Keano and Sonia. As time passes of course its only natural that the latest rebels in the headlines will take centre stage.

Cork extremists like ourselves always keep an eye out for future stars. Right now there's a kid in a Cork play school learning how to paint matchstick men and put plastic shapes into correctly shaped holes who in twenty years will hold aloft the 50th All Ireland hurling title.

There's a little baby girl somewhere in the county who is using her new found ability to stand unaided to insert squashed bananas into the family DVD player who will, around 2025 stand with her camogie team as champions of Ireland.

As a society and through big business and the media we make legends from ordinary people with special abilities in certain disciplines.

When Brian Corcoran retires he will be remembered but he will be replaced. When Setanta O hAilpín left we all sighed but we know Cork won't be left in the lurch. Out in Turner's Cross there are too many admirable young Rebels to mention – the Eircom League title sitting proudly on their shoulders.

Unlike most counties we're just so good at everything we hardly have time to look back. In Waterford hurling circles there's endless talk of the last All Ireland victory: 1953. God help us.

However its important to take stock and not be too flaithúlach when using the terms like 'Cork legend' and 'true rebel' without an eye to the past.

Take Thomas Kent from Castlelyons – an area that hopes a certain Timmy McCarthy has a great season at half forward for Cork – a real rebel. Ninety years ago he was executed by the British Army.

Looking at the U21's gallant performance against Mayo footballers in their All Ireland final last weekend (losing by just two points after a harsh penalty decision and sending off went against them) there was talk about players being devastated, gutted and even disillusioned after a defeat. Even we at the People's Republic know rebels don't always win – but they do give it everything.

What was going through Thomas Kent's mind as he knelt in his dingy cell in Cork Prison on the night of the 8th of May 1916? The next morning he would be forced to stand in front of a British firing squad. Devastated, gutted and disillusioned?

Thomas and his brothers William, David and Richard were surrounded by British troops in their home at Castlelyons on April 22nd. As part of a mopping up operation by the British to capture rebels after the infamous rising in Dublin the previous Easter Sunday - the Kents of Castlelyons were high on the list of their priorities.

After a four hour shoot out in which Richard was fatally wounded and a British soldier was killed, the Kents were successfully arrested and brought to Cork Prison. There, Thomas was court martialed and sentenced to death by his British captors.

As he lay in his cell that night how many times did he replay the events of the previous few weeks. Should he have stayed in hiding longer? What was it all for? For Ireland, for Cork, for Castlelyons? Did he ever doubt?

True rebels never doubt. When the riot act was read outside Bawnard House just before dawn that day Kent knew that if he put up a fight the odds of survival were slim. The officer reading the riot act was shot dead from the house as he spoke.
'Game on' we might say but not the type of game any of us have ever played.

This outcome did not have any clichés attached like "we'll be back again next year" or "things didn't go our way on the day". No analysis from a glitsy studio about positives to take into next season, no slaps on the back for effort or marks out of ten.

As Kent stood before the firing squad imagine what must have being going through his head. The freshness of a new dawn in Cork smothered by the tormenting reality of his inevitable position.

The sound of sparrows chirping in the distance over Rathmore Road, the early morning summer wind blowing up from the city and through his hair, the sound of the prison's yard under his boots. Then the booted sound of soldiers assembling at a distance, the cough of a smoking soldier in the chilling wind as Shandon chimes out the time of his execution. The last chime to fall on Kent's ears.

One man's terrorist is another man's freedom fighter: the light jingle of bullets on a tray. Did his executioners know anything about the rebel that stood before him? The heavy metallic pop as rifles are opened. Would Ireland ever achieve the freedom Kent desired? Mechanical clicks: the rifles are cocked and take aim. Would the tricolour fly in Cork City before his own brother's?

It is hoped the first bullet that ripped through Thomas Kent's flesh bursting his skull open killed him instantly - but nobody knows. Was he conscious or even slightly aware as another soldier approached and stood over his bleeding head about to fire another bullet into his heart to make sure he was dead? This is a defeat none of us carrying the Rebel flag could imagine in 2006.

On the way to the Munster semi final on May 28th Thurles bound rebels should take stock before boarding their train and give a quiet nod to the humbly positioned bust of Thomas Kent in the station's car park. A true rebel.
Sponsors
PROC Mailing List
On Today
Forum Latest
ok