Pope's Request for Heineken Cup Final
10th May 2006
Pope's Request for Heineken Cup Final
Danny Elbow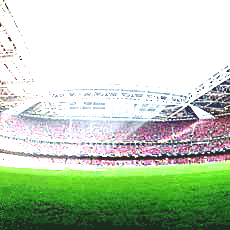 The intensity of God's light could cause vision issues for an unprepared Biarritz side.
Pope Benedict has sent a message to The European Rugby Council this morning from the Vatican. Althought the German has a keen interest in scrums he wasn't bothering ERC officials about getting tickets for the big game. Instead he has specifically requesting the roof of the Millennium Stadium in Cardiff be opened fully during their clash with Biarritz on May 20th so that God himself can watch
Ronan O'Gara
play.
A bearded ERC spokesman holding a pointed finger aloft said "
God Willing the roof will be open on May 20th for the final- if this is what He wants then so it shall be
.
Alluh Akbar!
".
Tickets for the Heineken Cup Final are like gold as Munster fans from all over Cork (and the odd fan from Limerick) desperately seek out anyone who might know somebody who knows somebody who might have a spare one if somebody else who knows somebody else can't get the Sunday morning off. Something like that anyway.
If you're trying to leave the country between May 17th and May 20th you could be in for a shock as every available mode of transport including canoes and rubber dinghies have been taken by rugby fans desperate to get to Cardiff for the biggest game on the 2006 rugby calendar.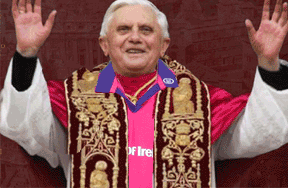 Oh Benedict you're so last season.
New shirts are only 80 yo yos loike.
The RNLI lifeboat service has asked all those using rubber dinghies to make sure they bring warm clothes, torches and plenty phone credit in case they get lost at sea.
Fine Gael's city councillors have been the only ones calling for Cork to be the venue for the team's homecoming. As the region's capital it is imperative homecoming celebrations are held on Leeside particularly as the majority of the panel and almost the entire management team are from Cork.

Other councillors in typical fashion have asked Fine Gael to shut up saying Munster haven't won anything yet and not to be creating a fuss before the game. Good to see the city council attitude to forward planning hasn't changed then.

Please let us not have Ronan O'Gara standing on some gammy truck trailer outside Pennys talking to the crowd on a faulty sound system bought at Castletownroche car boot sale the day before. For God's sake lets get it right - he's going to be watching.


If you'd like to join in the general ticket panic and hysteria you can start bidding immoral amounts of cash for a pair of ticketsright here
Sponsors
PROC Mailing List
On Today
Forum Latest