Páirc Uí Kyiv - Welcome to Cork, Ukrainians
14th Mar 2022

The profound horror of Russia's barbaric invasion of Ukraine has shocked the world. The number of people fleeing Ukraine will probably hit three million this week and is likely to soar even higher in the coming weeks. Soon, thousands of refugees will begin arriving in Cork and we need to welcome them with open arms. We need to turn Cork into Páirc Uí Kyiv.

Countries that border western Ukraine, have set a high standard in welcoming these misfortunate and traumatised people, many of whom are worried sick about loved ones back home as Vladimir Putin unleashes unspeakable violence on them. It puts the woes of being a Cork football supporter or harping on about the non-event centre into perspective pretty quickly.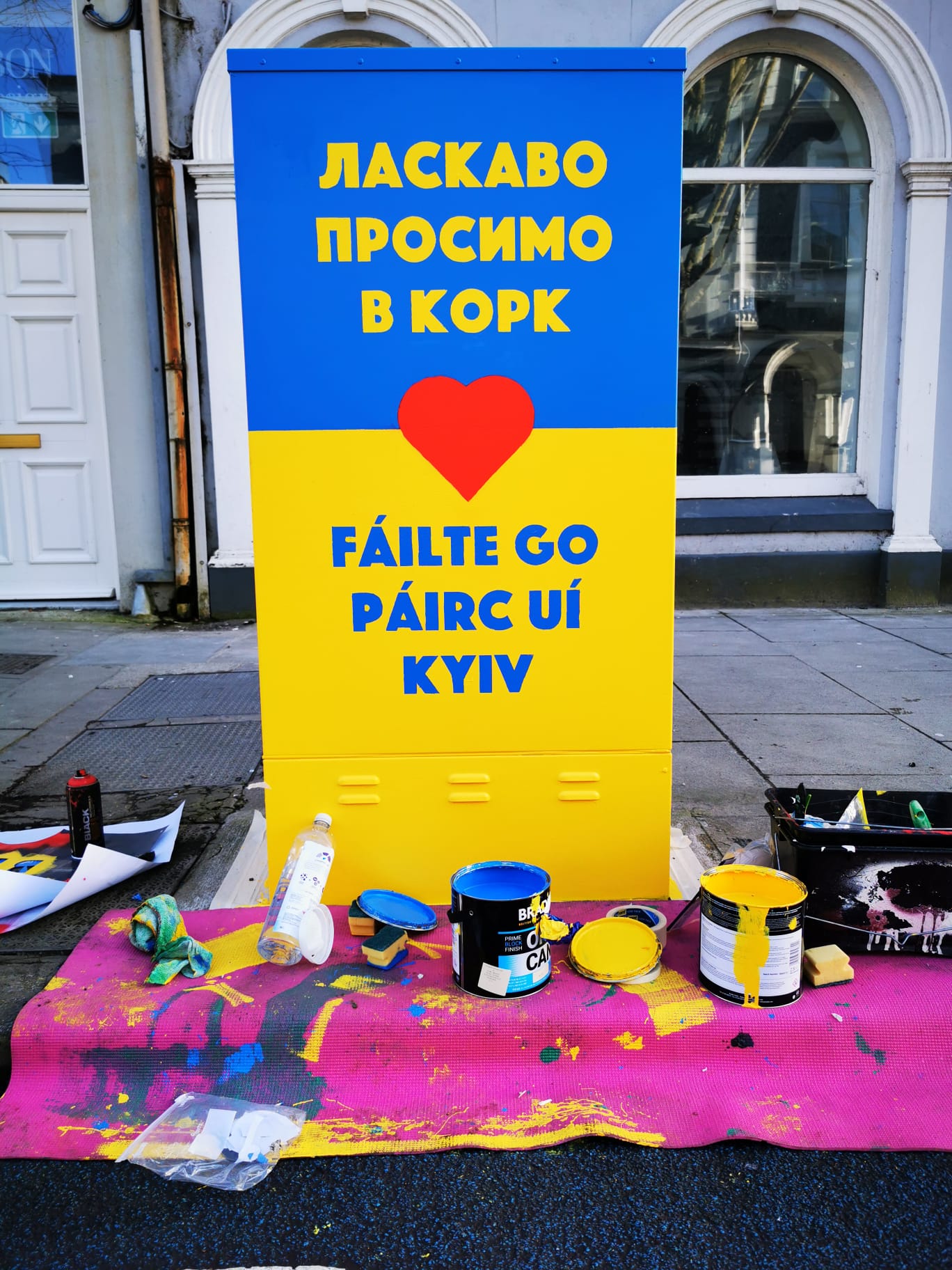 New street art on South Mall, Cork City, Ireland

The world has been in awe of Polish hospitality in particular – refugees are warmly welcomed and looked after before being bussed to Warsaw and other cities where accommodation or transport on to another European city arranged for them.

Like those at a wake or a funeral, it's the tiny things people do for you that can help ease the grief burden – some auld fella in a high vis vest directing people to parking places, the army of aunties making endless pots of tea or the neighbour who'll milk the cows or look after a family shop.

Aside from donations, we are largely powerless to do anything else to help. The infuriating brazenness of price-gouging petrol stations aside, it's a bit manky when we catch ourselves complaining about having to shell out more a bit more coin at the pumps when at the other side of our continent, people spend their weeks in bunkers, being shelled. Unless, of course, you're one of the smug electric car elite with their 'Putin-can't-take-our-wind-turbines' smirks as they silently whizz past petrol station signs!

Of all the Moaning Michaels phoning into talk shows, the worst has to be the fella complaining about how much it costs him to fill the three and a half tonne, giant SUV that he 'needs' to bring the kids from Douglas to their fee-paying school in the city centre every morning. The war hasn't pushed up the price of a bus ticket (yet), you utter langballs!

The distance between Cork and Kyiv will give frightened Ukrainians coming here some psychological relief that they are safe. But that will, of course, be quickly replaced by anxiety about arriving in a place they have never been before and know little about, so it's up to all of us to wrap a metaphorical arm around them to make them feel exceptionally welcome.

After all, as will be pointed out to them pretty quickly, Ukrainians don't know how lucky they are to have landed in Cork - no better race than ourselves to make that clear from day one! And c'mere, imagine if refugees from anywhere in the world had the double misfortune to be ran out of their own country only to end up in dirty Dublin! God love them!

Seriously though, we should be competitive about welcoming our new Ukrainian friends. If the rest of the country are doing 'cead mile fáilte', Cork should double it and do 'dhá chéad mile fáilte'!

Put up a Ukrainian flag in your window or on your car (there's still plenty yellow and blue bunting up around the south city after the Barr's run in the Munster club championship – what harm if Ukrainians innocently mistake Togher for 'Little Kyiv'!). We can learn the Ukrainian word for welcome ('Laskavo Prosymo') too and we've organised a bit of street art in the city centre that says 'Welcome to Cork' in their language. You might have ideas yourself - we need to make a big effort, especially if the conflict drags on and refugees end up in Cork long term.

There are frightened Ukrainians kids arriving on Leeside this week, most of whom had to leave their young fathers behind. These children should be welcomed into GAA, soccer and rugby clubs as soon as possible. Those who run dance classes, martial arts clubs, drum circles and yoga sessions could offer a few free places to our new friends.

In school, the new Ukrainian kids can be invited along to play dates and birthday parties – there's nothing like an hour of hyper-insanity in a bouncy castle up to their eyes in sugar, sweating like a pig in a sauna, to take a kid's mind off what they've fled. And their mams will get a big lift from seeing their smallies smile again too.

When the hurling championship begins next month, wouldn't it be unreal to see a bunch of Ukrainian kids with their new Cork friends cheering on the Rebels in our fancy new stadium? Let's get on it. Time to turn Cork into Páirc Uí Kyiv!
----------------------------------------------------------------------------------------------------------------------
Click here to donate to the International Red Cross

We'll donate all profits from the sale of these new Ukrainian t-shirts to the International Red Cross.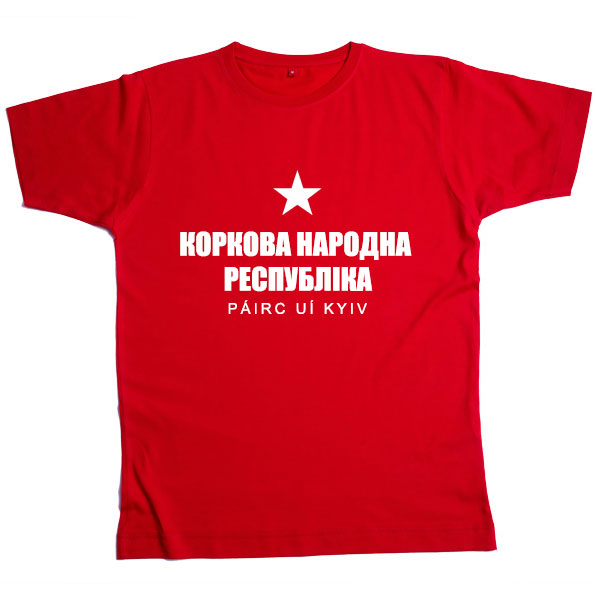 Sponsors
PROC Mailing List
On Today
Forum Latest
ok