Little Big Night Out: Cork V Kerry
MURPHY'S Little Big Nights Out presents
The Official Match of Us!
Cork Vs Kerry Munster Football Finals
Sunday July 3rd at 1.00pm @
The Top of The Hill, Gurranabraher Road & The Old Oak, Oliver Plunkett Street
MURPHY'SLittle Big Nights Out are celebrating the greatest football team in Ireland with two very special screening of the Cork Vs Kerry Munster Football Final on Sunday July 3rd.
The Rebels take on The Kingdom in what promises to be a fierce match on Sunday July 3rd. MURPHY'S know you love your GAA, so for those MURPHY'S fans who haven't been lucky enough to bag a few tickets to the match itself, MURPHY'S are bringing the game to you!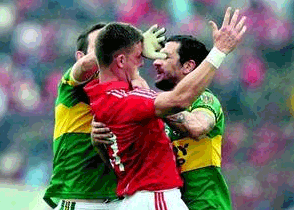 Galvin Klein: Kerry's chief dentist and fashion icon is allegedly injured for the clash in Killarney.
The Official Pint of Us has teamed up with two of Cork finest establishments The Old Oak on Oliver Plunkett Street and The Top of The Hill on Gurranabraher Road to host a big screen celebration of the Munster Football Finals. Pick a venue and settle in with your mates at 1pm, watch all the pitch side action on the giant screen and enjoy a cool, creamy pint of MURPHY'S and a belly busting O'Flynn's Gourmet Sausage, all courtesy of the Official Pint of Us.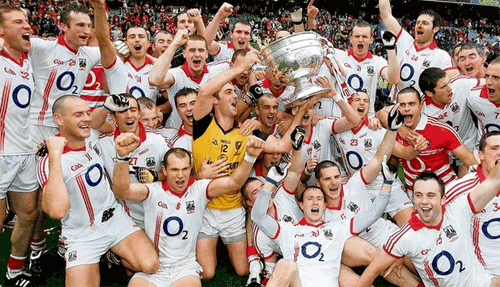 Kerry will be gunning for Cork. A win for the Rebels in Killarney would be both historic and thumiliating for the Kingdom who were thrashed by Down in the quarters in 2010. Cork U21's beat Kerry by 2-24 to 0-8 earlier this year to add to the embarrassment.

If it all gets too tense, you can always take a moment away from the glorious game and learn to pull your own perfect pint of MURPHY'S!
Get ready to give them your loudest rebel yell! As always MURPHY'S Little Big Nights Out events are brought to you courtesy of the good people at MURPHY'S but you must register your details on www.littlebignightsout.com and apply for tickets to your venue of choice to be in with a chance to win a pair to the event.
Always enjoy MURPHY'S responsibly, visit drinkaware.ie
Make sure to like us on Facebook. Search MURPHY'S – The Official Pint of Us
Posted on May 18th, 2019
In part deux we look at ways we can all help make Cork's Huguenot Quarter become a little more French by changing our accents, taking up chain smoking and having multiple affairs with beours we don't even like...
Posted on May 11th, 2019
With our insatiable appetite for tourists, maybe it is now time to ramp it up and go all-singing-all-dancing frogs legs, onion necklaces and stinky cheese...
Posted on May 4th, 2019
Even though we are a notch above the rest, Cork people aren't all the same – perfection doesn't mean we are homogeneous.Travel around the city and county and you'll find some quirky traits that make each of the jewels in Cork's crown unique
Posted on Apr 4th, 2019
The relentlessly repetitive single word script and leave-whenever-you-want audience policy is sure to be a hit in theatres from Buttevant to Barnet and Brixton to Broadway....
Posted on Mar 13th, 2019
When minority languages try to recover from historical oppression, it is the death-by-a-hundred-thousand cuts inflicted by the native population themselves that properly ensures a language is extinguished..