Heatwave 2022: The Real Med
18th Jul 2022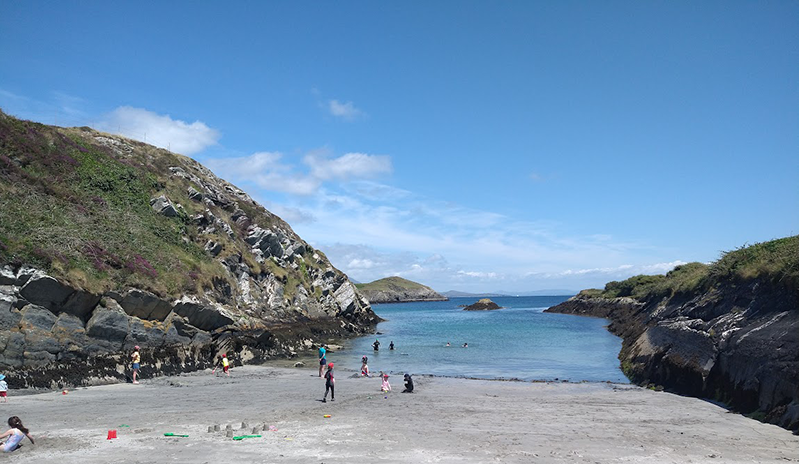 Cmere, j'remember coats? Those yokes hanging in the wardrobe upstairs? The thought of wearing one at the moment is a bit mad. With such an unreal July so far, we quickly forget how June acted the langer by pretending it was March. Jackets are like something from the distant past like Telecom Éireann, MySpace and Enda Kenny turning the sod on the event centre.

Because we know it could end any day we're all grand with a big blast of sunshine, daily 99s with flakes and feens showing off their cringy tattoos of their dead pet cat – Corkonians know the sidewards rain, umbrellas and orange wind warnings are never far away no matter what season it is.
Unlike the rest of Europe and its ruthless temperatures only a minority of moaners are complaining about it being "too wahrum" because if you've been watching the news, it's clear that The Med is now officially over. Most of Central Europe too. London is definitely finished and America is cooking like a heavily-armed angry pig being spit roasted at the edge of a bubbling volcano.

Anyone who comes back from Spain, Portugal or Italy telling you that they enjoyed themselves is lying. They spent their entire holiday cowering in a blistering hot apartment crawling back and forth between a giant fan and a 'cold' shower all day - pretending to themselves that it's better than a staycation in Cork.

As the clouds of black smoke from relentless forest fires in southern Europe choke beach cities that are already baking in conditions you could cook the Christmas turkey in, holidaymakers in Europe, America and beyond are going to start looking for new cooler destinations to spend their coin in especially in July and August.

MED-ILETON
In fairness like, why go all the way out to sizzle in Sicily, be scalded in Santa Ponza or melt in Majorca when you could be happily balmed out in Ballylickey, Beara or Baltimore without worrying about your bones boiling?

As Europe hits the forties, Cork's low to mid twenties scene is where it's at. You can still think straight without every thought being overruled by a desire to put your head under a cold tap.

At these lovely temperatures you can still walk on beach sand in your bare feet without looking like you're someone on psychedelics gate-crashing a Riverdance audition and you can still go upstairs in your gaf and walk into a bedroom without completely forgetting what you came up for because your brain is overheating.

WATERGRASSCHILL
Fáilte Ireland's job just got a whole lot easier too. They can bang on all day about stones you have to kiss, local food you have to mangle, a spectacular coast line and festivals galore, but Ireland's biggest selling point is now, without doubt, that it is somewhere you can go where you won't be slow cooked, poached or roasted. Our tourism tsars shouldn't under estimate the power of showing a simple mid-July Met Éireann temperature chart of the country to Europeans who don't dare go outdoors after breakfast or before dinner.

And the thing is we have everything else The Med has to offer and more including the pristine beaches that are so big they don't feel like you're in The Shed at the Cross on a cup night. You know that annoying Dub who insists on live streaming from their sun lounger – the type that won't shut up about how much gat they've had since they arrived in Ibiza? There's so much space on blue flag beaches like Inchydoney, Barleycove, Garrylucas, Garryvoe and The Warren it's easy to avoid those kind of avoid human disc cutters too.

COOLMAINE
As Cork hits the summer holiday Goldilocks zone (not too hot, not too cold) we can expect a surge in tourists coming from the type of countries where you have to climb into supermarket freezers to cool down. All they'll want is somewhere they can wear underwear in bed without getting heat stroke. Imagine how delighted they'll be when they discover the bonus of being in Cork too. Lucky them.

We probably have another ten years before global warming pushes the People's Republic of Cork into that stifling 'six feet from a bonfire' feeling like they're experiencing on the rest of the continent right now so building airports in Allihies, Barleycove and Youghal is a must for us to become 'The Real Med'.

By 2032 we'll have solar panels on every roof and wind turbines off Roches Point churning out enough power to keep the whole country chilled. Until then we'll still appreciate a week of blue skies because here in Ireland you never know what weather is waiting around the corner.

Don't throw away those coats just yet.

Sponsors
PROC Mailing List
On Today
Forum Latest
Sinn Fein are not a Normal Political Party ??
12 min - 386,817 views

Fundraiser for Statue Of Michael Collins in Patrick's Street
12 min - 6,817 views

The Hurling Thread
17 min - 5,158,845 views

Cork Hurlers - Part 2
20 min - 17,894,484 views

Philip Schofield......any one shocked?
20 min - 32,664 views

Jesus lads, 'tis looking like BREXIT!
29 min - 2,474,652 views

Succession
33 min - 738 views

Cork u20 Hurling 2023
35 min - 133,793 views

Dave mac v Red fm
36 min - 33 views

Cork Footballers
37 min - 15,294,373 views

Cork Developments
39 min - 3,563,006 views

Official Cork City FC/LOI thread!
45 min - 1,831,684 views

Batsh*t Crazy Green Party
1 hr - 60,787 views

Immigration Thread
2 hrs - 74,228 views

Rate the last movie you watched out of 10
3 hrs - 2,590,138 views

Arab/Israeli conflict between Syria, Palestine & Israel
5 hrs - 11,859 views

The Official Liverpool Thread - Part 2
6 hrs - 3,165,842 views

NBA Season Preview
6 hrs - 1,184 views

The SPORTS Documentary Thread
9 hrs - 19,913 views

best chipper in town?
11 hrs - 58,525 views

ok