Cork in Top Ten World Cities
Cork in Top Ten World Cities
We're in tough times so it was always going to be a ferocious battle between hundreds of European cities to make the cut for Lonely Planet's top ten cities. Appropriately enough Cork city had plenty to spare when the judges made their final decision and we now await with glee for the hoards of tourists to jet in.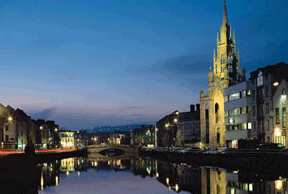 The cream of the crop
The newly launched guide entitled Best in Travel 2010 trumpets Planet Earth's best tourist destinations and is influential enough to turbo boost a city's reputation and economy.
Unsurprisingly nowhere else in the cash-strapped Republic of Ireland or northern Europe got a mention. In fact besides Lecce in Italy no other city or town in the EU made the grade. Give yourselves a slap on the backs feens and beours - this accolade is some achievement.

And more than anywhere else, our inclusion comes down to 'people' more than anything else as the guide lavishes praise on us Corkonians.
"Cork is at the top of its game right now; sophisticated, vibrant and diverse, while still retaining its friendliness, relaxed charm and quick fire wit", says the publication. Their words not ours.
To be fair, even though the statement is full of praise they are playing us down slightly - probably so half the globe won't up sticks and move here straight away. We would have used a lot more adjectives.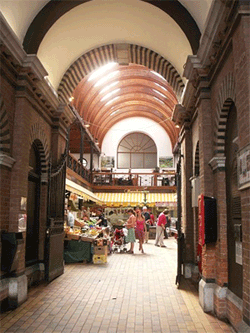 Lonely Planet recommends Tripe and drisheen at the English market.
At times the PROC is unfairly looked upon as a biased propaganda machine working on behalf of the county. Now we can at least drop the 'biased' part because this independent verification (no reporters were held at 'hurley-point' and water boarded with Beamish at any stage) clearly shows that what we've been banging on about here for years is completely, undeniably and utterly true.
And if any outsiders give you grief for going on about how great Cork is then you can say:
Sure it woz the Lonely Planet what said it boy!
Corkonians will have to be on their best behaviour with the expected influx of foreign tourists piling into the city to munch on tripe and drisheen, ring the Shandon bells, revel in the thriving live music scene and to watch hurling marches.
We're clearly now among the top tribes on the planet according to this book but flattery can weaken the senses so be double-dog wide. When the tourist season kicks off again expect rakes of foreigners flirting with you, buying you gat and trying to get you back to their hotel.

Evolution can be a cut-throat business and in their unbridled lust to give their children the best chance in life many foreigners (lots of them total flahs of course) will arrive here hoping to produce children with Corkonian blood.
Corkonians should be friendly and accommodating where possible but we advise you all to read our recent guide to shacking up with non-Corkonians and the dangers of diluting your Rebel blood (see in particular the section on the All-Ireland finals of 2030).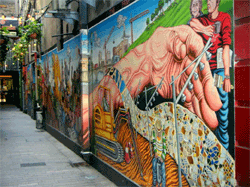 The guide loves Cork's alleyways like Mutton Lane
The well-known Lonely Planet guide will sell millions of copies worldwide as travellers look for quality destinations where they won't be ripped-off or stabbed. These basic criteria immediately rule out most other Irish towns and cities. Not Cork though.
We should note that among our fellow top ten cities is Singapore - a city state on the southern tip of the Malaysian peninsula - a metropolis that has thrived since claiming independence from Malaysia and its oppressive Dublin-equivalent Kuala Lumpur. Many laughed when the small state decided to go it alone. Now with its own UN membership and massive economy few criticise the 'bauld' move by Singapore's leaders.

The case for total independence from Dublin's tax-hungry money-wasting government has never been so clear cut. Now that Cork is leading the way out of the recession perhaps its time to once and for all cut all ties with the corrupt and bungling regime at Leinster House and hammer the PROC-lamation to the door of the GPO.
As they'd have to accept us eventually, debating controversial county-board motions at the UN would be great craic too!

World's Top 10 cities:

1. Cork;
2. Singapore;
3. Istanbul, Turkey;
4. Kyoto, Japan;
5. Vancouver, Canada

6. Charleston, USA;
7. Cuenca, Ecuador;
8. Lecce, Italy;
9. Sarajevo, Bosnia;
10. Abu Dhabi, UAE;
Check out the book available in Easons here or Waterstones here

Posted on May 6th, 2020
Even though there are reasons to justify it in his own head, Finbarr* knows this is wrong even though the young woman who he contacted seems to be fine about it...
Posted on Apr 20th, 2020
As the lockdown drags on and patience grows thin among the population, Corkonians are taking risks and doing all sorts of things they would never have done before...
Posted on Apr 6th, 2020
To help morale, the post-covid rewards for parents locked down with kids for weeks on end have been published...
Posted on Apr 3rd, 2020
Don't worry if you're a sleep deprived parent whose childless boss expects you to maintain full productivity while minding a toddler on your own, they can help you stay on top of things while you sleep...
Posted on Apr 3rd, 2020
As utterly revolting and criminally unhygienic as it sounds in the middle of the corona crisis, one day soon Corkonians will once again swap saliva in public and nobody will bat an eyelid....