Dáil Motion To Declare Barry Cowen a Langer After Mocking Cork TD's Accent
12th Oct 2021
Fianna Fáil TD Barry Cowen was accused of mocking the Cork accent in the Dáil last week by north-central TD Thomas Gould.

The irony of the Offaly deputy mocking the most revered and beautiful accent in the entire English speaking world, through his own hilarious midlands drone rang louder than the Ceann Comhairle's bell as the shouting in Leinster House got louder than a 3am Tuesday night UCC student party on College Road.

In fairness, to Gouldy, he would have been entitled, under the law of the People's Republic at least, to thunder across the floor and turn the Dáil into something approaching the scenes from last weekend's Wicklow under-15 GAA brawl that went viral on social media (in fairness, not only does that county fail at football and hurling, thankfully there doesn't seem to be a single Wicklow adult who can throw a half-decent punch either!).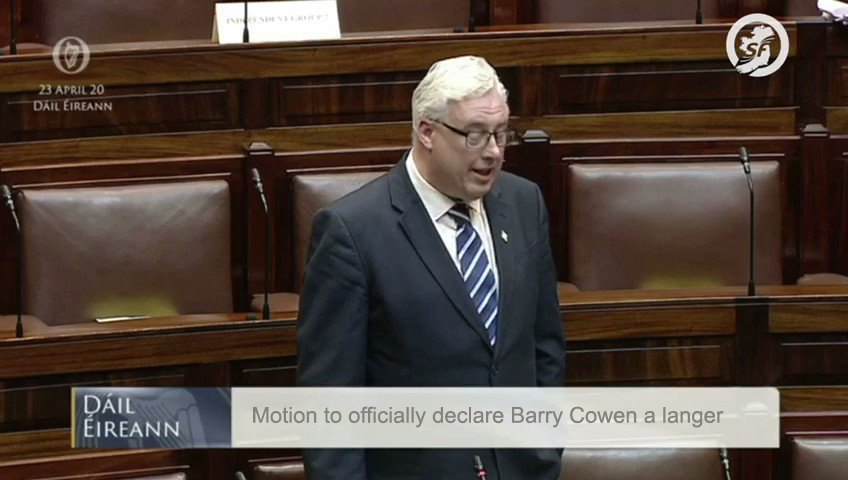 And to be fair to the sizeable Cork pollyatishun, you'd back him taking on a fair clutter of the government deputies by himself if they were all thrown into an octagon for a Saturday night showdown - a lot of the Soldiers of Destiny look as soft as the walls of a Donegal bungalow.
Unlike Cork politicians Simon Coveney, Michael McGrath and at times Taoiseach Michéal Martin, the Sinn Féin deputy's lilt is strong and melodious.

To make themselves more appealing to the rest of the nation, ministers and other higher government wannabes water down their native accents in an effort to appear less parochial and more 'of the nation'.

Even listening to old recordings of former Taoiseach Jack Lynch, born within a puck of sliotar from Shandon Steeple, his strikingly 'neutral' Irish accent stands out – amazing for a man born, baptised and bred in the heart of Cork City.

Lynch knew that to appeal to the rest of the country he had to dial down the Corkness. He won so many All-Ireland medals at the expense of other counties' hopes and dreams that being all pure Cork in the Dáil would rub the rest of the country up the wrong way.

The opposite also applies when a politician is more locally focused – accentuating their accent to sound more in tune with their constituents – there's nothing more valuable to a politician than getting their constituents to think that he or she 'sounds like one of us'.

The Healy-Rae's in Kerry are the classic example and every time they are mocked for speaking like sheep farmers being issued with mild electric shocks every time they hit a broad vowel, they bring the insult back to their voters: Look! This is what that crowd up in Dublin (or in this case Cork) think of you and me!

Cork politicians aren't immune from playing that game either. There are a number of politicians who ham up their city accents when they speak on local radio, but often water it down when an RTE microphone is placed in front of them.

Barry Cowen's accent is one of those indistinct, boring bovine drawls that you can only place as broadly 'midlands'. It's sounds like Brian Cody with a hangover or Ray D'arcy after a bag of sedatives.

For Corkonians, the sound of Cowen's midlands moan, is eerily similar to his brother and former-Taoiseach Brian's gruff warble.

The sound of his voice brings us right back to 2010 when, as the IMF were practically going through passport control at Dublin airport, Brian Cowen did a car-crash, slurred interview on RTE's Morning Ireland denying the country needed a bailout.

Called out by Cork's Simon Coveney as sounding "intoxicated", the incident completely undermined the nation's confidence in the Fianna Fáil leader who had to resign four months later.

It wouldn't be the last time that a Cowen brother, the demon drink and a Cork man would make headlines. Last year, Turner's Cross Mick had to sack Barry Cowen as Minister for Agriculture when it emerged he had hidden a drink-driving conviction and attempted to avoid a Garda checkpoint.

At a time when Offaly had more covid cases than if you let the Republic of Ireland soccer squad on the loose in Cheltenham, it was mortifying for the Cowen family to be called out by a Corkonian, again.

The humiliation has resulted in Cowen's sub-standard slagging of Cork in the Dáil. Gould was wise not to return the mockery. He could have made a fool of himself if he tried to counter (even though there was a beautiful ball hop about Cowen's tenure as a Minister being even shorter than Offaly's notoriously brief intercounty GAA seasons there for the taking).

Poor quality slagging of other counties or their accents is something all our politicians should rise above. Low grade mockery creates divisiveness, clawing at the country's sense of unity and harmony. It could even cause a county to seek its own independence.

That's why the ball hopping of other counties should be left to those who do it properly: us, like.


Sponsors
PROC Mailing List
On Today
Forum Latest
ok