The Thing About Big Balls
It's an old cliché spouted by winning captains: "ye are the best fans in the country". Tipp's Eoin Kelly was the last to issue such flattery from the steps of Croke Park.
The insinuation that Cork people have a preference for hurling over football stems from a very simple fact that is nothing to do with the games themselves per se.
Football has brought us six All-Ireland titles. Hurling five times that. The greatest hurler of all time was a Corkman. A Cork Taoiseach followed the trend. Jack Lynch had one football All-Ireland medal and four hurling when he passed in 1999 - a year the hurlers won and the footballers lost another final.
There is a wide spectrum of supporters in any county. Those who will scramble for All-Ireland final tickets without being able to name a single player on their own team, those who make it to a few championship games, those who never miss a championship game and see half the league and those who know exactly what time Graham Canty arrived at a particular training session in February. And everyone in between.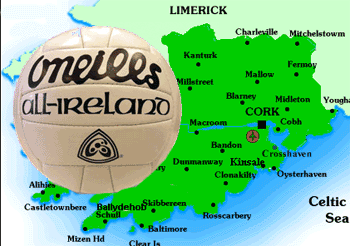 Its all about big balls this Sunday
The notion that the Cork footballers have been ignored by the public is a sadly simple and negative analysis of why Corkonians en masse appear to care less about the bigger ball than its smaller cousin.
In reality, because Cork have bagged Liam McCarthy more regularly than Sam Maguire our hurlers are responsible for bringing more joy and celebration to Leeside than the footballers.

Hot headed analysis wrongly dictates that this is a slight to anyone who plays football or to Cork senior football teams. This suggestion ignores the mantra senior footballers and hurlers themselves pedal. It's all about winning. History doesn't remember second-bests.
When people incorrectly say "Cork is a hurling county" the implication is that Cork people prefer hurling in a way that is snobbish - a stupid implication that football is somehow an inferior game played by lesser beings. That's not the truth but lazy analysis often mistakenly steer public opinion down this road.

Audiences for local sport can only tap into a limited but admittedly powerful tank of Cork pride. The point commentators neglect to include in their pop-analysis of Cork fans is that we are also subject to human nature - a sort of free-market libertarianism of sporting entertainment. Sometimes it is difficult for people to accept that pride is built on success.
Cork City FC, who wore red recently in support of their GAA brothers, know all about this. Keep winning and the turnstyles keep turning.
There's a point where pride in a jersey/county/team meets box office entertainment and this reality seems to bypass many pious fans and commentators who opt to attack those less inclined to offer their patronage to less successful teams.
Thousands took to the streets when the footballers didn't want Teddy Holland as manager. They called out and Cork fans replied but not everyone was able to join us.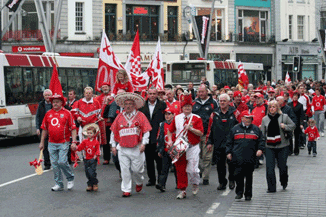 Fans out in support of the footballers in 2008
People are busy. They have kids and parents to mind, a wage to turn, college and school work to cram, their own hobbies and sports to pursue. They might be proud Corkonians too but only have time and money to go to a handful of Cork matches each year and they want to attend the most exciting ones.
That's not making excuses for fair weather fans it's just explaining the reality of why 30,000 people don't show up at a league match in February.
It is human nature to be drawn to the big success story. Tales of how Cork triumphed in Croke Park and made your heart burst out through your chest with pride are the ones you want repeated.
Days where very talented players just seem to freeze are those you want to forget. The error is to assume that a sentence like the last one is a slight against players - an all too typical GAA-esque assumption that is frequently used to build a siege mentality. They're all against us. We'll show 'em.
In 2007 despite the hope and a huge build up Cork were beaten badly by Kerry in Croke Park in the All Ireland final. Sitting in Croker until the final whistle that day doesn't rank highly among trips up to Dublin for us Cork fans. At least if you could turn off the telly it muted the pain somewhat - this is at the root of Corkonian's "passion caution" with football. Like some flah you don't want to ask out on a date in case she turns you down.
The memory of Kieran O'Connor being easily dispossessed by Donaghy for that goal is among the unfortunate memories of a plethora of mysterious unforced errors.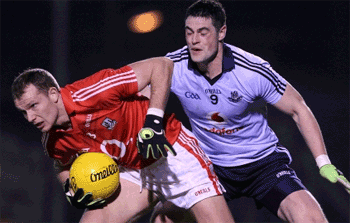 Cork football has struggled more than hurling for intercounty success but when it comes it feels so good!
We all know Kieran O'Connor is a top footballer. For some reason he wasn't in top gear that day like a few of his team mates. Shit happens. What Corkonian wouldn't love to see him come on this Sunday and get Sam Maguire in his hands by 5pm?
His name sits alongside Pearse O'Neill on good luck signage all over East Cork but concocting a myth that Cork fans don't love and respect those who play for their county because of a few mistakes is well wide of the mark.

The poor homecoming turnout that night in 2007 wasn't just down to weather. Nor was it the lazy line that Cork fans were sick of their players or had no time for football They just don't like losing badly to rivals. There's a difference between feeling the pain of losing and not respecting players. People react in different ways.

Trying to pitch footballers against hurlers is silly anyway. As silly as asking why there wasn't as much interest in the third/fourth place play off game in South Africa as there was in the world cup final. It's an unchangeable fact that winners get the limelight and the audiences look where the spotlight is pointing.The only way to remedy the perceived fan bias for hurling is for football to start winning.
With six All-Irelands compared to hurling's thirty titles football has some work to do and that in many ways typifies the nature of this dogged Cork football team under Conor Counihan. Hard work first, style second. When the former is done you can lay on the latter.
At this stage you can almost hear the drum roll of the Artane Boys Band as the pre-match parade begins and the two teams are swamped in deafening roars while shivers run up the spine. Sunday can be the start of a new era of success for Cork football - the illusive limelight awaits.
Bring it on.


Posted on Mar 7th, 2013
What are they feeding the young fellas in Kanturk? From hurling and football All Stars to rising comedy kings, the capital of Duhallow is churning out the talent....
Posted on Feb 26th, 2013
With Cork's destruction of Tipperary in Pairc Ui Rinn on Saturday night by about a hundred points it has been confirmed that the Official End of the World has been cancelled...
Posted on Oct 27th, 2011
The Rebel Army descend on Drumcondra this Saturday for the final game of the season in which a victory will result in the club winning the league. If you're in Dublin head along to support the team....
Posted on Jul 13th, 2011
Auld fellas and their defibrillators, fat lads getting ballhopped and death-by-triathalon-boredom, the hills of Cork can save you a ton on gym membership but come with a few hazards...
Posted on May 6th, 2011
Kilkenny's embarrassing Croke Park meltdown last Sunday is fantastic news for the Irish economy as stocks and shares rally...