Scobes in the Sun
When the clouds move back on a summer's day most of us are racked with 'sun-guilt' - that Cork gene which demands we get outside and make the most of the sunshine in case it suddenly disappears forever.
Almost all Corkonians are affected by this uncontrollable lust for the outdoors regardless of how prepared we are and that includes shams of all ages and tracksuit colour. Here's our top five anthropological observations regarding the behaviour of that strange species 'scobus maximus' on a sunny day….

Balming Out in Really Uncomfortable Places
Have you ever noticed that scobes always seem to pick really awkward places to balm out on a sunny day? Normal Corkonians aim for places like our beautiful beaches, the pristine lawns of Fitzgerald's Park or pleasant parks to relax in but for some reasons shams are attracted to weird inconvenient places that often have a cold gale blowing rubbish around while manky looking breeds of vicious dogs tear strips off each other in the background.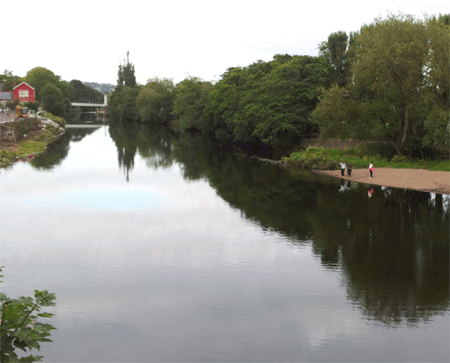 The new north-facing scobe beach at Wellington Bridge. The ideal place to have a gammy time on a sunny afternoon.

Look out for scobes lying around balding greens, patches of tarmac and car park walls outside supermarkets where they strangely set up stall for the day as if the bus fare to the beach or stroll into town wasn't worth it.
Lately one of the most perplexing scobe hangouts on warm summer days is just below Wellington Bridge and the university's sports grounds on a piece of dried river bed. This is proper 'tops-off' territory where a flagon is the minimum entry requirement and a fishing rod gets you honours but its uncomfortably rocky, north facing, a hive for water rats and smells like Limerick.
Cider Drinking
Winter, spring, summer or fall cider is the drink of choice of the sovereign wearer and gatting it from dark brown plastic two litres is far more 'daycint' than from a nice glass of ice in the sunshine.
As depicted in the famous Cork song Johnny Jump Up, cider tends to give you an edgier state of drunkenness – one that makes your brow feel like its got a heavy weight attached to it as the molecules of alcohol soaked apple tickle the parts of your brain that controls punching strangers.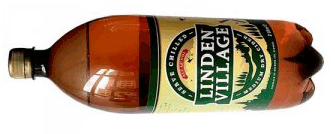 Linden Village: Usually seen on its side. Either in a scobe's mouth or on the ground.
When our famous songster "floors his third" he heads straight for the yard, bumps into a Guard and "shatters his jaw". The refrain being something that Monday morning district court solicitors trot out in their sleep: "it wasn't I hit him, t'was Johnny Jump Up". Sure its always the fault of the drink and not the drinker: that's why cider is so daycint!
Christy Moore sings Johnny Jump Up
Fishin'
Two feens, one rod: that's the rule or at least the minimum when going fishing in the city centre. That way one scobe can be gatting all the time while the other one holds the rod.
Picking a place to stand with the rod is always a point of loud debate. Next to the Shakey Bridge pedestrian ramp is a favourite as it allows easy pedestrian access to and from both sides of the city quickly in case the law roll up and frisk you for nodges.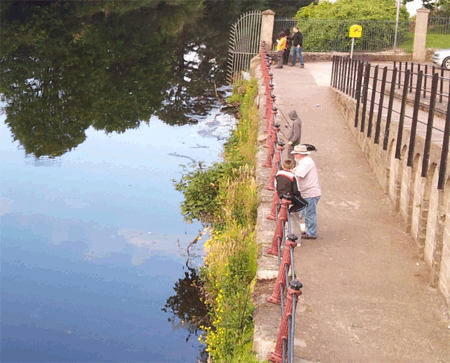 Fishing at the Shakey Bridge is pure daycint
Music in The Sun
Some scobes do manage to find the beach having heard about it once on the internet. Instead of the traditional Irish beach ghetto blaster things have got slightly less irritating in the last few years since the proliferation of mobile phones with speakers and mp3s have replaced the boom boxes.
The trouble with mobiles though is that every sham and wanda has one and they're all playing tinny sounding pop R'n'B stuff at the same time while others are roaring directions to an off-license down the phone at a brother or sister who's en route creating an equally distressing din.
Thankfully the small speakers prevent banging bass subs from bulldozing your buzz but if you find yourself sitting near a bunch of scobes the cacophony of sounds from so many sources is worse than having to spend a week in a slot machine arcade with RTE commentator Brian Carthy endlessly calling bingo numbers.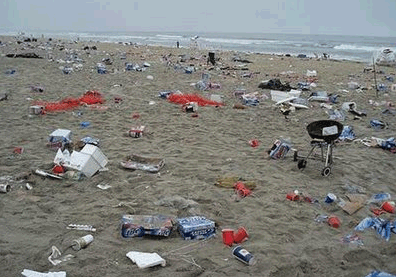 Just to the left of the barbeque looks like the ideal spot to start gatting
Scobes Don't Swim
Shams don't do sun cream as it poses a threat to their manliness (plus sunburn turns on wandas on better than any spray-on deodorant and cider breath so the redder and more blistered the better) but neither do they get into the water for a dip – something which in Cork is considered the height of toughness given some of the skin piercing temperatures of the Celtic Sea.
This stems from primary school when instead of going to 'de baths' to learn how to swim with the rest of their class they went on the hop instead and never found out how to stay afloat when immersed in vessels bigger than a Honda civic. Instead they claim that the sea is manky and stay firmly rooted to land.
Posted on Aug 3rd, 2020
And beours too, obviously, like. A few words about our new traffic box art piece on South Mall...
Posted on Jul 31st, 2020
Rule no.1 if you're coming down from the NTMA in Dublin to show your street train plans: don't photoshop a Dublin LUAS on to Cork streets. We are better than that, feen..
Posted on Jul 20th, 2020
Even without a global pandemic, you don't need to leave Cork to see the most beautiful sights on earth and have an outer body experience...
Posted on Jul 7th, 2020
There really is no reason to leave Cork for your holiday this year..
Posted on Jun 25th, 2020
If birds are starting to land on your head piece or you've mangled it trying to add your own highlights, the wait is nearly over as hairdressers and barbers reopen....