Managing Expectations: 2020 Predictions - Part 2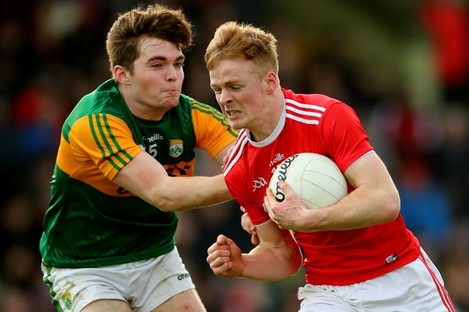 Footballers to "do well" in Division 3
See what we did there? Pure managing our expectations, feen. Before the championship started last May, we had reached a point lower than a bargain bin in a basement shop in Lower Aghada. Next thing you know we're having a right crack off the Dubs in the Super 8s and, to top it all off, the minors and U20's both won their All-Ireland's – so Rebels might understandably get ahead of themselves thinking about 2020 (it doesn't help to keep us calm when we beat Kerry by a margin of four goals and ten points in the McGrath last week).

That said, with Jim Gavin leaving his post as Dublin bainisteoir, you could be forgiven for thinking we might…you know…"do well" next year. Ok, let's be sensible and just say we're really look forward to reaching our full potential as a footballing county in 2020. So…..CORK FOR DA DOUBLE!

RTE to Be Bought by Netflix
With all the moaning from the national broadcaster it would be some craic if the whole thing was put up for sale including Tubridy, Duffy, O'Callaghan, and the other annoying Dublin presenters.

Netflix would happily snap it up, then the state could buy whatever's left of TV3 (what's it called now Virgin Mary 1 or something?) out of the coin and make that the slimed down, state broadcaster instead.

If Mick Martin becomes Taoiseach then the least we'd expect is for the new network's base to be moved to Cork (we'll take John Creedon if he's willing to do the news, the weather and voice over on all the adverts). With such meagre mileage allowances at the new slimmed down station, staff won't stray too far from Cork so public service content will be favourably "red tinted" (who wouldn't want to see Neil and PJ go head to head on 'Dancing With The Langers'?) Fair is fair, there's 60 years of pro-Dublin bias to rebalance.

Cork Party To Emerge as Kingmakers
You can see the defeat on Cork TD's faces every time they are asked about the lack of infrastructure funding and investment for Cork while tax payers on Leeside fork out for outrageously expensive Dublin projects that overrun their costs by hundreds of millions.

Cork politicians are resigned to taking crumbs, or sometimes just thin air, from their political masters in Dublin. Ireland is the most centralised nation in Europe, Cork's two councils have the political power of a 20 watt light bulb, while Dublin's politicians and unelected civil servant bureaucrats shine stadium lights set the agenda.

With Fine Gael and Fianna Fáil no longer able to run majority governments alone, and the left hopelessly divided (there are currently more than 10 left wing parties), there's an open goal for a well organised 'extreme centre' Cork party that could hold the balance of power – as well as the PIN code for the bank account that keeps all Cork tax payers' moola. Who's in?

Brexit Paradise To Lure Ireland Back Into Commonwealth
It's impossible to imagine anywhere as daycint as Cork, but by the sounds of what we're hearing from across the water since the British general election it looks like the U.K will be an irresistible heaven-on-earth when they depart the E.U., and, sure, fair play to them.

The 'clever' money is on Ireland (without Cork) re-joining the commonwealth, Dublin renaming O'Connell Street to 'Prince Andrew Avenue' and Boris Johnson handing out bendy bananas at the Paddy's Day parade in The Pale.


Knocka Knocka Knockin' on Heaven's Door
Climate change! Just asking, but how many houses do you own in Knocknaheeny? Well, you might want to start investing, player. Climate models (the computer ones, not the ones in bikinis) predict that mullet, seals and rusty shopping trolleys will be seen as high up as Cathedral Road in a few years if the world doesn't get its act together.

You'll be able to go paddle-boarding in Churchfield and slip a kayak into the Lee at Farranree, but if you want to sleep soundly at night without the fear of the River Lee tickling your toes, then a gaf in Knocka and Hollyhill is a must. Two bed semi in Knocka with private beach and slipway for half a million? Buy them up like they're 2005 condos in Prague.
Posted on May 6th, 2020
Even though there are reasons to justify it in his own head, Finbarr* knows this is wrong even though the young woman who he contacted seems to be fine about it...
Posted on Apr 20th, 2020
As the lockdown drags on and patience grows thin among the population, Corkonians are taking risks and doing all sorts of things they would never have done before...
Posted on Apr 6th, 2020
To help morale, the post-covid rewards for parents locked down with kids for weeks on end have been published...
Posted on Apr 3rd, 2020
Don't worry if you're a sleep deprived parent whose childless boss expects you to maintain full productivity while minding a toddler on your own, they can help you stay on top of things while you sleep...
Posted on Apr 3rd, 2020
As utterly revolting and criminally unhygienic as it sounds in the middle of the corona crisis, one day soon Corkonians will once again swap saliva in public and nobody will bat an eyelid....