Kerry Speechless
Kerry's only presence at Croke Park last Sunday was renowned commentator Michéal Ó Muircheartaigh. Even Michéal knew well before the match that Cork were going to win Sam Maguire and it seems the sense of helplessness around it was so overwhelming for the Kerryman that he felt he had no choice but to announce his resignation beforehand.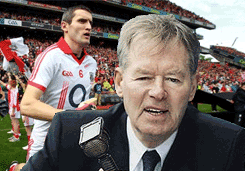 Ó Muircheartaigh, a Kerryman with credibility
Seriously though, Cork fans have the greatest respect for one of Kerry's greatest sons, a massive advocate of Gaelic culture both sporting and otherwise. The (ironically wordless) painting of Mount Brandon was enthusiastically presented by Cork's Christy Cooney before the senior game and you could almost read Cooney's mind as he gripped Ó Muircheartaigh's hand: the less Kerrymen in Croke Park in September the better!
His commentaries are the stuff of legend and he arguably out-bantered his predecessor Michéal Ó Heir with clever witticisms, puns and wise cracks that electrified his already explosive full-stop-less observations.
In particular Cork exiles around the world who tuned into Ó Muircheartaigh over the last 1,350 years will have appreciated the genuine grá that the man had for games that unfolded below his microphone - his endearing Irish language inserts blending seamlessly with random English language facts about the ordinary lives of sporting heroes outside the stadia in which they battled for their counties.
Long after he is gone his voice will spark memories of tension, excitement, joy and frustration among GAA fans everywhere and his contribution to state radio is immense.
He was RTE sport's most passionate front-of-house employee and he will be almost impossible to replace. The Dublin station have a number of reasonably competent commentators but none possess the talent of the Kerryman. RTE, should they decide to think outside the box of restrictive public service contracts with internal pretenders to Ó Muircheartaigh's crown, would do well to consider the West Cork boys at C103.


---
"The stopwatch has stopped. It's up to God and the referee now. The referee is Pat Horan. God is God."
"Pat Fox has it on his hurl and is motoring well now ... but here comes Joe Rabbitte hot on his tail ...... I've seen it all now, a Rabbitte chasing a Fox around Croke Park."
"Pat Fox out to the forty and grabs the sliothar, I bought a dog from his father last week. Fox turns and sprints for goal, the dog ran a great race last Tuesday in Limerick. Fox to the 21 fires a shot, it goes to the left and wide . . . and the dog lost as well."
"Seán Óg Ó hAilpín. His father's from Fermanagh, his mother's from Fiji, neither a hurling stronghold."
"Teddy McCarthy to Mick McCarthy, no relation, Mick McCarthy back to Teddy McCarthy, still no relation."
"Teddy looks at the ball, the ball looks at Teddy"
"Anthony Lynch, the Cork corner-back, would be the last person to let you down - his people are undertakers"
"This man shouldn't be playing football. He's made an almost Lazarus-like recovery from a heart condition. Lazarus was a great man but he couldn't kick points like Colin Corkery."
"1-5 to 0-8. Well, from Lapland to the Antarctic, that's level scores in any man's language."

Posted on Mar 7th, 2013
What are they feeding the young fellas in Kanturk? From hurling and football All Stars to rising comedy kings, the capital of Duhallow is churning out the talent....
Posted on Feb 26th, 2013
With Cork's destruction of Tipperary in Pairc Ui Rinn on Saturday night by about a hundred points it has been confirmed that the Official End of the World has been cancelled...
Posted on Oct 27th, 2011
The Rebel Army descend on Drumcondra this Saturday for the final game of the season in which a victory will result in the club winning the league. If you're in Dublin head along to support the team....
Posted on Jul 13th, 2011
Auld fellas and their defibrillators, fat lads getting ballhopped and death-by-triathalon-boredom, the hills of Cork can save you a ton on gym membership but come with a few hazards...
Posted on May 6th, 2011
Kilkenny's embarrassing Croke Park meltdown last Sunday is fantastic news for the Irish economy as stocks and shares rally...