Rebels Ar Ais
Rebels Ar Ais
Approximately four and a half million Corkonians turned out to see the victorious Cork Senior Football team return home last night. Honking horns and happy headed Rebels poured into the city from 6pm and waited patiently for their heroes - the weather far more merciful than the final minutes at Croke Park the day before.
With the stage angled between Parnell Place and South Mall the crowd was divided between both streets with giant screens supplying images from the front line. Red FM's Dave Mac (complete with PROC t-shirt we note - conveniently they bear the same colours as his native Louth) enthusiastically warmed up the crowd and then had to do his best to keep them warm 'under the grill' as the team bus lagged behind schedule.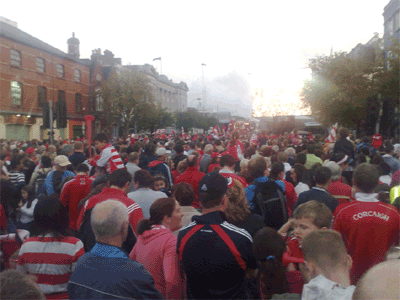 Cork fans wait patiently for their heroes' return
At 7.50pm they were "fifteen minutes away". At 8.10pm they were "five minutes away". At 8.17pm they were still "five minutes away". The wait for Sam Maguire to return to Leeside has taken 20 years - another five minutes wasn't going to bother any rebel hell bent on welcoming back their heroes!
Then the big screens beamed images of a bus. The bus. Within seconds Counihan and Canty emerged and the tiring masses suddenly burst into a deafening roar. This is it. This is actually it. We have won the All-Ireland. We know it because we can see Sam Maguire in front of us, it's September and we're in Cork.
The heroes indulged in a few wry smiles as they aptly shared the duty of carrying Sam along Lapps Quay to the stage.
Conor and Graham made their speeches. Thanks to him and her. Everyone is better than me. Don't know how I managed to be here really.
Humble to the last.
Then Noelie. Oh Noelie. Who doesn't love Noelie. What a man - a beast of a man. A brow like a pitched roof and a heart like a bilge pump.
Noelie for a song! And the crowd roared their approval.
He surged forward from the back of the stage but was met with a sea of bodies hell bent on making him work hard to get into open space. This time it wasn't a puke defence blocking Noelie's path, these men were not the enemy.
His teammates had roughed him up good and hard by the time he stumbled into the limelight of Parnell Place that he looked like he had gone a few rounds with Paul Galvin.
And then to the finish - as always - The Banks and the unquantifiable weight of emotion it carries when sung by a crowd unaccompanied.
Wind it back for a second. Earlier this year in Dermot Keogh's biography of Jack Lynch it was revealed that on his death bed in 1999 the former Taoiseach from Shandon Street while listening to the All Ireland hurling final commentary on radio (he being too ill to see it in person or on TV) heard the Cork supporters singing The Banks as the Cork hurlers beat Kilkenny in Croke Park.
The five times All Ireland medallist himself was never known to shed a tear - this was a man with nerves of steel who had faced down the British at the height of the Troubles and bravely led Ireland into the EU.
Lynch's wife recalled seeing tears gently trailing from her husband's eyes as he lay motionless waiting for his end - this one last moment of Cork pride firing a montage of flashbacks of moments from his prime. A month later he would be paraded through the city but sadly as part of a funeral cortege.
"Where we sported and played"
This Cork team have sported and played. Sam is back and The Banks has been sung.
For most of this year, after each win and even after their league victory, the Cork team talked about finished the job.
We can all sigh with relief.
The job is done.
Posted on Mar 7th, 2013
What are they feeding the young fellas in Kanturk? From hurling and football All Stars to rising comedy kings, the capital of Duhallow is churning out the talent....
Posted on Feb 26th, 2013
With Cork's destruction of Tipperary in Pairc Ui Rinn on Saturday night by about a hundred points it has been confirmed that the Official End of the World has been cancelled...
Posted on Oct 27th, 2011
The Rebel Army descend on Drumcondra this Saturday for the final game of the season in which a victory will result in the club winning the league. If you're in Dublin head along to support the team....
Posted on Jul 13th, 2011
Auld fellas and their defibrillators, fat lads getting ballhopped and death-by-triathalon-boredom, the hills of Cork can save you a ton on gym membership but come with a few hazards...
Posted on May 6th, 2011
Kilkenny's embarrassing Croke Park meltdown last Sunday is fantastic news for the Irish economy as stocks and shares rally...