Justin Barry "My Side" - Chapter 4
Justin Barry, "My Side"

Chapter 4
So myself and a
few of the other budding solicitors have started playing a bit of the old five-a-side
up in the Churchfield every Wednesday night, just for the laugh and to blow
off a bit of steam in the midst of the weekly grind. Kieran Roche and yours
truly took on the duty of organising it for our troubles. He was in college
with me and works in another gaf on the Mall.
We tried our darndest
to keep it strictly to the younger generation and restrict opportunities for
some of the older more horizontally challenged folk. But with some of the other
lads showing all the enthusiasm of Mariah Carey leafing through a Budget Travel
brochure, we came up a bit shy on the numbers front - which inevitably meant
I had to bite the bullet and ask John McSweeney and his royal geekiness, Sean
Delaney from the office.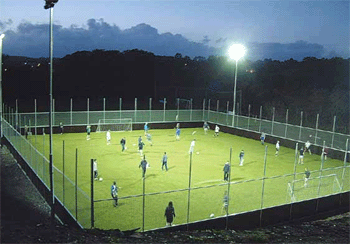 The only positive spin I can put on their inclusion, is that they are guaranteed
to show up every week, as they will grasp at any pathetic excuse to escape the
clutches of their nagging (and not altogether attractive) wives one night of
the week. What can we do, we have to get ten bodies out there one way or another.
What gets me though, is that just because I was the one who invited these two
clowns to join in the fun, I get stuck on their team every week, while Roche
has all the good players on his team.



At the same time, they don't call me Zinedine Barry for nothing, what with my
unbelievable first touch and devastating shooting, I'm a bit of a handful for
any opposition. But even I can't make up for the sporting monstrosity that is
McSweeney. He's a great man for getting lads off the hook when they're caught
driving down the link after an old whiskey or two, but he's an absolute nervous
wreck when that ball comes within about twenty yards of him. He likes to play
in the Beckenbauer sweeper role, not making too many surges into opposition
territory, basically because he is incapable of actually moving his fat arse.
That would be fine if he didn't just give away the ball every two and a half
seconds.



Delaney on the other hand, is an eager little munchkin for his age, glasses
on and everything, scurrying around like a rodent, having the time of his bloody
life. Pure and utter stain. Given that he is such a little smarty pants at work,
I don't waste the opportunity to berate his sorry ass when it presents itself
during the game. It's pretty cool being able to have a go at him, although he
is sure to get his own back by handing me some stinky assignment when we are
back inside prison walls.



It's fairly humiliating really when we get beat by around twenty goals, and
Roche is all "better luck next week Justo kid", absolutely revelling
in my obvious disgust. I'm not sure if I can face any more of it, there could
be a major leg injury on the horizon pretty soon that will sideline me for around
the next three years.



Anyway Monday morning back at the office and it's a big day for me because there
is a new apprentice starting, some bird called Bridget from Dublin who went
to Trinity. We all know there's some major talent up there so I'm feeling pretty
good about this one. Emer has been ploughing a lone furrow for so long round
here, being the only cracker in the place, that it's high time they bolstered
the ranks and brought someone in to act as her understudy. With two of them
fighting it out for the prize of top office totty, it should ensure healthy
competition and improve standards all round. That can only benefit me at the
end of the day, as I need something to keep me stimulated if my productivity
is going to stay at its current high level. That posh Dublin accent is the job
aswell, I don't know why exactly, it just does it for me.



So I hear old Billy Murphy going round with her downstairs introducing her to
everyone in the place, giving them all fairly overhyped intros I have to say,
stuff like "This is John McSweeney, one of the foremost criminal law specialists
in the country. If you're ever in a spot of bother, he's the man you need."
Forced laughter all round at that one, your one sucking up to everyone she lays
eyes upon, what else can she do I suppose.



They eventually come round the corner towards my little hovel, so I throw open
a couple of files and pretend to be all wrapped up in something mega-important,
mostly to impress her but also because I know Murphy likes to see his footsoldiers
like myself strung out at all times. My anticipation is reaching fever pitch
now and I'm even a little bit nervous I have to admit. Well boy oh boy did I
get the biggest shock of my life when I saw her. The lovely image of a sexy
Rosanna Davison sort that was in my head all morning could not be further from
the reality.



This one is about 6'3, no exaggeration, towering over my desk, looking like
that big barbarian lad who Maximus had to take on at the start of Gladiator
- but she possesses none of his obvious charisma and striking physique. I go
to shake her hand and she nearly rips my arm out of its socket. I try to maintain
a smile to hide my enormous disappointment, and then Murphy the old snake cracks
the joke I could really do without, "Bridget is single as well Justin,
no doubt the two of you will get on famously." "Ha, ha, ha",
you old devil Murphy. He knows exactly what he's doing too, the prick. Only
trouble is that I don't usually date women who are more than twice my own body
weight. Emer can rest easy in the knowledge that she is safe enough at the top
of the pile for the time being.
Posted on Jul 17th, 2008
Its ACC Cork Week at Crosshaven. Who else could we dispatch in a pair of dubarrys and a musto jacket but Casanova himself...
Posted on Jun 30th, 2008
Ladies of Cork be wide. Its taken him a while to shake off the winter blues but law boy is back on the prowl...
Posted on Dec 19th, 2007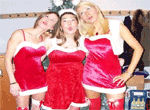 Cork's gift to women has been looking forward to his office Christmas party for quite a while...
Posted on Nov 30th, 2007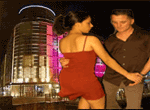 In another of his notorious attempts to land a score, Law boy tries his hand, and hips, at salsa in the Woodford..
Posted on Nov 7th, 2007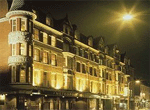 The Metropole was full of talent during the jazz festival as our number one trainee solicitor found out...